---

(Meng gui xue tang)
1988, regia di Jeff Lau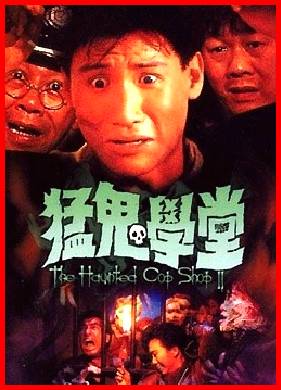 Scheda: Nazione: Hong Kong - Produzione: In-Gear Film Production - Distribuzione: Threat Theatre, Mega Star - Soggetto: Kar Wai Wong - Sceneggiatura: Jeff Lau, Barry Wong, Lawrence Lau - Fotografia: Johnny Koo - Montaggio: Cheung Bei-Tak - Art Director: Raymond Lee - Musiche: Philip Chan, Sherman Chow - Effetti speciali: Jacky Tang, Jonathan Ting - Formato: Color, linguaggio cantonese - Durata: 92'.
Cast: Jacky Cheung, Ricky Hui, Sandy Lam, Woo Fung, Billy Lau, Charlie Cho, Lau Mei-Kwan, Chan Ka-Chai, Yi Lui, Chan Fai-Hung, Wan Yim-Yin, So Ka-Bo, Barry Wong, Wong Kar-Wai.
---
---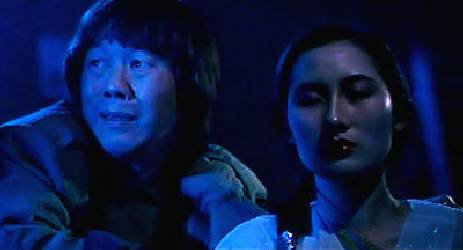 Trama e commenti: hkx.it: «La fortunata saga di Happy Ghost, con i suoi 5 episodi a partire dal 1984, e Alien Wife (del 1991, conosciuto anche come Pretty Ghost), con Tony Leung Ka-fai perso tra le grazie oltremondane di Rosamund Kwan e i sogni sulla collega Ellen Chan, perseguono lo stesso obiettivo. Resta qualche dubbio sui risultati, scarsamente appetibili per finezza esecutiva e limpidezza comica, ma la vera sferzata è portata dal genio di Jeff Lau, che lascia in disparte le storie d'amore incolori per concentrarsi sulle possibilità dirompenti di spettri vanagloriosi e umani incompetenti. Già dal suo esordio con The Haunted Cop Shop, del 1987, palesa tutte le sue ambizioni, lavorando sull'intersezione di diversi piani narrativi - commedia, umorismo anche basso, suspence, sangue, un pizzico di sfiducia sociale - cortocircuitati in una serrata corsa che dall'eterogeneità riesce a far emergere un unicum estasiante, rappresentato a dovere dalla parlantina fuori controllo di Ricky Hui. Più significativo è allora The Haunted Cop Shop II, dell'anno successivo, che irrora il campo horror con dosi esagerate di battutacce a ripetizione e giochi scatologici (basta vedere, nel finale, il metodo utilizzato per uccidere lo spirito!): il risultato è lontano dal cattivo gusto proprio per la consapevolezza e l'inusitato acume con cui Lau riesce ad amalgamare i diversi elementi, con una spontaneità sorprendente...» (Stefano Locati).

Plot Summary, Synopsis, Review: IMDb - vampire-world.com - efilmcritic.com - hkmdb.com - jaysmovieblog.com - sancho-asia.com - sogoodreviews.com: «Jeff Lau reunites his main cast (Jacky Cheung & Ricky Hui) for the sequel to his very energetic original. Energetic being one of the great, big compliments on The Haunted Cop Shop. The sequel sees Cheung and Hui alongside their superior (Woo Fung also reprising his role) trying to put together a crack team of vampire busters at a haunted military camp. No one told them about the haunted aspect though and it's struggles from day one. Best way to learn really... That Jeff Lau manages to maintain such a frantic pace without losing sight of the entertainment value (even though this type of film is very uniquely Hong Kong so your Hollywood movie fan friends may scratch their heads) is a testament to his particular skills. While thoroughly silly, low-brow and downright childish, Lau has a great pulse on the energy to his horror-comedy, even delivering dependent scares and gore along the way. Billy Lau returns as the loopy twin brother of his character from the first film. The reveal is not quite on par with Chow Yun-Fat's return in A Better Tomorrow II but Lau is good fun. The subplot of Ricky Hui's predicament as a half-man, half-vampire (he only got one bite you see) threatens to be a boring echo of a similar plotline the actor was faced with in Mr. Vampire but Jeff neatly avoids that and makes it an worthwhile inclusion as part of the comedy».

Approfondimenti: Movie Review
Conosciuto anche con i titoli: Maang gwai hok tong; The Haunted Cop Shop of Horrors 2.

The Haunted Cop Shop
---
---