---

Thirst
(Bakjwi)
2009, regia di Park Chan-wook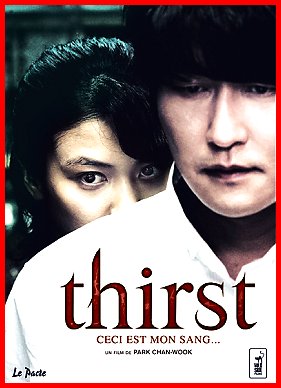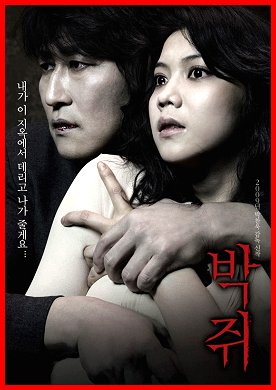 Scheda: Nazione: Corea del Sud - Produzione: CJ Entertainment, Focus Features, Moho Films, Universal Pictures - Distribuzione: CJ Entertainment, AmaFilms, Wild Side Films, Paris Filmes, Focus Features, Independenta Film, Madman Entertainment, Maywin Media, NonStop Entertainment, Palisades Tartan - Soggetto (ispirato al romanzo Teresa Raquin di Émile Zola) : Park Chan-wook, Jeong Seo-kyung - Sceneggiatura: Jeong Seo-kyung, Park Chan-wook - Fotografia: Chung Chung-hoon - Montaggio: Kim Jae-Beom, Kim Sang-Beom - Scenografia: Ryu Sung-hee - Costumi: Cho Sang-kyoung - Musiche: Cho Young-wook - Formato: Color - Durata: 133'.
Cast: Song Kang-ho, Kim Ok-bin, Kim Hae-sook, Shin Ha-kyun, Oh Dahl-su, Song Young-chang, Mercedes Cabral, Park In-hwan, Eriq Ebouaney, Choi Hee-jin, Hwang Woo-seul-hye, Lee Hwa-ryong, RaMi-ran.
---
---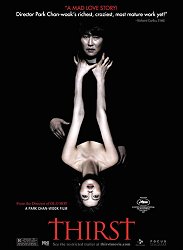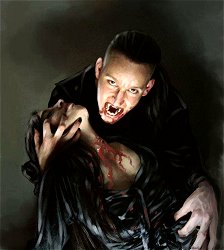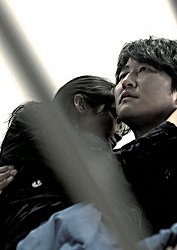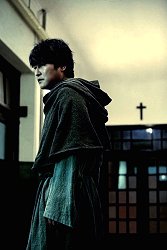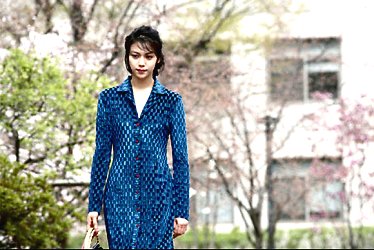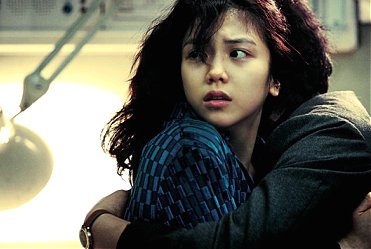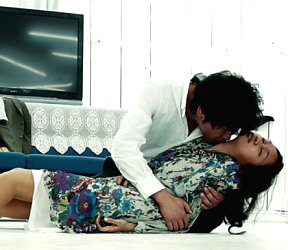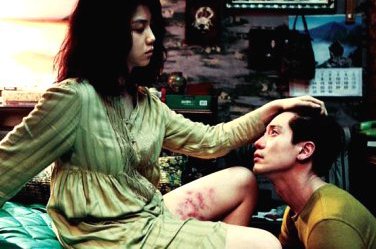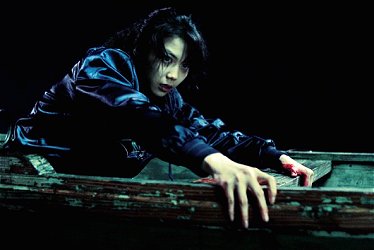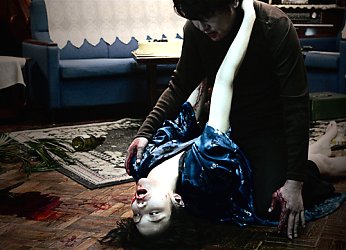 Trama e commenti: - cinematografo.it - trovacinema.repubblica.it - film.spettacolo.alice.it - cineclandestino.it - film.tv.it - film.it - alphabetcity.it - filmscoop.it - indie-eye.it - mymovies.it: «Sang hyun, un sacerdote devoto e rispettato, decide di sottoporsi volontario ad un esperimento che mira a trovare un vaccino per il nuovo e terribile Emmanuel virus, ma viene infettato dal virus stesso e muore. Una trasfusione di sangue di provenienza ignota, però, lo riporta in vita come vampiro. Si sparge la voce che faccia miracoli e i bisognosi accorrono al suo letto d'ospedale. Tra essi, Sang –hyun ritrova l'amico d'infanzia Kang-woo e s'innamora perdutamente della moglie Tae-ju, con la quale intraprende una relazione che lo porta ad uccidere l'amico e a prendere il suo posto, nella casa della madre. Liberamente ispirato a Teresa Raquin di Zola, di cui riprende la trama e il numero dei personaggi, Thirst del coreano Park Chan-Wook è un film denso e in continua trasformazione. Se il romanzo di Zola poneva i due uomini e le due donne allo stesso livello, la partita a quattro, nel film, per il gioco settimanale del mahjong, è sì occasione tra le più belle per incrociare le traiettorie degli sguardi in una vera e propria danza burlesca tra due vampiri, un fantasma e una donna più morta che viva che movimenta i passi con il battito delle ciglia, ma il fantasma del maritino morto e la vecchia non sono qui che la spalla comica di una coppia tragica. ... Pretesto narrativo, dunque, il vampirismo non è affatto pretestuoso a livello drammaturgico. Thirst, infatti, rinasce ad ogni sequenza a vita nuova e differente: riflessione sulla relazione amorosa; sul confine tra (fare del) bene e male; storia di passione, nel doppio significato del termine; commedia; slapstick. E così rinascono i suoi personaggi: il prete, che traghetta i vivi nel regno dei morti, diventa vampiro e inverte la direzione del suo agire e la vergine vittima si svela una carnefice che non conosce il pudore dell'assassinio, mutando (in seguito a un happy birthday post mortem) da bimba spettinata a icona fatale, fantasia animata. Di orrorifico non c'è nulla o quasi, di nuovo sui vampiri nemmeno; il film non tratta la paura, ma l'amore carnale e l'amore tenero, filmando entrambi senza interruzioni. Ridondante e imperfetto, passa senza posa per situazioni cinematograficamente note e ricorrenti, come un vampiro che torna in diverse epoche, e talvolta la sensazione che tutto sia già stato scritto è forte, ma la penna di Park Chan-Wook ha un inchiostro unico e il suo quadro e il suo lavoro sul sonoro un'espressività senza pari».

Plot Summary, Synopsis, Review: IMDb - allmovie.com - twitchfilm.net - cinemaisdope.com - screendaily.com - firstshowing.net - otroscines.com - hollywoodreporter.com - variety.com - outnow.ch - matierefocale.com - aceshowbiz.com - monstersandcritics.com - themoviescult.gr - theauteurs.com: «Here is the ideal Park Chan-wook film: one man and one woman beat and torture one another, each one having a go until the other is so badly hurt that, in theory, the audience wants to see the victim have his or her turn, taking vengeance and beating the other until our sympathy and bloodlust shift again. Repeat for two hours. Park's various revenge scenarios (Sympathy for Mr. Vengeance, Oldboy, and Lady Vengeance) pretty much follow this reprehensible path, and when his new film Thirst tries to convince us of its viability by trying to make it romantic, the filmmaker's stupidity and hollowness are all the more apparent. The pitch that must have greenlit the film was obviously "vampires meet Zola's Thérèse Raquin," which makes no sense to me, as vampirism is already romantic, corrosive, and murderous enough that tacking on—as Park awkwardly does half way through—the complex plot and psychology of the Zola novel shows a fundamental misunderstanding of the very subject of the film. With Let the Right One In barely out of theaters, reminding us of the complex otherworldly bonds and deep romanticism of vampire lore, and Coppola's Cannes entry calling us back to the perfectly stylized genre of his Bram Stoker's Dracula, Park's smug, unconscionable account of supremely stylized violence for the sake of love—in a movie unable to be romantic—is vacated of everything but sadism» (Daniel Kasman).

Approfondimenti: Movie Review
Conosciuto anche con i titoli: Evil Live; Untitled Chan-wook Park Project.
---
---