---

Fear Itself: Il sacrificio
(Fear Itself: The Sacrifice)
2008, regia di Breck Eisner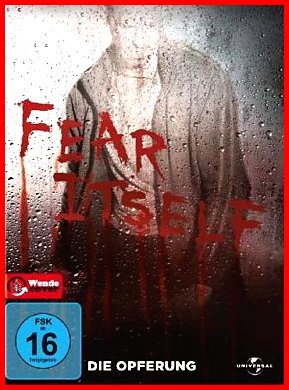 Scheda: Nazione: USA-Canada - Produzione: Fear Itself Productions, Industry Entertainment, Lions Gate Television - Distribuzione: NBC (National Broadcasting Company), A-Film Home Entertainment - Creatore della serie: Mick Garris - Soggetto: Del Howison (The Lost Herd) - Sceneggiatura: Mick Garris - Fotografia: Attila Szalay - Montaggio: Marshall Harvey - Art Director: Suki Parker - Set Decoration: Carol Lavoie, Shanna Orgovan - Costumi: Jennifer Haffenden - Musiche: Brian Tyler - Effetti speciali: Hi-Ground Media, K.N.B. Effects Group - Formato: Color, film tv - Durata: 42'.
Cast: Jeffrey Pierce, Jesse Plemons, Rachel Miner, Mircea Monroe, Stephen Martines, Reamonn Joshee, Michelle Molineux, Bill Baksa, Walter Phelan.
---
---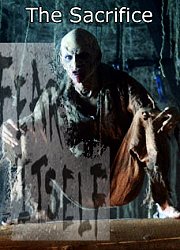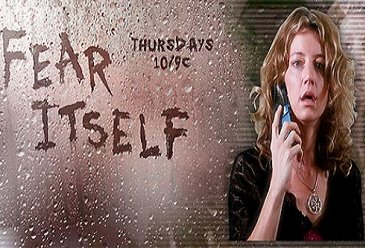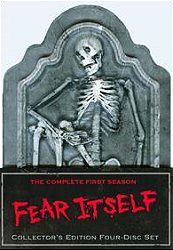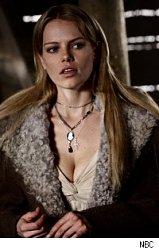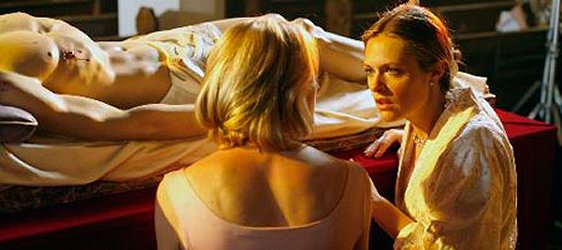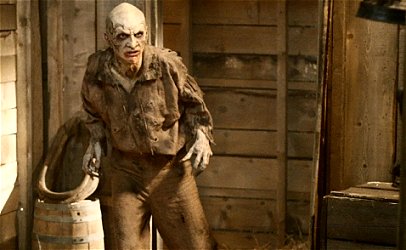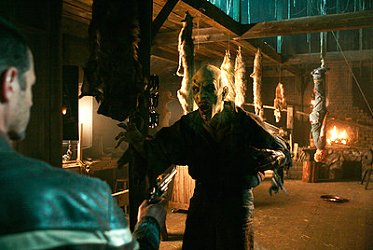 Trama e commenti: davinotti.com - secondavisione.wordpress.com - filmscoop.it - mymovies.it: «Quattro criminali superarmati sono in fuga dalla polizia. Raggiungono, nella campagna innevata, un villaggio fortificato che ha un aspetto decisamente antico. Qui vengono messi sotto tiro da tre ragazze armate. Stanno per reagire ma la bellezza delle donne che sono sorelle e il fatto che uno di loro è ferito li spinge ad accettare la loro offerta di ospitalità. Il ferito viene portato in una stanza in cui giace un sacerdote ammalato. Lasciato alle cure di una di loro mentre altri due si rifocillano e un terzo ha seguito una delle sorelle per prelevare delle coperte, l'uomo viene non curato ma ucciso dopo che gli è stata preventivamente cucita la bocca perché non gridi. È l'inizio dell'orrore per i delinquenti due dei quali sono fratelli. Primo episodio della nuova serie creata da Mick Garris (che ci ha già proposto Masters of Horror). Breck Eisner, che ha alle spalle una certa frequentazione con il mistero e la paura (anche se da noi è sicuramente più conosciuto per lo scanzonato Sahara) dimostra di saperci fare con la costruzione di un clima di tensione che si avvale dell'ambiguità come punto di forza. Perché inizialmente le tre belle ragazze sembrano essere le reali portatrici di morte ma la diversificazione delle uccisioni messe in atto spinge lo spettatore a chiedersi quale sia la ragione del loro agire. Eisner, ben coadiuvato da attori che sanno come muoversi nel genere, tiene in sospeso lo spettatore e anche quando moltiplicherà le sorprese (ivi compreso nel finale) senza offrire brusche svolte alla storia. In questo villaggio in stile Amish chi ama l'horror sarà ben lieto di perdersi e non verrà deluso».

Plot Summary, Synopsis, Review: IMDb - allmovie.com - mania.com - tv.com - tvsquad.com - horror-movie-a-day.blogspot.com - horror-movies.ca - cinemafantastique.net - dreadcentral.com - horreur.net - happyhorror.com - en.wikipedia.org: «The Sacrifice is the first episode of the television series Fear Itself, the episode originally aired on June 5, 2008. It was based on Del Howinson's short story titled "The Lost Herd". The plot revolves around four men who become stranded in an old fort, to find that it is home to an ancient vampire. Four criminals are hiding from the cops after a robbery. Navarro is injured from a bullet wound. Soon, they discover a seemingly abandoned town. Three beautiful sisters, Chelsea, Tara, and Virginia live there with Reverend, an old man who stays in bed all day. Chelsea nurses Navarro by stitching up his wound, then sews his mouth shut. Point, the leader of the criminals, has suspicions about the women, while his younger brother Lemon and partner Diego, are infatuated with them. Virginia asks Diego to help her with something in the barn; she points to a blanket on the floor, and Diego gets her drift. He steps on the blanket and falls into a deep pit, and Virginia shuts the metal door. He uses his lighter to look for an escape but finds a skull and begins to panic. The metal door then opens, Diego looks up hopefully but screams in terror instead as something jumps in the pit and devours him. Virginia then turns to Lemon (AKA Lemuel), luring him into the skin house and seducing him. He is then knocked out and wakes up hanging upside down by a chain among the skinned rabbits. Point has had enough of the women's secrets and finds Navarro dead from a stake in the heart. He hears a strange growling and helps the Reverend, who is chained to his bed. The creature drags the Reverend by the chain out of sight and kills him. Point goes to find Lemon. Chelsea discovers the Reverend is dead and begins to cry as his corpse rises up behind her, she whispers a prayer and then swings an ax at him, cutting off his heada. ...».

Approfondimenti: Movie Review
Episodio 1 della stagione 1 della serie tv Fear Itself, conosciuta anche con i titoli: Terror en estado puro.
---
---