---

How My Dad Killed Dracula
2008, regia di Sky Soleil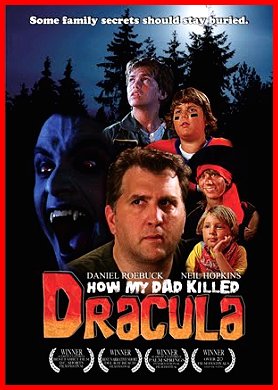 Scheda: Nazione: USA - Produzione: The Marlowe-Pugnetti Company, Telltale Productions - Soggetto: Sky Soleil - Sceneggiatura: Sky Soleil - Fotografia: Skye Borgman - Montaggio: Richard Sinatra - Musiche: Nathan Lanier - Effetti speciali: Blake Bolger, Mark Richardson, Jeff Seibenick - Formato: Color, corto - Durata: 14'.
Cast: Daniel Roebuck, Neil Hopkins, Victor Bonavida, Cooper Green, Maxim Knight, Cameron Palatas, Linh Chan,Gerard Huegel.
---
---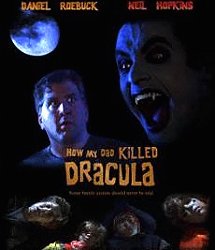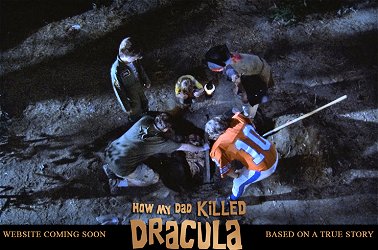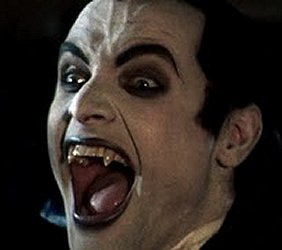 Trama e commenti: lazonamorta.it - freeforumzone.leonardo.it: «Un padre dice ai suoi bambini che quando era giovane, uccise il Conte Dracula e lo seppellì nel suo giardino. I bambini non ci credono così il padre li porta nel posto esatto dove la battaglia con Dracula ebbe luogo. Tra lo stupore dei figli, il padre tira fuori i resti di Dracula. Il padre propone poi di rimuovere il paletto dal cuore di Dracula, per vedere se la leggenda che dice che tornerà in vita, è vera. I bambini protestano, ma il padre giura che leverà il paletto solo per un secondo e poi lo rimetterà a posto. Dopo aver tolto il paletto, Dracula tornerà in vita e ricomincerà a camminare tra i vivi di nuovo».

Plot Summary, Synopsis, Review: IMDb - allthingshorroronline.net - facebook.com - abandomoviez.net - letmewatchthis.ch - eztvstream.com - iwannawatch.net - lashortsfest.com - filmlinks4u.net - filmedge.net: «...This simple but skillfully crafted short embodies the spirit of a good, spooky ghost story told on a moonlit Halloween night but with a modern sensibility which adds realism and fun to the tale. A quartet of boys returns home from trick or treating with pillow cases stuffed with candy, ready to share their swag in sweet victory when Mark lets it slip that his father killed Dracula. Mark's cousins don't believe this absurd claim even though their Uncle Ronny insists he did slay the blood-sucking count many years ago. The boys' taunting continues until Ronny relents and offers to let them dig up the corpse of Dracula himself ... buried right in the back yard. Naturally Jason and Steven's doubts grow stronger as they happily grab shovels to dig into the yard to prove their Uncle is lying. Yet after a short span of shoveling under the moonlight, they hit a wooden box at the bottom of a shallow grave — it's a coffin! Jason and Steven believe their Uncle's story and beg him not to open the box, but Ronny says showing them the body inside is the only way to prove he actually did kill Dracula. A crow bar pries open the coffin lead, nails squeaking out of the wood as all four boys lean in for a closer look, their fear rising but unable to resist. Ronny flips open the lid and inside the coffin is a rotted corpse, deformed and shriveled by now, but its bulging eyes and fangs still visible amid the gooey decay. ...».
---
---