---

Rites of Blood
2004, regia di Sami Haavisto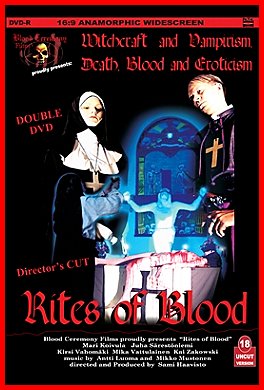 Scheda: Nazione: Finlandia - Produzione: Blood Ceremony Films - Distribuzione: Blood Ceremony Films - Musiche: Antti Luoma, Mikko Mustonen - Formato: Color - Durata: 98'.
Cast: Mari Koivula, Juha Särestöniemi, Mika Vattulainen, Kirsi Vahomäki, Kai Zakowski.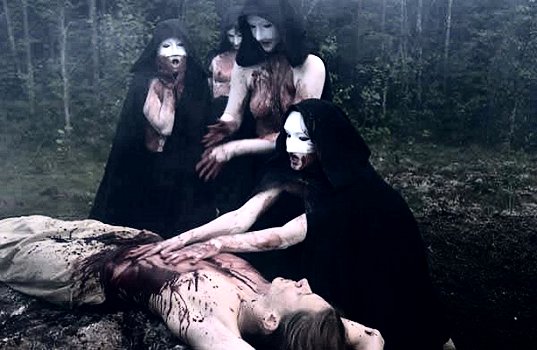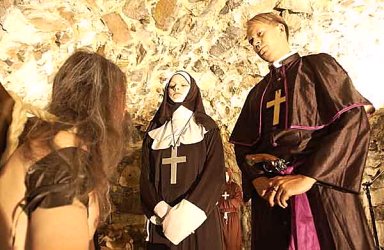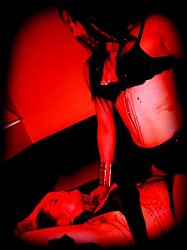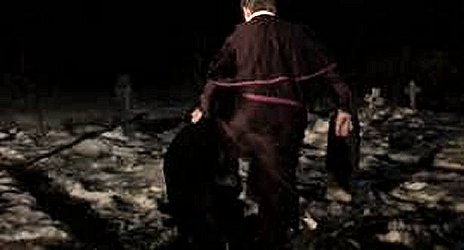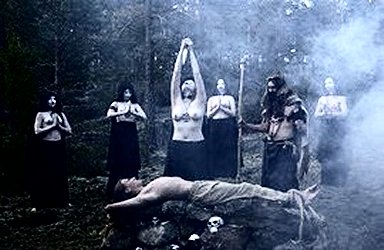 Trama e commenti: throughtheblackhole.com: «La caccia alle streghe raggiunge il suo culmine nel diciottesimo secolo, diventando una vera e propria febbre che contagia gli aguzzini consci che il periodo di sangue sta per finire. L'est dell'Europa è battuta dal cardinale De Ceville, vero e proprio assassino, che stana presunti eretici per saziare la sua bramosia di morte. La giovane Marie partecipa ad un rituale di adoratori di Satana, offrendo il suo stesso corpo per completare un rito ancestrale dai nefasti esiti. Il punto di vista si sposta in una innevata Helsinki, dove una vampira si aggira malinconica tra il candore del paesaggio, alla scoperta delle proprie origini. Sicuramente il miglior film prodotto dalla Blood Ceremony films, dove si uniscono tutti gli elementi presenti sia in Desire of the innocent blood che in Succubus. Di fianco allo splatter-gore, qui abbondantemente presente, c'è anche quella giusta dose di intrecci e situazioni diverse che rendono la pellicola avvincente e coinvolgente dall'inizio alla fine. A differenza delle altre pellicole non vi è un crescendo che porta alla scena splatter conclusiva, bensì un bilanciamento delle parti che virano ambientazione dall'Europa flagellata del diciottesimo secolo alla cupa Finlandia dei giorni nostri, seguendo prima il movimento delle orde inquisitorie e poi adagiandosi al dramma vissuto dalla vampira. La scelta della voce fuori campo o di particolari sequenze (quelle che vedono la donna vagare tra la neve) calcano gli elementi dark della vicenda, arricchendo il pathos ed il fascino della pellicola. Da notare anche la scena del locale metal dove un'intera canzone black metal melodico lascia innestare una ulteriore marcia, donando ritmo all'azione. Le scene ai limiti del trash non mancano, ma trucchi ed effetti speciali ben congegnati riescono a non far mai cadere nel pacchiano, tranne nei momenti dove volutamente Sami Haavisto decide di visitare un certo tipo di cinema maggiormente diretto e fracassone. Rites of blood merita una visione per il suo essere un film gore che non si limita a racchiudere le scene in un guazzabuglio di sangue ma che costruisce una trama e dirama l'azione sulla base di essa. Intrigante».

Plot Summary, Synopsis, Review: rlsbb.com - horror-shop.net - elitisti.netindie.horror.it: «During eighteenth century witch-hunting is reaching its climax, becoming a real fever infecting persecutors aware that blood period is going to an end. East-Europe is sought by cardinal De Ceville, an assassin who haunts out presumed heretics for satiating his will of death. Young Mary participates to a ritual of Satan's worshippers, offering her own body to complete an ancestral rite with ill-omened result. Point of view changes in a snowy Helsinki, where a vampire hangs about melancholically through the white landscape, searching for her origin. Best film produced by Blood Ceremony Films, where joins all elements appearing in other film: Desire of the innocent blood and Succubus. Besides splatter-gore stuff, here copious, there's a good plot and different situations that make film enthralling and overall from beginning to the end. Unlike other films there isn't a crescendo taking to final splatter scene, but a different parts balance turning location from a flogged Europe of eighteenth century to gloomy Finland of nowadays, following first movement of inquisitor horde then laying down to vampire drama. The choose of voice-over or particular sequences (like when the vampire woman wanders through the snow) tread dark elements of the event, enriching pathos and fascinate of film. Interesting the scene located in metal pub where a black metal song changes gear, giving rhythm and movement to the action. Trash situations are present too but well done make-up and special effects succeed not to let situation becoming snazzy, except for situations where Sami Haavisto wants to visit an offhanded and clumsy cinema. Rites of Blood deserves more than a simple watch 'cause it's a gore film that doesn't limit to gather bloody scenes but develops a plot and issues action on the base of it. Intriguing».
---
---