---
---
---
STORIA DI CHIMATSU (GLI AMANTI CROCIFISSI)
(Chikamatsu monogatari)
1954, regia di Kenji Mizoguchi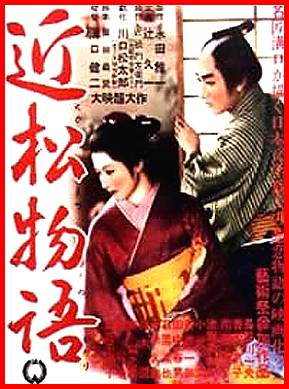 Scheda: Nazione: Giappone - Produzione: Daiei Studios - Distribuzione: New Line Cinema - Soggetto: dall'opera teatrale Daikyoji Sekireki di Monzaemon Chikamatsu - Sceneggiatura: Matsutar˘ Kawaguchi, Yoshikata Yoda - Fotografia: Kazuo Miyagawa - Montaggio: Kanji Sugawara - Scenografia: Hiroshi Mizutani - Musiche: Fumio Hayasaka, Tamez˘ Mochizuki - Formato: B.N. - Durata: 102'.
Cast: Kazuo Hasegawa, Ky˘ko Kagawa, Eitar˘ Shind˘, Eitar˘ Ozawa, Y˘ko Minamida, Haruo Tanaka, Chieko Naniwa, Ichir˘ Sugai, Tatsuya Ishiguro, Hiroshi Mizuno, Hisao Toake, Ikkei Tamaki, Kimiko Tachebana, Keiko Koyanagi, Sayako Nakagami, Kanae Kobayashi, Tadashi Iwata.
---
---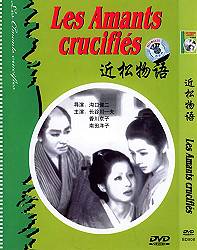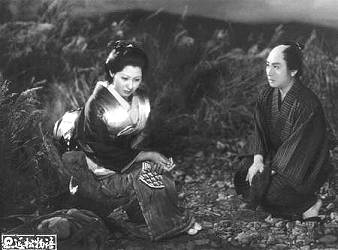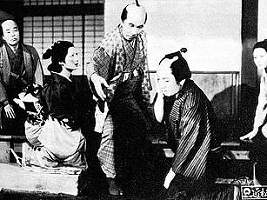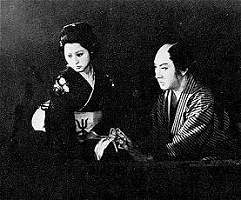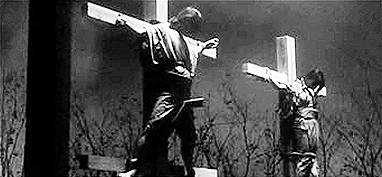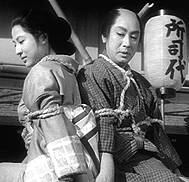 Trama e commenti: film.spettacolo.virgilio.it - kataweb.it - spietati.it - scaruffi.com - asianworld.it - intk-token.it - mymovies.it: źDal dramma Daikyoji Sekireki di Monzaemon Chikamatsu (1653-1724). A Kyoto nel 1683 Osan, moglie di uno stampatore alla corte imperiale, abbandona il marito Ishun e fugge con Mohei, il disegnatore preferito del consorte. Dopo molte peripezie i due fuggitivi sono catturati e condannati alla crocifissione. Vanno al supplizio con una felicitÓ serena sul volto. In questa tragica storia di passione, nata da un malinteso, ancora una volta Mizoguchi compone con quieto accanimento un inno alla libertÓ dell'amore che si oppone alla rigida gerarchia di una societÓ medioevale dove ciascuno ha il suo posto. Per il mirabile equilibrio tra lirismo della vicenda amorosa, realistica analisi del contesto sociale e coinvolgente narrazione, Ŕ uno dei capolavori di Mizoguchi╗.

Plot Summary, Synopsis, Review: IMDb - entertainment.msn.com - nezumi.dumousseau.free.fr - allmovie.com - talkingpix.co.uk - films-sans-frontieres.fr - playthatmovieagain.blogspot.com - movies.yahoo.com - rottentomatoes.com: źDirector Kenji Mizoguchi again employs the repertoire of bunraku in this tale of lovers thwarted by the constricting feudal hierarchy of 17th-century Japan. Ky˘ko Kagawa and Kazuo Hasegawa star as, respectively, the wife, Osan, and clerk, Mohei, of Ishun (Eitar˘ Shind˘), a wealthy and corrupt scrollmaker. When Osan's brother asks her for help in paying a debt, she turns to Mohei, who agrees to use his master's seal to dispense the money she needs. Although he refuses to implicate Osan, Mohei is forced to confess his actions to Ishun, who publicly humiliates the clerk and locks him in a storeroom. Through a series of complications, Ishun arrives at the mistaken belief that Osan and Mohei are lovers. Mohei is instantly dismissed and forced into exile. But when Ishun offers a seppuku knife to Osan, she refuses ritual suicide, knowing that she's committed no crime, and escapes from her husband's house. The director counterposes the high-angle shots, vertical architecture, and entrapping shadows of Ishun's establishment--visual metaphors for the rigidity of this feudal society--with the simple grandeur of nature--a visual metaphor for love--in a compelling denunciation of destructive social mores╗.

Approfondimenti: Movie Review
Conosciuto anche con i titoli: The Crucified Lovers; A Story from Chikamatsu; The Tale of the Crucified Lovers.
---
---