---
---
---
KAGEMUSHA L'OMBRA DEL GUERRIERO
(Kagemusha)
1980, regia di Akira Kurosawa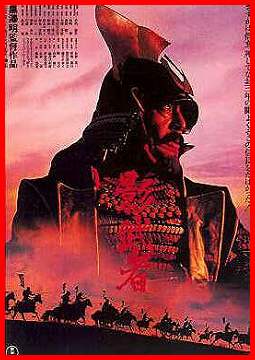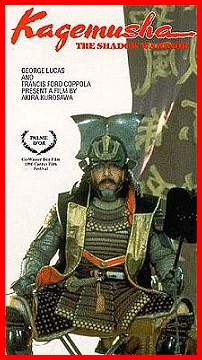 Scheda: Nazione: Giappone - Produzione: Toho - Distribuzione: 20th Century Fox Film Corporation - Soggetto: Masato Ide, Akira Kurosawa - Sceneggiatura: Masato Ide, Akira Kurosawa - Fotografia: Kazuo Miyagawa, Asakazu Nakai, Takao Saitô, Masaharu Ueda, Shoji Ueda - Montaggio: Akira Kurosawa, Tome Minami - Scenografia: Yoshiro Muraki - Musiche: Shinichirô Ikebe - Formato: Panoramico Color - Durata: 162'.
Cast: Tatsuya Nakadai, Tsutomu Yamazaki, Kenichi Hagiwara, Kota Yui, Shuji Otaki, Hideo Murota, Takayuki Shiho, Shuhei Sugimori, Noburo Shimizu, Koji Shimizu, Sen Yamamoto, Daisuke Ryu, Masayuki Yui, Yasuhito Yamanaka, Takashi Shimura, Mitsuko Baisho, Kaori Momoi.
---
---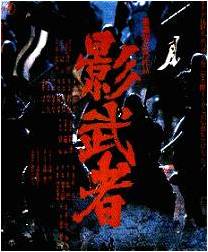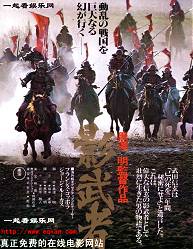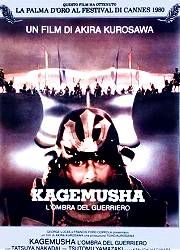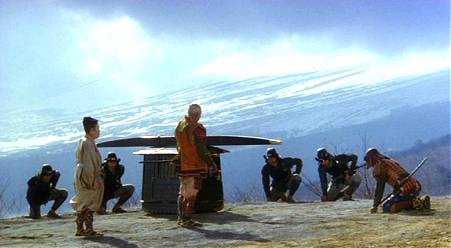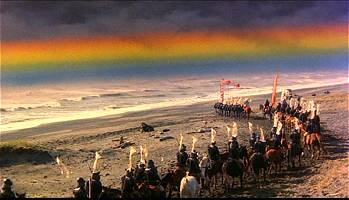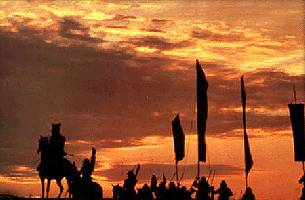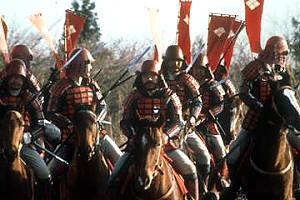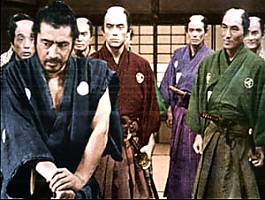 Trama e commenti: kataweb.it - scaruffi.com - mymovies.it - film.spettacolo.virgilio.it - it.wikipedia.org - cinematografo.it - dvd.it - it.movies.yahoo.com - 20thfox.it - rtsi.ch: «...Un celebre avvenimento storico giapponese è alla base del film: nel Cinquecento, una gloriosa armata di cavalleria venne sconsideratamente e inspiegabilmente mandata al massacro, contro l'esercito di un clan nemico, armato di armi da fuoco. Perché?, si è chiesto Kurosawa. E ha cercato di ricostruire gli antefatti umani che hanno preceduto questo clamoroso fatto storico. Non solo: alla base del film sta sicuramente l'interesse del regista per quel periodo storico. Un'epoca-cerniera, un momento di cambiamenti che segna il passaggio dal dominio di un gruppo di feudatari avventurosi, ambiziosi, ma anche colti, rispettosi delle personalità altrui, ad un altro dal potere centralizzato. Che con sistemi polizieschi, certamente più razionali, manterrà a lungo la propria dominazione sul Giappone. Quest'ammirazione di Kurosawa per i suoi personaggi traspare da ogni sequenza di Kagemusha: non solo il grande Takeda Shingen è dipinto con rispetto, ma così lo sono i nemici, i suoi amici o parenti che gli sono inferiori e che si scontrano fra di loro rispettando l'individuo che tradisce la qualità di un'epoca. All'interrogativo sulla battaglia, all'ammirazione per un'epoca, si aggiunge nelle intenzioni di Kurosawa, l'invenzione del Kagemusha, ossia l'ombra, il sosia. Per non perdere la propria influenza anche dopo la propria scomparsa, i Principi usavano un sosia: questi prendeva il posto del sovrano per qualche tempo dopo la sua morte, ingannando così nemici e anche amici. Kagemusha è la storia di uno di questi sosia. E se le battaglie, la ricostruzione di un'epoca costituiscono l'aspetto più evidente della bellezza del film, è questo destino individuale, di un misero ladruncolo che assurge alle vette del potere, per venire rigettato una volta inutile, che costituisce il tema più intimo e poetico del film...».

Plot Summary, Synopsis, Review: IMDb - encyclopedia.thefreedictionary.com - tvguide.com - entertainment.msn.com - dvdbeaver.com - leninimports.com - follow-me-now.de - filmzentrale.com - mathieu.perrin.free.fr - citadelle.org - cineclubdecaen.com - sunsetgun.typepad.com - video.barnesandnoble.com - home.aol.com: «Kagemusha (1980) is the best of Kurosawa's late spectacle films. I much prefer it to what film history books describe as his official masterpiece, Ran/Chaos (1985). The story of an ordinary man who has to pretend to be a major leader, Kagemusha has an emotionally involving look at a sympathetic character at its core. It also has a visually elaborate, well done historical spectacle sweeping around it. Kagemusha deals with a subject of real historical importance: the consolidation of power in Japan in a central military government during the Momoyama period. This followed hundreds of years of civil war, and led to the stable period of the Tokugawa Shogunate. Kagemusha depicts the battle for rule of Japan, as centering around three rivals. Typical of Kurosawa's trenchant critique of history, he shows the victory going to the most ruthless and immoral of the three men. This is not a whitewash of history, but a serious look at its dark side. The Japanese flute known as the shakuhachi plays a role in the tale. Shakuhachi music is used in Japanese culture to depict people's most intimate feelings. One of the best known works in its repertoire is...».

Approfondimenti: Movie Review
Conosciuto anche con i titoli: The Double; Kagemusha the Shadow Warrior.
---
---