---
---
---
LA SFIDA DEL SAMURAI
(Yojimbo)
1961, regia di Akira Kurosawa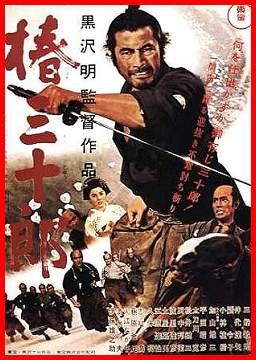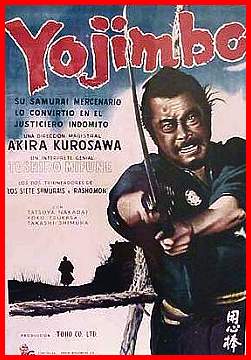 Scheda: Nazione: Giappone - Produzione: Kurosawa Films, Toho - Distribuzione: Cineriz, Criterion Collection, Seneca International, Tocantins, Toho Company Ltd. - Soggetto: da Piombo e sangue di Dashiell Hammett - Sceneggiatura: Ryuzo Kikushima, Akira Kurosawa - Fotografia: Kazuo Miyagawa - Montaggio: Akira Kurosawa - Scenografia: Yoshirô Muraki - Costumi: Yoshirô Muraki - Musiche: Masaru Satô - Formato: B.N. - Durata: 110' (75').
Cast: Toshirô Mifune, Eijirô Tono, Kamatari Fujiwara, Takashi Shimura, Seizaburô Kawazu, Isuzu Yamada, Hiroshi Tachikawa, Kyu Sazanka, Tatsuya Nakadai, Daisuke Katô, Ikio Sawamura, Ko Nishimura, Yoshio Tsuchiya, Yôko Tsukasa, Susumu Fujita.
---
---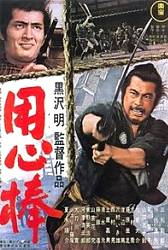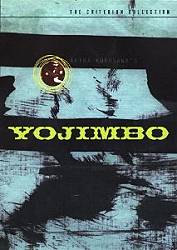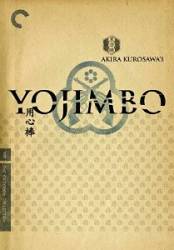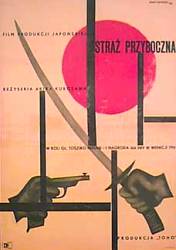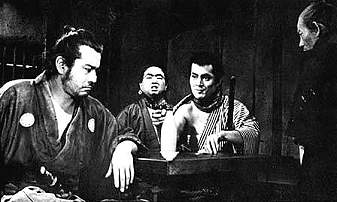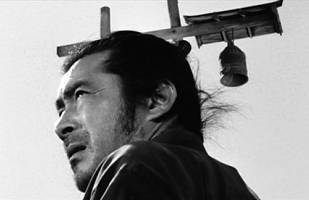 Trama e commenti: cinematografo.it - mymovies.it - film.spettacolo.virgilio.it - it.wikipedia.org - cinekolossal.com- centraldocinema.it - kendo-cik.it - claudiocolombo.net - it.movies.yahoo.com - kataweb.it: «Yojimbo è un film fondamentale all'interno della filmografia di Akira Kurosawa. Ventunesimo di tentuno film, apre la terza e ultima stagione del maestro giapponese, ne conferma il talento visivo e narrativo, ma soprattutto rinnova la sua influenza a livello internazionale dato che, come è noto, questo film si pone come progenitore del western all'italiana (ma non solo). ... è chiaramente il Kurosawa epico quello più visto e richiesto, quello dei film ambientati nel passato, in mezzo a contadini e samurai, così esotici e "esportabili". E tuttavia, chi ha avuto la fortuna di vedere la versione integrale de I sette samurai, o anche lo stesso Yojimbo, si sarà certamente accorto del particolare ritmo narrativo che Kurosawa impone alle sue opere, mai incentrato sulla sola azione (senza nulla togliere all'azione in quanto tale!), ma sempre su un complesso dispiegamento di sguardi sui caratteri, sulle motivazioni sul contesto storico-sociale. In Yojimbo, ad esempio, il samurai nobile ed eroico di un'epoca ancora caratterizzata dalla guerra tra i clan, lascia il posto ai ronin dell'epoca Tokugawa (1603-1867), un'epoca relativamente stabile in cui la nobiltà guerriera dei samurai non trova più una sua specifica collocazione sociale ed economica. I samurai hanno perso la fede ne loro codice (il bushido, accuratamente descritto attraverso delle massime nel libro Hagakure di Yamamoto Tsunetomo) e si aggirano, privi ormai di un Signore cui rendere i loro servigi, come semplici mercenari, guardie del corpo di ricchi mercanti o yakuza. I ronin dunque sono samurai che hanno perduto del tutto il loro fascino mitico e leggendario, ridotti al rango di comuni assassini...».

Plot Summary, Synopsis, Review: IMDb - encyclopedia.thefreedictionary.com - tvguide.com - entertainment.msn.com - movies2.nytimes.com - rottentomatoes.com - dvdbeaver.com - en.wikipedia.org - criterion.com - worldfilm.about.com - moviemartyr.com: «Set in 1860, Akira Kurosawa's Yojimbo opens with a title card that tells us the emergence of a middle class has taken the upper class out of power. Unlike opening titles in most period movies, this information is no mere background detail. It's closer to a mission statement. Yojimbo is a purposely-inflated satiric comedy that takes to task the capitalist motives that sprang up with emergence of a middle class in Japan. Since he's skewering capitalism, which is a generally thought of as a Western phenomena, Kurosawa stylistically echoes several Western genres (most notably the western and the gangster film), in this samurai epic. Another title card tells us that Sanjuro (Toshiro Mifune), his recently unemployed hero, has nothing but his sword and his wits to protect him. He stumbles into the microcosmic hamlet that provides the setting of the entire film penniless, but quickly begins to improve his fortunes once he sizes up the transparent situation before him. His success basically argues that it's only the cleverest and most devious that will thrive in such a flawed system. In Yojimbo, two warring clans of thugs are fighting for control of the gambling trade, and each of them is eager to recruit Sanjuro's services as a samurai so that they might gain the upper hand in their impending clash. When Sanjuro resorts to two-timing treachery, playing one side's capitalist opportunism against the other, the movie wants us to cheer, since it seems to confirm Kurosawa's obvious stance that the middle class, and capitalist concerns that occupy them, are rather senseless...».

Approfondimenti: Movie Review
Conosciuto anche con i titoli: La guardia del corpo; The Bodyguard; Yojimbo the Bodyguard. Il film ha avuto un seguito: Sanjuro, e molti remake, tra cui Per un pugno di dollari (1964) di Sergio Leone; Django (1965), di Sergio Corbucci; La notte rossa del falco (La ciudad maldida, 1977), di Juan Bosch; Ancora vivo (Last Man Standing, 1996) di Walter Hill.

---
---