---
---
---
Lo sguardo di Michelangelo
2004, regia di Michelangelo Antonioni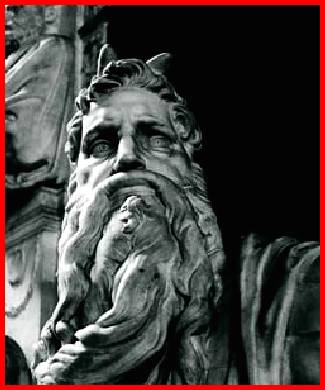 Scheda: Nazione: Italia - Produzione: Istituto Luce, Lottomatica - Distribuzione: Warner Bros. Pictures - Soggetto: Michelangelo Antonioni - Collaborazione: Enrica Fico (Enrica Antonioni), Carlo Di Carlo - Fotografia: Maurizio Dell'Orco - Montaggio: Roberto Missiroli - Art Direction: Mm - Scenografia: Michelangelo Antonioni - Costumi: Fi - Musiche: Ni - Consulenza scientifica: Cristoph Luitpold Frommel - Consulenza storica: Antonio Forcellino, Raffaele Viola - Formato: Color, documentario - Durata: 15'.

Cast:

Michelangelo Antonioni.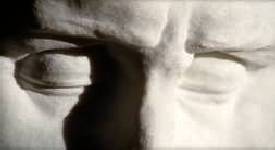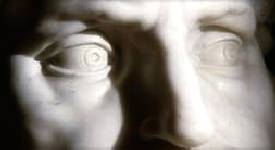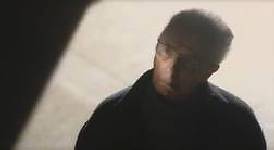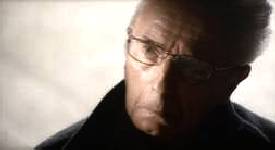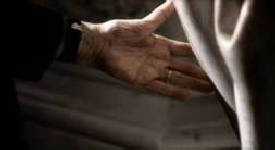 Trama e commenti: cinematografo.it - movies.yahoo.com - pitturaedintorni.it - it.wikipedia.org - cinema.ilsole24ore.com - michelangeloantonioni.it - habanera-nonblog.blogspot.com: «L'ombra di un uomo si allunga sul pavimento dell'uscio della chiesa sino a diventare scarpe, che camminano ed echeggiano nella solitudine assoluta. Appare un Michelangelo Antonioni precario nell'incedere senile, ma senza esitazioni nel dirigersi verso il monumento funerario di Giulio II ed il Mosč di Michelangelo, arrogante nel suo ritrovato splendore marmoreo dopo un restauro accuratissimo. Sono le immagini de Lo sguardo di Michelangelo il corto diretto e interpretato da Antonioni e presentato a Cannes, dove ha ricevuto un applauso lunghissimo. Di quale dei due Michelangelo č lo sguardo? Il vecchio regista vuole che la macchina da presa lo inquadri dall'alto in basso, come se fosse una "soggettiva" del Mosč; e poi, viceversa, in controcampo passa dalla lente dei suoi occhiali per arrampicarsi fino alla maestą della statua. I due sguardi si incrociano in continuazione, in primissimi piani sempre pił stringenti in un montaggio serrato. Antonioni č solo nella chiesa vuota; solo davanti alla bellezza che lo rapisce. E sente di dover aggirare la barriera che lo allontana dalla statua, per poterla toccare. La mano ruvida, tremolante e scura di sole accarezza lentamente i profili bianchi dei drappi di marmo che avvolgono il ginocchio di Mosč, come per integrare la percezione che il solo sguardo non assicura pienamente. Il contrasto č spettacolare: l'uomo che č invecchiato inseguendo la bellezza, finalmente la trova, l'affronta e ne rimane trasformato, placato. Esce dalla chiesa lentamente, senza voltarsi, minuscolo nell'impotenza del colonnato e grandioso nel dono che ha voluto farci. Il suo testamento» (Massimo Marnetto).

Plot Summary, Synopsis, Review: IMDb - movies.msn.com - allmovie.com - nytimes.com - erratamag.com - trendesombras.com - chicagoreader.com - metalasylum.com - filmref.com: «By the time Michelangelo Antonioni released Beyond the Clouds in 1995, his keen sense of patient, intimate observation had seemed to give way to a kind of leering, gratuitous voyeurism in the film's repeated, over-lingering shots of the female form. It is, however, precisely this painstaking attention to the voluptuousness of form and tactileness of surfaces that makes his subsequent short film, Michelangelo Eye to Eye particularly sensual and textural in its execution. Prefaced with a text description of the filmmaker's recent health problems (in particular, a debilitating stroke that left him partially paralyzed), the film opens with a shot of a frail Antonioni emerging from the shadows as he walks in slow, awkward gait into an unpopulated hall where Michelangelo Buonarotti's marble statue of Moses - a scaled down version of an ambitiously conceived wall tomb for Pope Julius II - is once again in display after a period of meticulous restoration. Composed of a series of detailed observations of the sculpture's composition from several camera angles and vantage points, Antonioni continually refocuses to the shot of Moses' opaque gaze - an image that is sublimely matched by the filmmaker's own occluded, returned gaze as he examines the object of his attention through limpid, watery eyes. In addition to creating a thorough, meticulous, and deliberative objective study of the Renaissance sculpture's robust physical form and timeless, universal beauty, Antonioni's juxtaposition of his own weakened, aging frame against the larger-than-life sculpture of Moses creates an indelible, thoughtful, and poignant image on human frailty, transience, creative compromise, and the enduring legacy of - and mortal transcendence through - enlightened art».
Conosciuto anche con i titoli: Michelangelo Eye to Eye; The Gaze of Michelangelo.
---
---