---
---
---
La nuova storia del clan Taira
(Shin heike monogatari)
1955, regia di Kenji Mizoguchi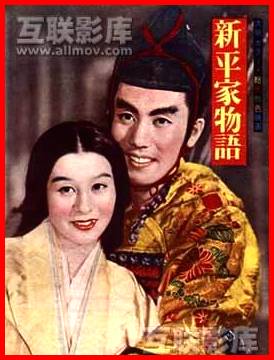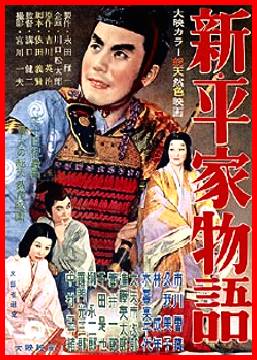 Scheda: Nazione: Giappone - Produzione: Daiei Studios - Distribuzione: Daiei International Films, Daiei Studios - Soggetto: Eiji Yoshikawa - Sceneggiatura: Kyûchi Tsuji, Masashige Narusawa, Yoshikata Yoda - Fotografia: Kazuo Miyagawa, Kôhei Sugiyama - Scenografia: Akira Naito - Musiche: Tamekichi Mochizuki, Fumio Hayasaka, Masaru Satô - Formato: Eastmancolor - Durata: 108'.

Cast:

Narutoshi Hayashi, Raizô Ichikawa, Tatsuya Ishiguro, Michiyo Kogure, Akitake Kono, Yoshiko Kuga, Tamao Nakamura, Shunji Natsume, Ichijirô Oya, Mitsusaburô Ramon, Kunitaro Sawamura, Koreya Senda, Eitarô Shindô, Ichirô Sugai, Eijirô Yanagi.
---
---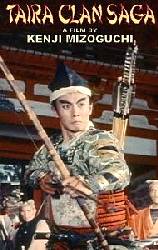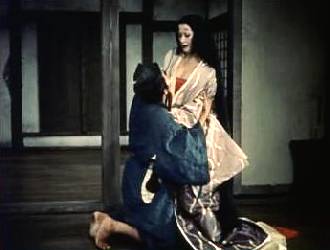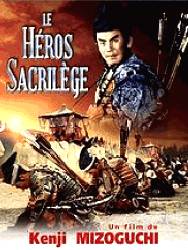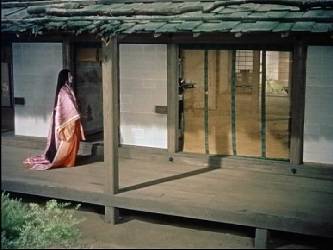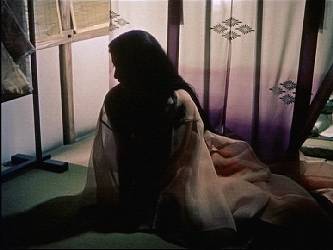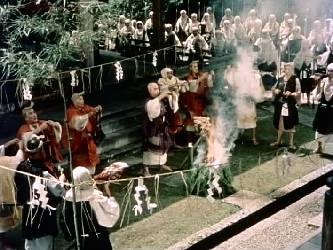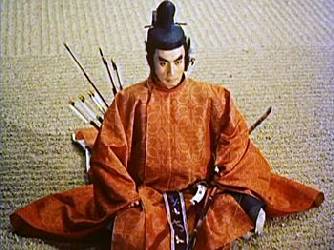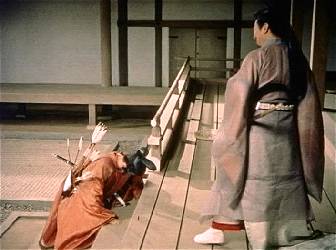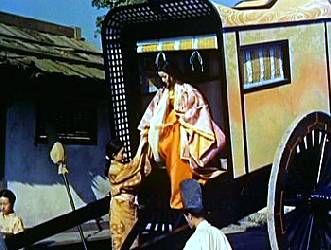 Trama e commenti: cinematografo.it - spietati.it - makotononikki.blogspot.com - cinetecadibologna.it - mymovies.it: «Kyoto 1113. Tadamori Taira e suo figlio Kyomori ritornano vittoriosi da una missione contro alcuni ribelli. Un giorno Kyomori viene a sapere che Tadamori non è il suo vero padre, dal momento che la madre, amante dell'imperatore Shirakawa, lo tradiva con un monaco. Essendo del tutto incerta la paternità del bambino, l'imperatore ripudiò la donna e chiede a Tadamori di prenderla in moglie per evitare scandali. Il giovane resta sconvolto tanto che, quando a Tadamori viene affidata una nuova missione, rifiuta di prendervi parte. La battaglia è vinta e l'imperatore decide di onorare il suo miglior guerriero offrendogli un titolo nobiliare. L'uomo, però, muore poco dopo, tenendo tra le mani un ventaglio che rivela le origine imperiali di quello che ha cresciuto come suo figlio».

Plot Summary, Synopsis, Review: IMDb - allmovie.com - rottentomatoes.com - cinepassion.org - dvdbeaver.com - timeout.com - gotterdammerung.org - cinempire.com - sensesofcinema.com - cinephilia.net.au - answers.com - channel4.com: «A classic of Japanese cinema that charts the rise of the samurai class through the tale of a rebellious warrior. Though the revered director of over 80 films in his homeland, internationally Kenji Mizoguchi was always the quiet friend standing in the corner while Akira Kurosawa beat the drum for Japanese cinema. New Tales of the Taira Clan (Shin Heike Monogatari), Mizoguchi's penultimate film and one of only two he shot in colour, did something to redress the balance, and for good reason. Firstly, it's got samurais in it, which always helps to make 1950s Japanese fare more palatable to the Western tastes. Secondly, the story's not bad either, being that of a returning warrior, Taira Kiyomori (Ichikawa) who upsets the courtiers and priests of 12th century Japan with his seditious samurai ways. Thirdly, and more importantly, it showcases the unique talents of Mizoguchi in its visual attention to detail. It is an immensely stylish film. The social etiquette of 12th century Japan may prove a little confusing and the epic samurai battles are a bit thin on the ground, but there's much to enjoy in this 1950s classic, particularly its remarkable visuals».

Approfondimenti: Movie Review
Conosciuto anche con i titoli: L'eroe sacrilego; Legend of the Taira Clan; The Taira Clan Saga; New Tales of the Taira Clan; The Sacrilegious Hero; Le Héros Sacrilège.
---
---