---
---
---
Reefer Madness: The Movie Musical
2005, regia di Andy Fickman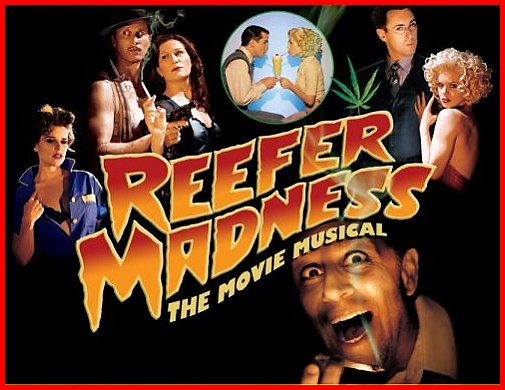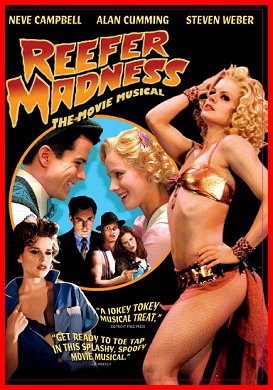 Scheda: Nazione: USA-Germania-Canada - Produzione: Showtime Networks, ApolloScreen Filmproduktion & Co. Filmproduktion KG, Dead Old Man Productions, Middle Fork Productions - Distribuzione: Showtime Networks, Warner Home Video, Diaphana Films, Monopole-Pathé, VCL Communications - Soggetto (ispirato al film-documentario antiproibizionista Reefer Madness (1936): Kevin Murphy, Dan Studney - Sceneggiatura: Kevin Murphy, Dan Studney - Fotografia: Jan Kiesser - Montaggio: Jeff Freeman - Art Direction: Michael Diner - Arredamento: Lesley Beale - Costumi: Maya Mani - Musiche: David Manning, Kevin Murphy, Dan Studney, Nathan Wang - Effetti speciali: Animationwerks, Schminken Studio - Formato: Color-B.N. - Durata: 112'.
Cast: Kristen Bell, Christian Campbell, Neve Campbell, Alan Cumming, Ana Gasteyer, John Kassir, Amy Spanger, Robert Torti, Steven Weber, Kevin McNulty, Stephen J.M. Sisk, Stephen E. Miller, Robert Clarke, Ruth Nichol, Lynda Boyd, Harry S. Murphy, Christine Lakin, John Mann, Michael A. Goorjian, Patti Allan.
---
---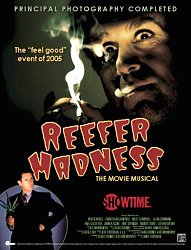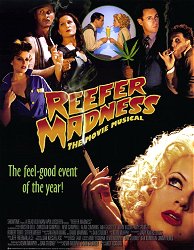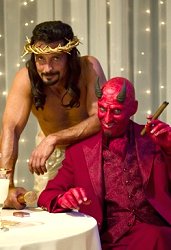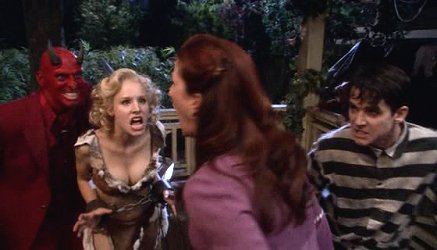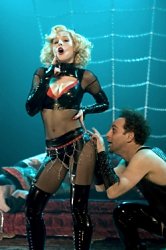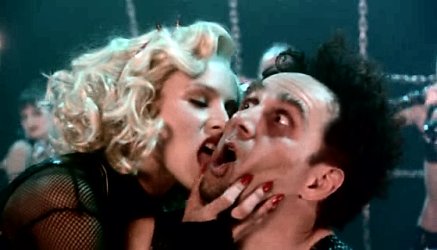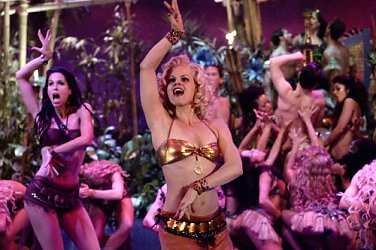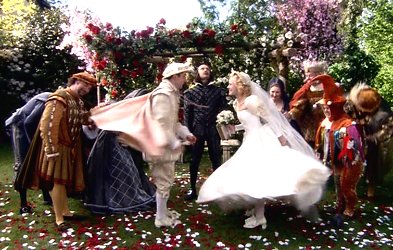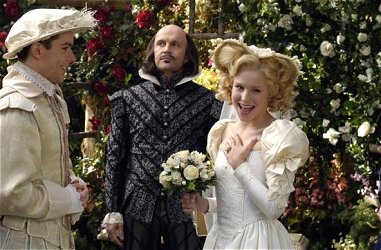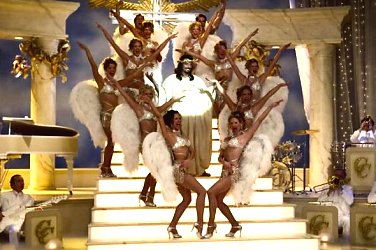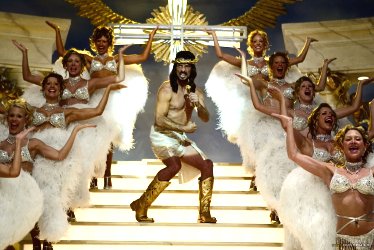 Trama e commenti: exxagon.it - movieplayer.it - it.wikipedia.org: «Il film narra la storia di Harper Affair, in cui il la vita perfetta del giovane Jimmy Harper (Christian Campbell) se ne trasforma in una di depravazione e omicidi grazie ad una nuova droga... la marijuana. Durante il suo percorso viene aiutato dalla sua fidanzata Mary (Kristen Bell) e da Gesù stesso (Robert Torti)».
bill.bzaar.net: «Reefer Madness: The Movie Musical è un film tratto da un musical che ha riscosso un notevole successo nei teatri americani. Il canale TV a pagamento Showtime ha deciso di chiamare regista, sceneggiatori ed alcuni degli interpreti dell'opera teatrale per realizzarne una versione "filmica". Il risultato finale è un prodotto di incredibile qualità, divertente, dotato di sequenze coreografate in modo eccezionale, ben cantato dagli interpreti (tra cui troviamo la bellissima Kristen Bell, protagonista di Veronica Mars; Alan Cumming, il Nightcrawler di X-Men 2 e Neve Campbell) e decisamente bello da vedere e sentire. Se dovesse mai arrivare anche da noi, in DVD o in TV, e se vi piace il genere, beh, non perdetevelo».

Plot Summary, Synopsis, Review: IMDb - allmovie.com - rottentomatoes.com - tvguide.com - dvdtoile.com - boxofficeprophets.com - dvdverdict.com - community.livejournal.com - mutantreviewers.com - popentertainment.com - efilmcritic.com - sfgate.com - f3a.net - en.wikipedia.org: «In a high school classroom, The Lecturer (Alan Cumming) tells the assembly of anxious parents about the evils of marijuana ("Reefer Madness"). With the help of his assistant, he then launches into the tragic tale of one boy's struggles with the demon weed. Jimmy Harper (Christian Campbell) is a fine upstanding youth, blessed with the love of the fair Mary Lane (Kristen Bell). The two are sure they will live happily ever after and (not knowing how the story actually ends) compare their relationship to that of William Shakespeare's greatest love story ("Romeo and Juliet"). However, across town, the weed-pusher Jack (Steven Weber) and his cronies, Sally (Amy Spanger) and Ralph (John Kassir), are living in the depths of depravity. Jack's moll, Mae (Ana Gasteyer), explains how she came to live in such a state and how she would leave Jack if he didn't give her the marijuana she so craves ("The Stuff"). Meanwhile, Jack goes out to recruit new addicts at Miss Poppy's (Neve Campbell) soda counter ("Down at the Ol' Five and Dime"). There, he meets Jimmy, whom he lures back to the house and offers a stick of reefer. After one puff, Jimmy becomes an addict ("Jimmy Takes a Hit/The Orgy"). He forgets about Mary Lane, who sits alone in church, waiting for him ("Lonely Pew"). One night, Jimmy and Ralph break into the church in order to steal from the collection plate for drug money. Jesus (Robert Torti) comes down from the cross and, in a musical revue hosted by Joan of Arc (Christine Lakin), exhorts Jimmy to kick the habit ("Listen to Jesus, Jimmy"). But Jimmy's too deep into his habit to be saved; he has a new God now. He goes back to the Reefer Den, and to Sally. One dark night, Jimmy and Sally are driving wildly back to the house, stoned, when their car hits and kills an old man. Sally runs away. Jimmy, scared straight, drives in a panic to Mary's house, where he tells her he still loves her ("Mary Jane/Mary Lane"). However he realizes that by staying with her he is putting her in danger and tells her that he has to leave town without her. Mary then insists on going with him, saying "If Romeo has to run away, then so does Juliet." Jimmy tells her to go inside and pack, then sneaks away, hoping for a new start somewhere else...».

Approfondimenti: Movie Review
Conosciuto anche con il titolo: Kifferwahn.

Christine Lakin è Giovanna d'Arco.
---
---