---
---
---
Shogun il giustiziere
(Shogun Assassin)
1980, regia di Robert Houston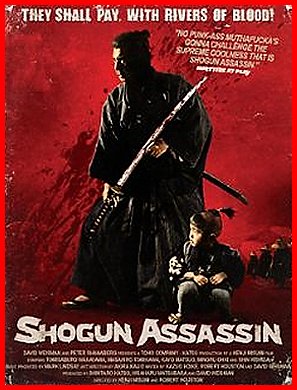 Scheda: Nazione: Giappone-USA - Produzione: Baby Cart, Katsu Production Co. Ltd., Toho Company - Distribuzione: New World Pictures, Video Instant Picture Company, MCA/Universal Home Video, AnimEigo, Navigator Film, Pioneer Artists, Supersounds Films - Soggetto (dal manga Lone wolf and cub, di Kazuo Koike e Goseki Kojim): Robert Houston, David Weisman - Sceneggiatura: Kazuo Koike - Fotografia: Chishi Makiura - Montaggio: Lee Percy, Toshio Taniguchi - Scenografia: Akira Kaijo - Musiche: W. Michael Lewis, Mark Lindsay, Kunihiko Murai, Hideaki Sakurai - Formato: Metrocolor - Durata: 86'.
Cast: Tomisaburo Wakayam, Kayo Matsuo, Minoru Ohki, Akiji Kobayashi, Shin Kishida, Akihiro Tomikawa.
---
---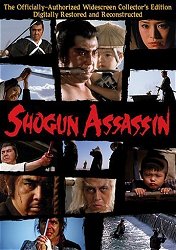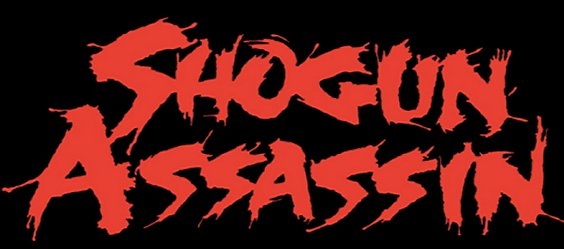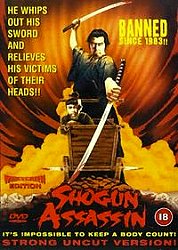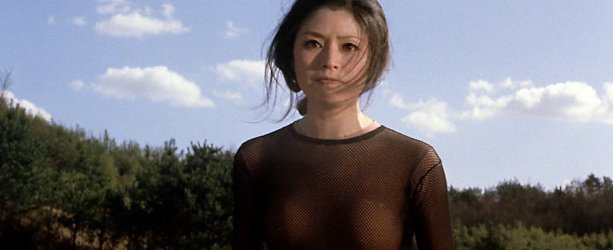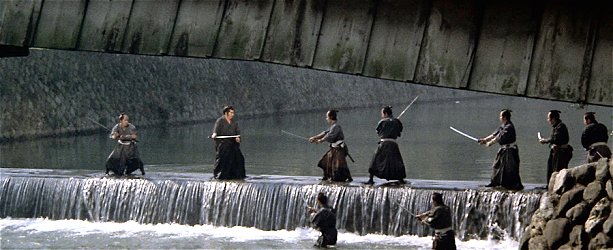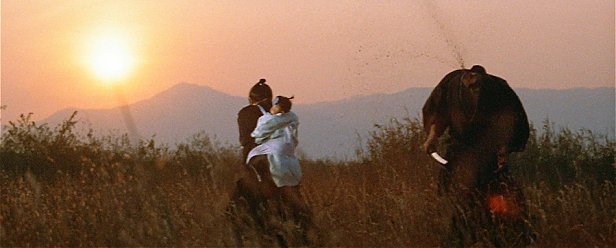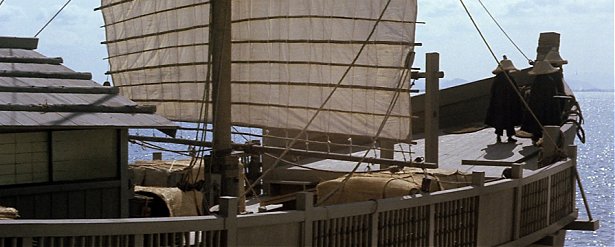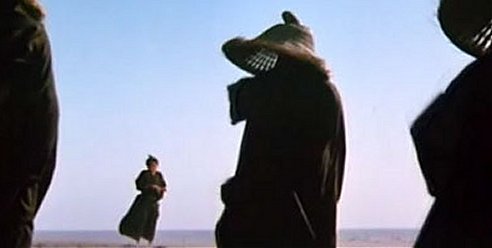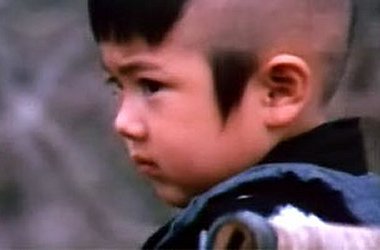 Trama e commenti: cinema.libero.it - film.virgilio.it - amazon.it - filmbrutti.forumcommunity.net - deadinside-sciamano.blogspot.com: «Giappone, 17° secolo. A seguito di un complotto ordito dalla famiglia Yagyu, il personale boia dell'Imperatore, Ogami Itto, cade in disgrazia , privato del titolo di samurai e colpito negli affetti più cari: la giovane moglie viene assassinata. Obbligato a compiere il rito del "seppuku"(volgarmente conosciuto in Occidente come suicidio), Ogami rifiuta e insieme al figlioletto (Daigoro, 3 anni) intraprende una sanguinosa e estenuante ricerca della vendetta. Tratto dal fondamentale e stupefacente manga originale, Lone wolf and cub, pubblicato a partire dal 1970 , creato dai maestri Kazuo Koike (autore) e Goseki Kojima (disegnatore), Shogun assassin è a sua volta un montaggio (a opera di Robert Houston per il mercato occidentale) dei primi due lungometraggi(di una serie di sei!) ispirati alle gesta di Lupo solitario e il suo cucciolo e diretti dalla sapiente mano di Kenji Misumi: i titoli sono rispettivamente Lone wolf and cub: sword of vengeance (1972) e Lone wolf and cub: baby cart at the river Styx (1972). Nonostante possa apparire come un'operazione discutibile, Shogun assassin risulta un film autonomo, scorrevole e pienamente convincente. Del resto sarebbe stato difficile trarne un pessimo prodotto, dato che i film di K. Misumi sono a dir poco eccezionali e a distanza di oltre 30 anni, ancora modelli di riferimento per il cinema di arti marziali (da Versus sino al celebre Kill Bill). Il film è un perfetto adattamento delle tavole del manga, un concentrato impressionante di violenza e poesia, un vero punto di non ritorno di stilizzazione grafica e senso dello spettacolo: Il sangue sgorga a fiotti, le membra sparse ovunque, le teste aperte in geyser di liquidi, le lame tranciano corpi con una bellezza quasi ipnotica (molti fans dell'horror potrebbero trovare il loro Eden). Eccellente la ricostruzione del Giappone feudale grazie a un apparato scenografico di primordine, curato in ogni dettaglio (le evocative musiche per es.). ...».

Plot Summary, Synopsis, Review: IMDb - cultmovieforums.com - dvdbeaver.com - beyondhollywood.com - epinions.com - gutmunchers.com - moviemuser.co.uk - retrojunk.com - abandomoviez.net - zelluloid.d - allrovi.com: «More a "greatest hits" movie than an actual stand-alone film of its own, Shogun Assassin is the delirious hybrid of two episodes of the popular Baby Cart series dubbed into English and fused together into a hyper-violent bloodbath ballet that's sure to entertain the samurai-film enthusiast with a strong stomach. The swords fly fast and furious as a wondering shogun is forced into exile after being framed and his wife murdered. Giving his infant son the choice between the merciful release of death (represented by a ball) and the life of constant threat and danger (a sword) the child reaches for the sword, marking the beginning of a brutally violent struggle for survival among a sea of would-be assassins. From this point on plot is secondary, focusing instead on a series of violent vignettes in which limbs fly freely in a furious blur of lightning swords. Utilizing masterful swordsmanship in addition to a cleverly designed and lethal baby carriage, father and son are in a constant state of ultra-alert adrenalized awareness, conscious that instant death may lurk beyond every carefully chosen path».

Approfondimenti: Movie Review
Conosciuto anche con il titolo: Morderca shoguna.
---
---