---
---
Ironclad
2010, regia di Jonathan English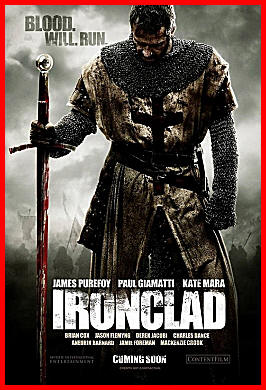 Scheda: Nazione: USA-GB - Produzione: Mythic International Entertainment, Film & Entertainment VIP Medienfonds 4 GmbH & Co. KG, Premiere Picture, Silver Reel, VIP 4 Medienfonds - Distribuzione: ContentFilm, Warner Bros., Antena 3 Films, Bowline, Cinestar Films, DeA Planeta Home Entertainment, Lusomundo, Media Pro, Monolith, Pro Films, Sahamongkolfilm Co., Square One Entertainment, Village Films - Soggetto: Jonathan English - Sceneggiatura: Jonathan English, Erick Kastel, Stephen McDool - Fotografia: David Eggby - Montaggio: Peter Amundson, Gavin Buckley - Art Direction: Malcolm Stone - Scenografia: Joseph C. Nemec III - Costumi: Beatrix Aruna Pasztor - Musiche: Lorne Balfe - Effetti speciali: Richard Van Den Bergh - Formato: Color.
Cast: Kate Mara, Paul Giamatti, Brian Cox, Jason Flemyng, James Purefoy, Derek Jacobi, Mackenzie Crook, Charles Dance, Jamie Foreman, Vladimir Kulich, Guy Siner, Bree Condon, Steffan Rhodri, Aneurin Barnard, Daniel O'Meara, John Pierce Jones, David Melville, Simon Nader, Rhys Parry Jones, Steve Purbrick, Ian M. Court, Stuart Mager, Christian Morgan, Stevie Raine.
---
---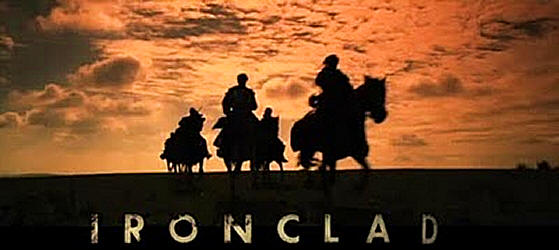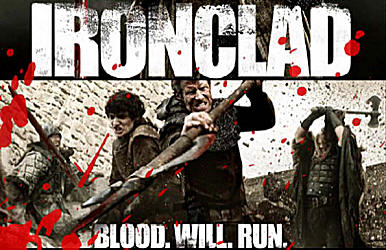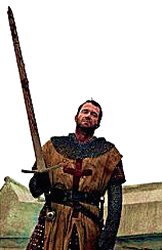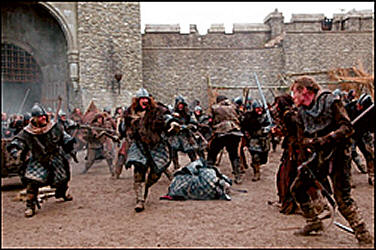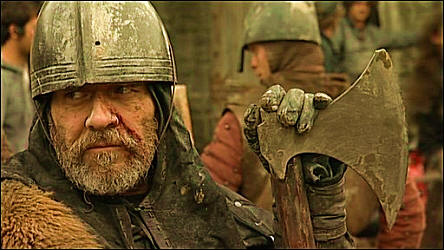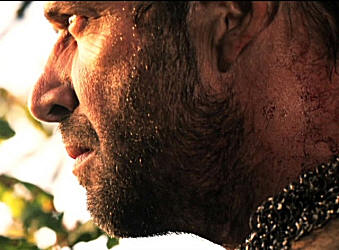 Trama e commenti: movieplayer.it - filmissimo.it - vivacinema.it - mymovies.it: «è l'anno 1215 ed i baroni ribelli d'Inghilterra hanno costretto il disprezzato re Giovanni a mettere il suo sigillo reale sulla Magna Carta, un nobile documento seminale che ha confermato i diritti degli uomini liberi. Pochi mesi prima di impegnarsi alla grande Carta, il re rimangia la parola e assembla un esercito mercenario, sulla costa meridionale dell'Inghilterra, con l'intento di portare i baroni e il paese nuovamente sotto il suo governo tirannico. A bloccare la sua strada si erge il potente castello di Rochester, un luogo che sarebbe diventato il simbolo della lotta epocale dei ribelle per la giustizia e la libertà».

Plot Summary, Synopsis, Review: IMDb - movies.nytimes.com - rottentomatoes.com - contentfilm.com: «A Medieval 'Magnificent Seven', that combines the visceral, stylized action of '300' with the impassioned heroism and romance of Braveheart, Ironclad is an ultra-violent action thriller that tells the true story of a motley crew of tough, battle hardened warriors, who withstood several brutal and bloody months under siege, in a desperate bid to defend their country's freedom…It is the year 1215 and England is on the brink of a bloody Civil War. The Magna Carta, a landmark contract between the King and his subjects, upholds the rights of the people of England and promises to bestow a fragile peace on the kingdom. Yet, barely four months since putting his royal seal to the charter, the sly and deceitful King John (Paul Giamatti) is about to go back on his word. By amassing a powerful mercenary army on the South Coast, King John plans to destroy all those who signed the legendary charter, and once again seize absolute control of the country, plunging England back under the tyrannical rule from which it had only recently escaped…But all is not yet lost. Hearing news of their despised ruler's intentions, Marshall (James Purefoy), a Templar Knight and veteran of the ferocious Crusade to the Holy Land, hastily assembles a grizzled band of noble barons prepared to hole up inside the virtually impenetrable walls of Rochester Castle in order to protect the people's rights that they had already fought so hard to secure. Rochester is a real-life 'Helm's Deep' – a strong fortress defending the only passage through hostile terrain. Through this passage the King must pass if he is to seize control of his kingdom, so it is not long before he and his blood-thirsty loyalist army mass at the gates of the Castle, fully prepared to slaughter anyone who stands in their way. As wave after wave of the King's loyalist soldiers relentlessly attack the crumbling walls of their fortress, Marshall and his men must rely on both their superior swordsmanship and the mighty Rochester Castle itself against this vast and unyielding enemy. Each member of this gang of defenders has his weapon of choice, and in the case of their leader Marshall, it's the bone crushing long-sword. Its weight alone will rip through a human body in one blow, so when wielded by an expert, nothing is left standing in its wake. Driven by the passion of the beautiful and feisty Isabel, the Lady of the castle, the men somehow have to muster enough resolute determination to defend their freedom, defeat the forces of an oppressive King and bring justice to the people of England… Combining a superb ensemble cast with some of the biggest and award winning names in Editing, Production Design, Stunts and Cinematography, Ironclad is well crafted and intense throughout, delivering ferocious yet breathtaking action sequences in the same vein as Troy and Gladiator».

Approfondimenti: Movie Review
Scheda a cura di Lorenza Cervellera
---
---