Karl der Große und die Sachsen
2010, regia di Christian Twente, Carsten Gutschmidt, Martin Carazo Mendez, Judith Voelker, Robert Wiezorek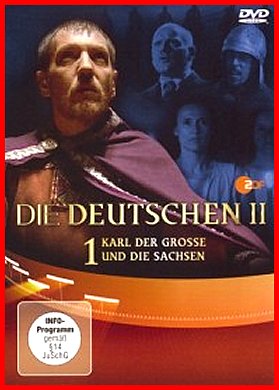 Scheda: Nazione: Germania - Produzione: Castel Film Romania - Soggetto: Werner Biermann - Sceneggiatura: Werner Biermann - Fotografia: Jörg Adams, Torbjörn Karvang, Marc Riemer - Montaggio: Timothy McLeish - Set Decoration: Maria Miu - Musiche: Paul Räbiger - Effetti speciali: FaberCourtial, LUXX Studios - Formato: Color, documentario, film tv - Durata: 43'.
Cast: Jens Schäfer, Stefan Weinfurter, Bernd Schneidmüller, Matthias Becher, Zoltan Butuc, Hans Mittermüller (voce).
---
Anche: https://www.youtube.com/watch?v=H5ergyI6hX4; https://www.zdf.de/dokumentation/die-deutschen/karl-der-grosse...
---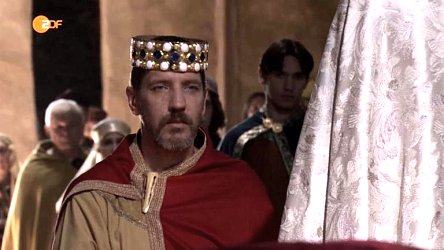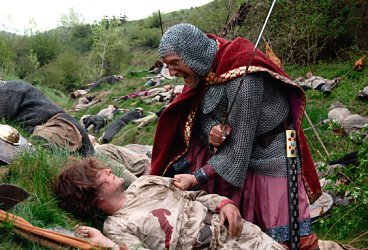 Plot Summary, Synopsis, Review: IMDb - presse.phoenix.de - amazon.de - zdf.de - plotsummary: «Charlemagne, son of a new dynasty started as ministers of the former Merovingian kings of the Franks, turned his people's realm into a Germanic empire, a Catholic rebirth of western Rome's, politically rivaling Byzantium, in alliance with the papacy. The Carolingian renaissance, a cultural restoration, was a huge success, ultimately founding a capital in Aachen. A major 'internal' obstacle was the resistance of heathen tribes, the largest of which were the Saxons. Their greatest leader, Widukind, was ultimately pressed to baptism rather then continue bloody oppression to impose conversion. The German people was thus forged, although major tribal realms would persist as duchies/electorates» (KGF Vissers).
hervedumont.ch: «Le docu-fiction, tourné en extérieurs en Roumanie avec comédiens et figurants multipliés par infographie, éclaire les rapports conflictuels entre Charlemagne et les Saxons du roi Widukind de l'été 772 jusqu'à la conversion définitive et la soumission des « païens ». En 955, Otto Ier le Grand, roi germanique d'origine saxonne, écrasera à son tour les populations magyares. Rédigé par Werner Bierman, l'épisode fait partie d'une série en dix chapitres qui tente de cerner la notion de l'Allemagne et des Allemands, de l'Empire romain à 1918».
Episodio 1 della seconda stagione della serie tv Die Deutschen.
---
---