Dente per dente
1943, regia di Marco Elter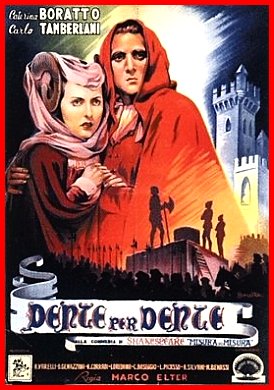 Scheda: Nazione: Italia - Produzione: Giuseppe Gallea per Atlas Zeta Artisti Associati - Distribuzione: Zeta Artisti Associati, J. H. Hoffberg Company - Soggetto: dalla commedia Misura per misura (Measure for measure) di William Shakespeare - Sceneggiatura: Guglielmo Usellini, Enrico Ribulsi - Fotografia: Antonio Marzari - Montaggio: Marco Elter - Art Direction: Guglielmo G. Borzone - Scenografia: Piero Filippone - Set Decoration: Guglielmo Borzone - Musiche: Giovanni Fusco - Formato: B.N.- Durata: 83'.
Cast: Arturo Bragaglia, Claudio Ermelli, Aldo Silvani, Cesco Baseggio, Amalia Pellegrini, Federico Collino, Memo Benassi, Lina Marengo, Amelia Chellini, Tina Santi, Lamberto Picasso, Loredana (Padoan), Nelly Corradi, Carlo Tamberlani, Alfredo Varelli, Osvaldo Genazzani, Caterina Boratto.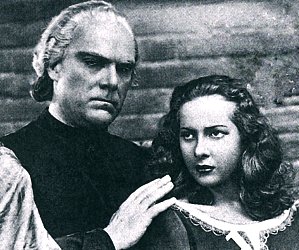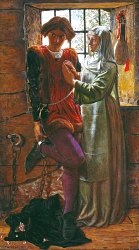 Trama e commenti: comingsoon.it - it.wikipedia.org - torinocittadelcinema.it - cortoin.screenweek.it - cinematografo.it: «L'imperatore designa a reggere le sorti di un Ducato un giovane versato più nel culto delle discipline classiche che non nelle arti di governo. Egli si decide ad intraprendere un lungo viaggio ed affida temporaneamente le sorti del governo a un suo cugino. Questi, che apparentemente è un rigido ed intransigente paladino della legge duramente applicata contro chiunque possa violarla, scende a mercanteggiare con una fanciulla, amata dal Duca, la libertà di un fratello di lei condannato a morte per congiura, contro la rinunzia alla propria onestà. Naturalmente tutto si scopre, il Duca riprenderà il potere ed il disonesto cugino avrà la punizione che merita. Critica: "Il film piglia lo spunto, addirittura, da una delle più discusse commedie di Shakespeare (...) ma il regista Elter non si è davvero mostrato all'altezza del soggetto e tanto meno, della commedia, la quale è deliziosamente carica di popolaresca superstizione, di spiritualismo biblico, di decisa ed argutissima ironia (...). Ad ogni modo il film si può guardare lo stesso senza fastidio o dispetto. Basta il punto di partenza" (F. Sarzani, "Il Giornale d' Italia", 16/7/1943)».

Plot Summary, Synopsis, Review: IMDb - en.wikipedia.org - wikiwand.com - cinema.theiapolis.com - nytimes.com: «In the Italian film version of Shakespeare's Measure for Measure, which opened yesterday at the Cinema Verdi, one of the playwright's least provocative works has been decked lavishly in the trimmings and spirit of medieval pageantry with handsome but plodding results. Even on the stage the master's neatly constructed tale of love, politics requires considerably adroit handling to make it three-dimensional. But the F. E. R. T. Studios in Turin, instead of pouring on some imaginative sauce, have served up a colorfully stuffed and dry Christmas goose. Under Marco Elter's direction, with a particularly listless set of English sub-titles, this Hoffberg Productions release moves slowly and ponderously. However, there is a spectacular flourish of tastily gaudy costumes at all times. The musical background, the sharpest contrast to the film as a whole, is ripe and pungent. And the two principal performances do much toward prodding this bulky offering forward. Alfredo Varelli, as the manly, esthetic Duke of Vienna who deliberately tests a would-be politico by handing over his authority, is excellent. So is Aldo Silwani, as the substitute whose hypocritical proclamations are finally handed back "measure for measure." Caterina Boratto, Nelly Corradi and Carlo Tamberlani head the supporting cast of this cumbersome display of finery and fol-de-rol, which, Shakespeare included, signifies exactly nothing».
Conosciuto anche con il titolo: Measure for measure.
---
---