---

AMORE ALL'ULTIMO MORSO
(Innocent Blood)
1992, regia di John Landis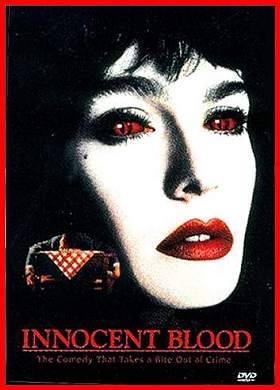 Scheda: Nazione: USA - Produzione: Warner Bros. - Distribuzione: Columbia TriStar, Warner Bros. Home Video - Soggetto (dal testo di Bram Stoker): Michael Wolk - Sceneggiatura: Michael Wolk - Fotografia: Mac Ahlberg - Montaggio: Dale Beldin - Scenografia: Richard Sawyer - Costumi: Deborah Nadoolman - Musiche: Ira Newborn - Effetti speciali: Steve Johnson - Formato: Technicolor - Durata: 114'.
Cast: Anne Parillaud, David Proval, Rocco Sisto, Chazz Palminteri, Anthony LaPaglia, Robert Loggia, Tony Sirico, Tony Lip, Kim Coates, Marshall Bell, Leo Burmester, Rohn Thomas, Angela Bassett, Luis Guzmán, Don Rickles, Gil Cates jr., Charlie Gomorra, Lamont Arnold, Yancey Arias, Frank Oz, Pitty Jennings, David Early, Forrest J Ackerman, Elaine Kagan, Michael Ritchie, Sam Raimi, Dario Argento, Tom Savini, Steve Johnson, Linnea Quigley.
---
---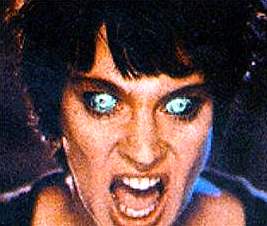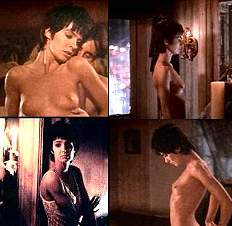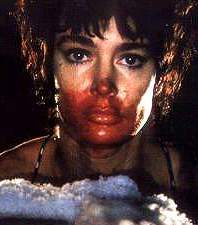 Trama e commenti: cinematografo.it - kataweb.it - horrorworld: «Una bella vampira, Marie, in cerca di sangue per cibarsi, si imbatte in una gang mafiosa il cui capo è Sal Macelli. Insieme a Sal ci sono Joe e Tony. La ragazza sceglie come sua vittima Tony, lo dissangua e gli fa esplodere la testa per evitare che rinasca vampiro. Scoperto l'omicidio la stampa rivela anche che Joe è un agente infiltrato nella gang per scoprire i loro loschi traffici. Marie intanto dissangua anche Sal ma si dimentica di decapitarlo e il boss torna in vita assetato di vendetta. La donna capisce di aver fatto un grosso guaio e decide di riparare collaborando con Joe. I due cercano l'uomo per tutta la notte e di giorno si rifugiano in un motel dove l'amore prende il posto dei loro problemi. Il boss intanto sta cercando di organizzare una banda di non morti per poter continuare indisturbato le sue sporche azioni. Joe e Marie riescono però a scovarlo ma mentre uccidono i suoi uomini Sal scappa e viene travolto da un pullman rimanendo illeso. Joe riuscirà infine ad uccidere l'uomo sparandogli in testa. Il finale è lieto e vede Marie e Joe che si dichiarano il proprio amore».

Plot Summary, Synopsis, Review: IMDb - deseretnews.com - nytimes.com - greencine.com - vampyres-online.com - allmovie.com: «An uneven but entertaining blend of graphic horror and black comedy from John Landis, very much in the mode of the director's successful An American Werewolf in London. French actress Anne Parillaud -- star of Luc Besson's acclaimed thriller La Femme Nikita -- plays Marie, a lithe and lovely vampire with a conscience who will not take "innocent blood" and maintains a low profile by dining exclusively on criminals and lowlifes. She finds a virtual smorgasbord in Pittsburgh's criminal underworld, arriving in the thick of a bloody mob war sparked by ruthless kingpin Sal Macelli (Robert Loggia). After preying on one of Macelli's hoods (Chazz Palminteri), Marie fumbles her attack on the boss himself and he manages to escape, eventually transforming into a vampire himself. Macelli soon comes to appreciate his new superhuman condition and hatches a diabolical scheme to control the syndicates by turning his underlings into vampires -- including his beleaguered lawyer, Emmanuel Bergman (Don Rickles). Marie, faced with a new and powerful undead enemy, is forced to take matters into her own claws. To this end she enlists the reluctant aid (and eventual affection) of undercover cop Joe Gennaro (Anthony LaPaglia), whose cover has just been leaked to the press, making him a target for Macelli and his growing army of blood drinkers. Landis has crafted a dark and brooding film, pumped up with bouts of extreme gore and gangland violence -- but where American Werewolf's occasional comic touches helped to ground the story and give the "straight" horror scenes more punch, most attempts at humor here seem jarring and out of place. The film's highlights come from numerous horror in-jokes, including cameos from Sam Raimi, Clive Barker, Dario Argento and Linnea Quigley; Rickles' explosive death scene ranks among the weirdest in cinema history» (Cavett Binion).

Approfondimenti: Movie Review
Conosciuto anche con il titolo: A French Vampire in America; Sangre Fresca: una Chica Insaciable; Bloody Marie - eine Frau mit Biss; Nao Ha Pescoco que Aguente; Transilvania Mi Amor.
---
---