---

Caperucita y Pulgarcito contra los monstruos
1962, regia di Roberto Rodríguez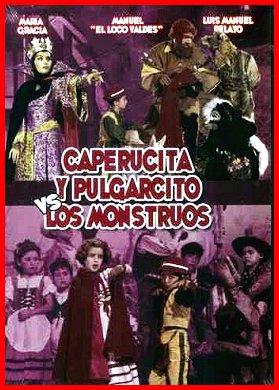 Scheda: Nazione: Messico - Produzione: Películas Rodríguez - Distribuzione: K. Gordon Murray Productions, Something Weird Video - Soggetto: Fernando Morales Ortiz, Adolfo Torres Portillo - Adattamento: Fernando Morales Ortiz, Adolfo Torres Portillo, Sergio Magaña Hidalgo, Roberto Rodríguez - Fotografia: Rosalío Solano - Montaggio: José W. Bustos - Scenografia: Carlos Arjona - Musiche: Raúl Lavista - Effetti speciali: León Ortega, Jorge Benavides - Formato: Eastmancolor - Durata: 82'.
Cast: María Gracia, Cesáreo Quezadas 'Pulgarcito', Quintín Bulnes, José Elías Moreno, Manuel 'Loco' Valdés, Miguel Inclán jr., Santanón, Ofelia Guilmáin, Armando Gutiérrez, Alfredo de Soto, Elvira Lodi, Magda Donato, Elba Eugenia Migoni, Manuel Vergara 'Manver', Humberto Dupeyrón, Rubén Márquez, Doncel, Eugenia Avendaño (voce).
---
---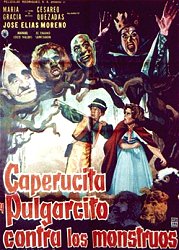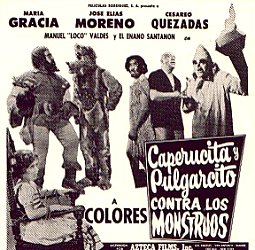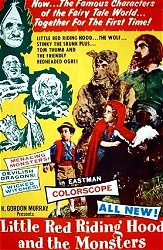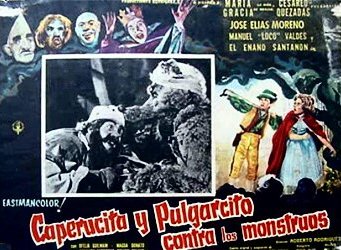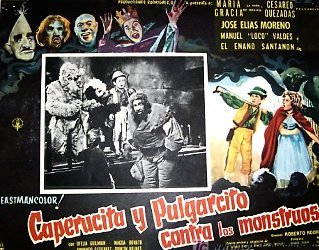 Trama e commenti: velenoperlefate.blogspot.com - contenebbia.splinder.com: «Follie messicane. Cappuccetto Rosso, M. Tom Police e i suoi amici animali si trovano a combattere un vampiro modellato sull'archetipo di Dracula nel buio di un bosco incantato».

Plot Summary, Synopsis, Review: psychotronickultvideo.blogspot.com - eldesvandelabuelito.blogspot.com - cinefania.com - abandomoviez.net - IMDb: «..his is the holy grail of weirdo kiddie movies, the ultimate wicked fairy tale, a morbid, bizarre case of Grand Guignol for kiddies in the most odd permutation of genres ever concocted. This rarely-seen feature lies truly beyond description. Those zany folks at Churubusco-Azteca took two of their favorite cinema categories, the wacky fairy tale and the gothic horror movie, and spliced them together willy-nilly to make a ludicrous, entirely diabolical thrill-ride for youngsters. The film starts off menacingly, as a clearly nervous narrator speaks of the evil forces that rule the world. In case that doesn't sufficiently spook the wee ones, we are then subjected to a compendium of monsters (my favorite is Carrot-Head, the monster carrot) including ogres, vampires, robots, witches, skeletons, dragons and Siamese beasts, as well as a catalog of atrocities too numerous and unbelievable too mention, until Little Red Riding Hood and her soul-mate, Tom Thumb, with the aid of fairy tale perennials Stinky the Skunk and the Ferocious Wolf, conquer the evil witch and her band of grotesque ghouls. After this traumatizing descent into hell, the film ends on a high note as our heroes waltz through the wicked forest warbling the excruciating tune, "Just Give a Little Whistle." Imagine seeing this as a kid in 1965 shopping mall America; expecting an innocuous fairy tale, you witnessed instead a disabling nightmare fable! As if the original Mexican film wasn't dark and wacky enough, K Gordon Murray's consciously creepy dubbing must have made the US version downright hair-raising to the malleable young mind...».

Approfondimenti: Movie Review
Conosciuto anche con i titoli: Little Red Riding Hood and Tom Thumb vs. the Monsters; Little Red Riding Hood and the Monsters; Tom Thumb and Little Red Riding Hood.
---
---