---

Conte Dacula
(Count Duckula)
1988, regia di Chris Randall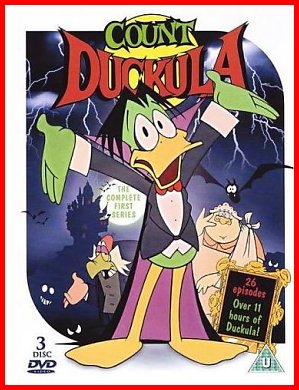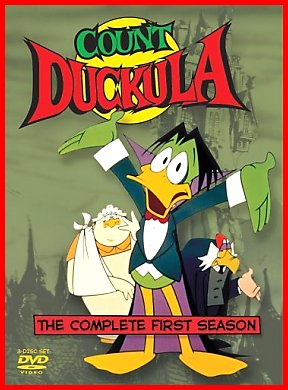 Scheda: Nazione: GB - Produzione: Cosgrove Hall Productions, Nickelodeon Network, Thames Television - Distribuzione: Thames Television, Independent Television, FremantleMedia Enterprises, Nederlandse Omroepstichting - Soggetto e sceneggiatura della serie: Jimmy Hibbert, Peter Richard Reeves, Brian Trueman, Chris Randall, Jan Needle - Montaggio della serie: Zyggy Markiewicz, Patrick Haggerty, Eilis Ward, Hilary Wyatt - Animazione: Alfonso Productions animation - Musiche: Mike Harding - Effetti speciali della serie: Carlos Alfonso, Garry Owen, Murti Schofield - Formato: Color, animazione, film tv - Durata: 22' (30') ognuno dei 65 episodi.
Voci: Jack May, Brian Trueman, Jimmy Hibbert, David Jason, Barry Clayton.
---
https://www.youtube.com/watch?v=VthsQVsXwEg
---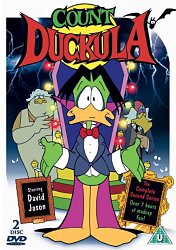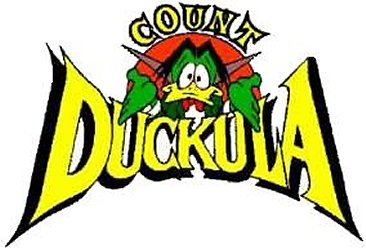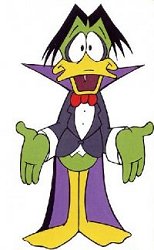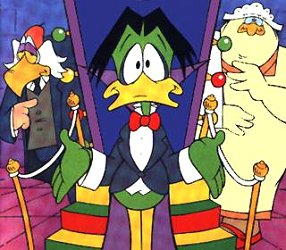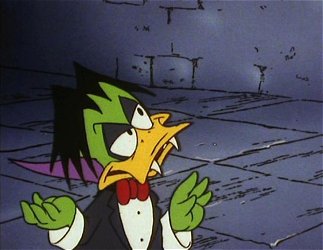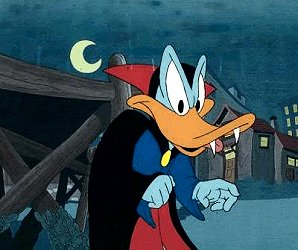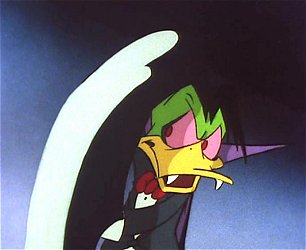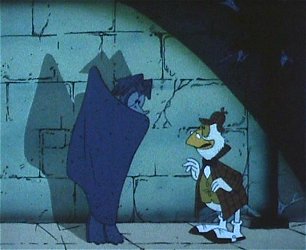 Trama e commenti: davinotti.com - it.wikipedia.org - ilregnodeglianni80.forumfree.it - antoniogenna.net - cinetivu.com - horrorcrime.com: «Conte Dacula (titolo originale: Count Duckula) è il titolo di una serie animata realizzata in Gran Bretagna dalla casa di produzione Cosgrove-Hall e andata in onda dal 1988 al 1993 per un totale di 65 episodi, nonché il nome del protagonista, un papero vampiro nato come un'ovvia parodia del conte Dracula. La storia. In Transilvania si erge un sinistro castello, dimora dei Dacula, una famiglia di conti il cui solo nome basta a terrorizzare gli abitanti dei poveri villaggi che stanno al di sotto del maniero. Questo perché si dice che i Dacula siano una dinastia di paperi vampiri intenti a succhiare il sangue alla povera gente. In realtà, come viene narrato nel segmento che precede la sigla iniziale di ogni episodio, questa credenza è errata, non perché i Dacula non siano vampiri, ma perché non sono una dinastia... Infatti Dacula è un solo vampiro, morto e resuscitato più volte nel corso dei secoli. Per resuscitarlo (in seguito alle tipiche morti da vampiro, cioè esposizione alla luce solare e paletti di legno nel cuore), i suoi servitori avrebbero dovuto seguire un complicato rituale durante una precisa occorrenza astronomica (la luna deve entrare "nell'ottava casa di Acquario"): a quel punto Dacula sarebbe rinato, ma con ricordi e una personalità totalmente differenti, riuscendo così a portare avanti la leggenda della casata Dacula. Nel presente, un'altra di queste resurrezioni sta per avere luogo, condotta da Igor, il fido maggiordomo di Dacula, e dalla Tata, la governante del castello: purtroppo grazie alla stupidità della Tata uno degli ingredienti fondamentali, il sangue fresco, viene sostituito con il succo di pomodoro, e così Dacula rinasce come vampiro vegetariano e del tutto inoffensivo, per il disgusto di Igor che sperava di vedere il suo padrone terrorizzare gli inermi abitanti dei villaggi. Dacula vorrebbe diventare amico di tutti, diventare famoso e viaggiare per il mondo: mentre le prime due opportunità non saranno mai realizzate a causa della cattiva fama che circonda lui e i suoi servi, il tema del viaggio intorno al mondo sarà spesso sfruttato dalla serie grazie all'introduzione della "bara magica". Si tratta di una bara situata in un'ala del castello che garantisce a chiunque vi entri l'abilità di teletrasportarlo in qualsiasi luogo del mondo...con l'unico inconveniente che anche tutto il castello viene trasportato assieme a lui!».

Plot Summary, Synopsis, Review: IMDb - allmovie.com - epguides.com - taliesinttlg.blogspot.com1 - taliesinttlg.blogspot.com2 - it-it.facebook.com - dvdverdict.com - popmatters.com - internationalhero.co.uk - 80scartoons.co.uk - tv.com - tvtropes.org - nyanko.pwp.blueyonder.co.uk - zelluloid.de - en.wikipedia.org: «Count Duckula is a British animated television series created by British studio Cosgrove Hall, and a spin-off from DangerMouse, a show in which the Count Duckula character was a recurring villain. The series first aired on September 6, 1988 and was produced by Thames Television for 3 seasons and Central Television for the fourth and final series. In all, 65 episodes were made, each about 22 minutes long. All 65 episodes have been released to DVD in Region 2, while only the first series has been released in Region 1. Both the series as well as its characters continue to have a large following on the internet. The show is a loose parody of the story of Count Dracula. Set in Transylvania, Duckula lives in a spooky castle known as Castle Duckula, alongside his butler Igor, and his large nanny (always referred to as "Nanny" and perpetually wearing an arm sling). Almost all of the characters in the show are anthropomorphised birds. The story (as shown in the title sequence each episode) is that Duckula has been active as a vampire for centuries. He could only be destroyed by exposure to sunlight or by a wooden stake thrust through his heart. In fact, Duckula has died numerous deaths — but he always returns through a mystic ritual, performed once a century, "when the moon is in the Eighth House of Aquarius" (The opening credits depict Igor's incantation). Several episodes explore the theme that each resurrection creates a new incarnation with little to no memory of its past life; thus, every incarnation is free to develop its own personality and pursue its own personal interests. The vampire is thus able to pose as a "dreadful dynasty," the Counts of Duckula. The preceding generations included knights, sorcerers, scientists, artists, Egyptologists and even professional gamblers, all of whom were also secretly "vicious vampire ducks". Yet, as the title sequence put it, "the latest reincarnation did not run according to plan." The successful conclusion of the ritual requires blood, the source of sustenance for any vampire, but Nanny accidentally substituted tomato ketchup. Consequently, the newest version is not a blood-sucking vampire, but a vegetarian one. He is more interested in juicy carrots than hunting for victims. Naturally, Igor is appalled at this. Even worse, his "new" master is obsessed with pursuing wealth and fame as an entertainer. The stories often centre around Duckula's adventures in search of riches and fame, assisted by the castle's ability to teleport around the world. Another regular theme is Igor's attempts to turn Duckula into a proper vampire. Some episodes feature Duckula's nemesis Doctor Von Goosewing (based on Dr. Abraham Van Helsing, the nemesis of Dracula), a vampire hunter who blindly refuses to believe the current incarnation of Duckula is harmless. There is also an array of bizarre, often supernatural foes, from zombies to mechanical werewolves. The show also features a cuckoo clock whose bat-like Russian-accented characters come out and make jokes about the current situation (or just corny jokes in general); the clock is also a vital part of the castle's travelling mechanism, and even has the ability to turn back time. The first season was released on Region 1 DVD on October 4, 2005. A series of annuals and monthly comics further detailing the adventures of Count Duckula and associated characters were released throughout the time that the series originally aired and for a short time after. The Region Free DVD of Season 1 was released on July 17, 2006.[1] The Region 2 DVD of Season 2 was released on 26 March 2007.[2] The show's end credits were eventually edited, omitting many graphic effects».

Approfondimenti: Movie Review
Conosciuto anche con i titoli: Comte Mordicus; El conde Pátula; Graf Duckula; Hrabia Kaczula; Kreivi Duckula.
---
---