---

Def By Temptation
1990, regia di James Bond III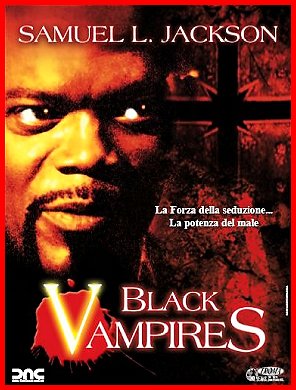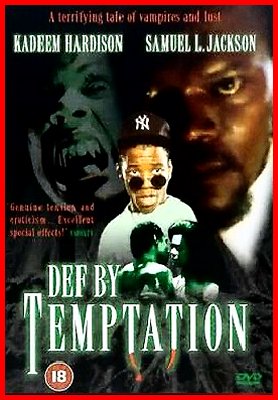 Scheda: Nazione: USA - Produzione: Bonded Filmworks, Orpheus Pictures - Distribuzione: Troma Entertainment, Astro Distribution, Cineplex-Odeon Home Video, Image Entertainment, MCA Home Video, Shapiro-Glickenhaus Home Video - Soggetto: James Bond III - Sceneggiatura: James Bond III - Fotografia: Ernest R. Dickerson - Montaggio: Brian O'Hara, Li-Shin Yu - Art Director: Marc Henry Johnson - Costumi: John Michael Reefer - Musiche: Paul Laurence - Effetti speciali: Christina Bone, Rob Benevides - Formato: Technicolor - Durata: 91' (95').
Cast: Samuel L. Jackson, James Bond III, Kadeem Hardison, Bill Nunn, Minnie Gentry, Rony Clanton, Steven van Cleef, John Canada Terrell, Guy Davis, Cynthia Bond, Najee, Freddie Jackson, Melba Moore, Z. Wright, Michael Rivera, Sundra Jean Williams, Ellis Williams, Beth Latty, Angela Stokes, Lahana Kameha, Michael Michele, Robin Harmon, Starleana Young.
---
---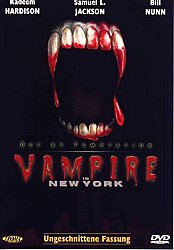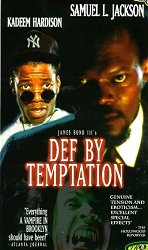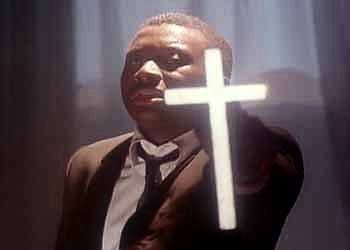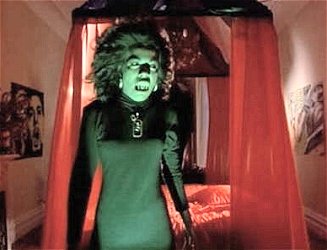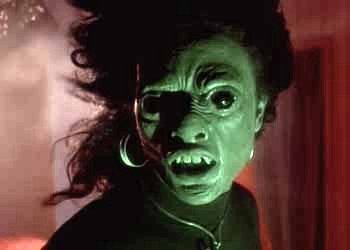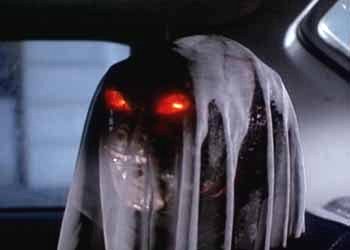 Trama e commenti: mymovies.it - iltromologo.blogspot.com - film.tv.it - it.wikipedia.org - dvdequipe.it - unilibro.it - vampiri.net: «Un barista viene abbordato da una cliente al locale e va a casa sua per un incontro galante. Le cose però non vanno esattamente come lui aveva programmato. E non sarà l'unica preda della vampira. Nel frattempo un ragazzo cresciuto fin da piccino per diventare un predicatore, rimasto orfano dei genitori in un incidente, riceve una telefonata dal cugino che lo invita a raggiungerlo a New York. Sia per sfuggire all'opprimente nonna sia dagli strani incubi e visioni che ha accetta subito. è una fortuna che il suo arrivo coincida con la serata in cui la vampira ha deciso di abbordare il cugino newyorkese... Qualche sera dopo decide di portare il cugino al pub a conoscere la donna che lo ha abbordato. Però la vampira sceglie Joel quella sera. è proprio Joel la preda che la vampira cercava da tanto tempo. Keith però intuisce la donna nasconda qualcosa notando che non si riflette negli specchi. Keith corre al bar e parla con un altro avventore di quanto ha notato ed egli gli rivela che fa parte di una squadra di polizia che indaga proprio su quella donna a causa di morti misteriose ed inquietanti. Ora devono agire per fermare la vampira. Si rivolgono ad una maga, la demone vampira se ne accorge ed ora è pronta ad affrontare i suoi nemici».

Plot Summary, Synopsis, Review: IMDb - allmovie.com - http://moria.co.nz - blackhorrormovies.com - en.wikipedia.org - movies.nytimes.com - rottentomatoes.com - citizencaine.org - cinemafantastique.net - aullidos.com - moviemeter.nl - zelluloid.de - vampyres-online.com: «At odds with his calling, a young divinity student (James Bond III) comes to New York to sort out his future. Little does he know what terrors await him: a sexy succubus (Cynthia Bond) is hell bent on destroying Joel, through her powers of satanic seduction. One by one, Joel's friends fall victim to the vampire's charms. One by one, they die hideous deaths, leaving Joel to face the temptress and his destiny alone! What do you expect when you see it's a Troma release? Yes, that's exactly what you get here. No high-quality or big-budget movie at all, the usual, weird Troma stuff instead - but one of the better Troma ones. Even if the supposed vampire is more kind of an evil she-demon and it's not as gory as you may have been expecting. So, it is not that bad, on the other hand, it's also not really good. You may give it a try, but if not, you don't miss any essential film of your favourite genre».

Approfondimenti: Movie Review
Conosciuto anche con i titoli: Black Vampires; Succube; Temptation; Tentación Diabolica; Vampire In New York.
---
---