---

Doctor Who: la maledizione di Fenric
(Doctor Who: The Curse of Fenric)
1989, regia di Nicholas Mallett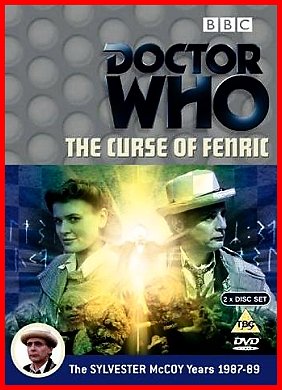 Scheda: Nazione: GB - Produzione: BBC (British Broadcasting Corporation) - Distribuzione: BBC (British Broadcasting Corporation), BBC Video, CBS/Fox, Fox Video, The Sci-Fi Channel, TROS (Televisie Radio Omroep Stichting) - Soggetto: Ian Briggs - Sceneggiatura: Ian Briggs - Fotografia: Paul Harding, Alan Jessop - Scenografia: David Laskey - Costumi: Ken Trew - Musiche: Mark Ayres - Effetti speciali: Graham Brown, Dave Chapman - Formato: Color, film tv - Durata: 25' ognuna delle 4 parti.
Cast: Sylvester McCoy, Sophie Aldred, Dinsdale Landen, Alfred Lynch, Nicholas Parsons, Janet Henfrey, Tomasz Borkowy, Peter Czajowski, Marek Anton, Mark Conrad, Joann Kenny, Joanne Bell, Anne Reid, Cory Pulman, Aaron Handley, Stevan Rimkus, Marcus Hutton, Christien Anholt, Ian Collins, Ian Elliot, Damon Jeffery, Cy Town.
---
---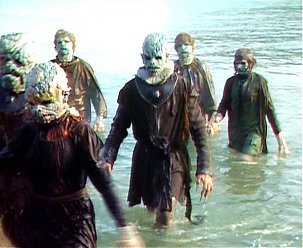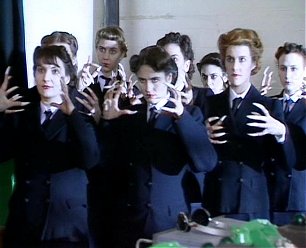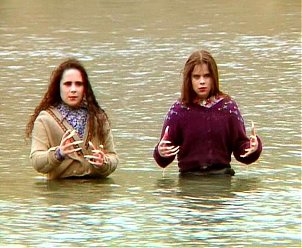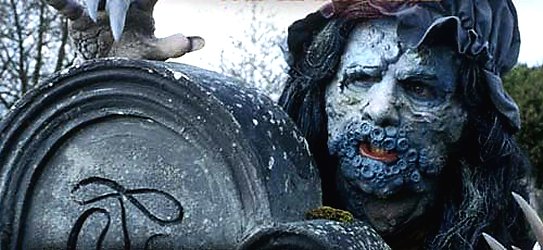 Trama e commenti: doctorwhoitalia.it: «Doctor e Ace sono messi alla prova quando il TARDIS si materializza nell'Inghilterra della Seconda Guerra Mondiale, nei pressi di una base navale segreta. La chiesa del villaggio è costruita sui resti di tombe vichinghe, che portano iscrizioni riguardanti i lupi di Fenric che torneranno per riprendere il loro tesoro. Dopo di che il male regnerà... E mentre Doctor cerca di tradurre le parole, orribili corpi sorgono dall'oceano. Fenric è libero di richiamare a sé i suoi lupi e gli omicidi si scatenano. Contro Fenric, solo il Doctor potra' fare le ultime mosse giuste».

Plot Summary, Synopsis, Review: IMDb - allmovie.com - taliesinttlg.blogspot.com - shannonsullivan.com - en.wikipedia.org - dvd.net.au - pagefillers.com - netflix.com - drwhoguide.com - bbc.co.uk - shop.abc.net.au: «When the Doctor and Ace arrive at a secret military base during World War II, they discover that a centuries-old Viking curse is bringing terror to its inhabitants. As hideous vampires rise from the sea and Russian commandoes begin to close in, they are confronted not only with a mystery from the distant past, but also a terrifying vision of mankind's future. Although for the most part a traditional Doctor-versus-monsters, The Curse of Fenric draws inspiration from a wide range of sources including Norse mythology and John Carpenter's 1979 movie thriller 'The Fog'. It remains one of the favourite Doctor Who adventures not only because it is a great story but also because all the elements came together something that is both entertaining and highly atmospheric. The superb music, rivetting performances, great special effects and excellent camerawork and editing all combine to produce a story that ranks with the best of Doctor Who».
Episodio in quattro parti della stagione 26 della serie tv Doctor Who, conosciuto anche con i titoli: Wolf-Time; The Wolves of Fenric.

Doctor Who: Stato di putrefazione; Doctor Who: Gli anelli di Akhaten
---
---