---

Dracula di Bram Stoker
(Bram Stoker's Dracula)
1992, regia di Francis Ford Coppola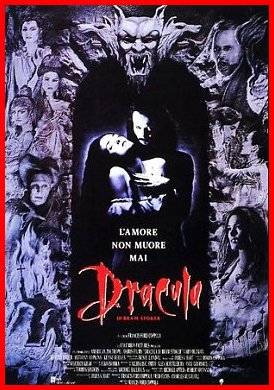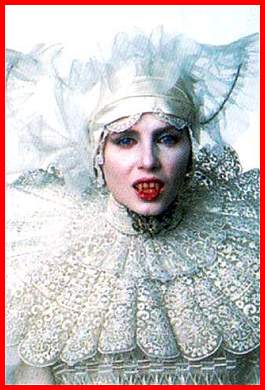 Scheda: Nazione: USA - Produzione: Columbia Pictures, America Zoetrope, Osiris Film Production - Distribuzione: Columbia Pictures, Columbia TriStar Film Distributors International, Sony Pictures Home Entertainment, Videosonic Arts, The Criterion Collection, Egmont Entertainment, Fox Network, LK-TEL - Soggetto: James V. Hart (dal romanzo Dracula di Bram Stoker) - Sceneggiatura: James V. Hart - Fotografia: Michael Ballhaus - Montaggio: Anne Goursaud, Glen Scantlebury, Nicholas C. Smith - Art Direction: Andrew Precht - Scenografie: Garrett Lewis - Costumi: Eiko Ishioka - Musiche: Wojciech Kilar - Effetti speciali: Animal Makers, Colossal Pictures, Fantasy II Film Effects, Matte World Digital, 4-Ward Productions, Available Light Productions, isual Concept Engineering - Formato: Technicolor - Durata: 130'.
Cast: Gary Oldman, Keanu Reevs, Wynona Rider, Anthony Hopkins, Sadie Frost, Richard E. Grant, Cary Elwes, Bill Campbell, Tom Waits, Monica Bellucci, Michaela Bercu, Florina Kendrick, Jay Robinson, I.M. Hobson, Laurie Franks, Maud Winchester, Octavian Cadia, Robert Getz, Dagmar Stanec, Eniko Öss, Nancy Linehan Charles, Tatiana von Furstenberg, Jules Sylvester, Hubert Wells, Daniel Newman, Honey Lauren, Judi Diamond, Robert Buckingham, Cully Fredricksen.
---
---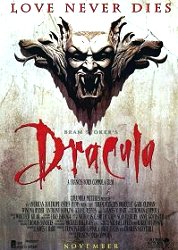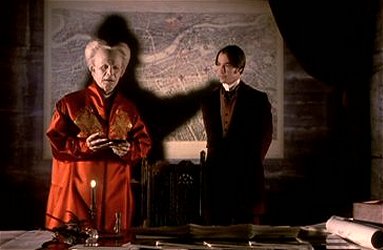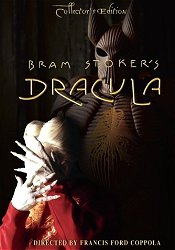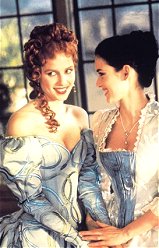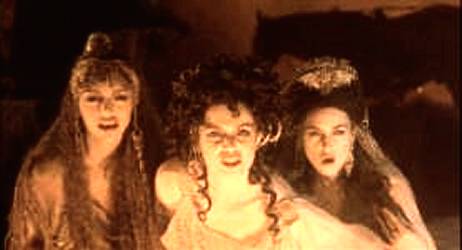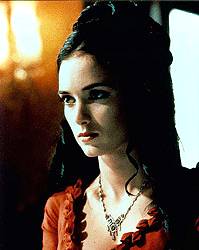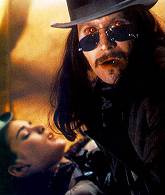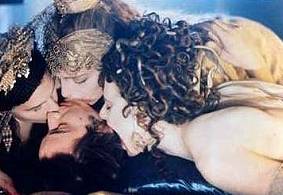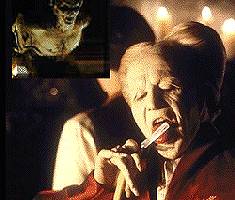 Trama e commenti: cinematografo.it - kataweb.it - mymovies.it - film.spettacolo.virgilio.it - it.wikipedia.org - bourbon-street.net - vampiri.net - cinziaricci.it - tempimoderni.com - film.tv.it: «Il mito del vampiro rivisto in chiave visionaria tra modernità e tradizione. Nel 1462 le armate del principe transilvano Vlad sconfiggono i musulmani. Elisabetta viene spinta al suicidio da un falso messaggio che le annuncia la morte dello sposo. In seguito a questo drammatico avvenimento, Vlad si vota per sempre al Male, diventando così l'immortale Dracula. Quattro secoli dopo riceve nel suo castello il giovane agente immobiliare londinese Jonathan Harker, fidanzato con la diafana Mina le cui sembianze sono identiche a quelle di Elisabetta. Il vampiro decide così di trasferirsi nella Londra vittoriana dopo aver messo temporaneamente fuori gioco Jonathan. Giunto a destinazione, il principe vampirizza Lucy, una disinvolta amica di Mina anch'essa prossima alle nozze, ma prima di poter fare altrettanto con Mina si trova a fronteggiare l'olandese professor Van Helsing, che gli dà accanita battaglia. Frattanto Jonathan riesce a fuggire dalla Transilvania. La resa dei conti è vicina e, dopo un'infernale galoppata sulla via del ritorno, Vlad, Mina, Jonathan, Van Helsing e altri personaggi si ritrovano nel castello di Dracula mentre sta per sorgere il sole... Coppola compie sul testo originale un lavoro di rilettura che, mantenendo inalterata la forma, ne esaspera il contenuto. Grande interpretazione di Gary Oldman, che dà volto e corpo a un Dracula da antologia. Oscar per i costumi (Eiko Ishioka), il montaggio degli effetti sonori e il trucco. Colonna sonora con le voci di Diamanda Galas e Annie Lennox. In parti minori Tom Waits e l'italiana Monica Bellucci».

Bram Stoker

Plot Summary, Synopsis, Review: IMDb - entertainment.msn.com - net4u.ro

- classic-horror.com - variety.com - efilmcritic.com - cinemafantastique.net - washingtonpost.com - allmovie.com: «Based on Bram Stoker's classic 1897 novel, this film from Francis Ford Coppola and screenwriter James Victor Hart offers a full-blooded portrait of the immortal Transylvanian vampire. The major departure from Stoker is one of motivation as Count Dracula (Gary Oldman) is motivated more by romance than by bloodlust. He punctures the necks as a means of avenging the death of his wife in the 15th century, and when he comes to London, it is specifically to meet heroine Mina Harker (Winona Ryder), the living image of his late wife (Ryder plays a dual role, as do several of her costars). Anthony Hopkins is obsessed vampire hunter Van Helsing, while Keanu Reeves takes on the role of Jonathan Harker, and Tom Waits plays bug-eating Renfield. Bram Stoker's Dracula was the winner of three Academy Awards» (Hal Erickson).

horrormovies.com: «In Bram Stokers Dracula, Coppola returns to the original source of the Dracula myth, and from that gothic romance, he creates a modern masterpiece. Gary Oldmans metamorphosis as Dracula - who grows from old to young, from man to beast - is nothing short of amazing. Winona Ryder brings equal intensity to the role of a young beauty who becomes the object of Draculas devastating desire. Anthony Hopkins co-stars as the famed doctor who dares to believe in Dracula, and then dares to confront him. Opulent, dazzling and utterly irresistible, this is Dracula as youve never seen him!».

Approfondimenti: Movie Review
Conosciuto anche con i titoli: Dracula; Drakoulas; Drakula; Drácula de Bram Stoker; Dracula d'après Bram Stoker; Dracula d'après l'oeuvre de Bram Stoker.

---
---