---

DRACULA CERCA SANGUE DI VERGINE... E MORì DI SETE
(Andy Warhol's Dracula)
1974, regia di Antonio Margheriti, Paul Morrissey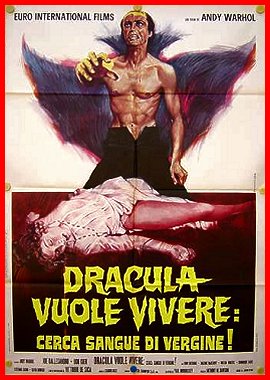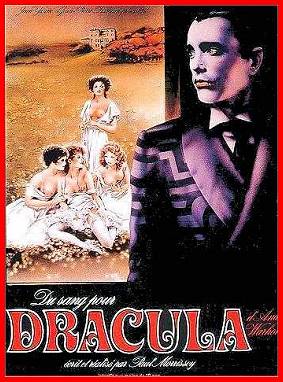 Scheda: Nazione: Italia - Produzione: Bryanston Pictures, Compagnia Cinematografica Champion - Distribuzione: Bryanston Pictures, Criterion Pictures Corp., Triboro Entertainment Group Inc. - Soggetto: da un'idea di Paul Morrissey - Sceneggiatura: Pat Hackett, Paul Morrissey, Andy Warhol - Fotografia: Luigi Kuveiller - Montaggio: Jed Johnson, Franca Silvi - Musiche: Claudio Gizzi - Effetti speciali: Carlo Rambaldi - Formato: Panoramica Eastmancolor - Durata: 103'.
Cast: Joe Dallesandro, Udo Kier, Arno Juerging, Maxime McKendry, Milena Vukotic, Dominique Darel, Stefania Casini, Silvia Dionisio, Inna Alexeievna, Gil Cagne, Emi Califri, Eleonora Zani, Vittorio De Sica, Roman Polanski.
---
---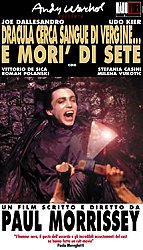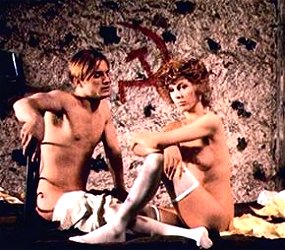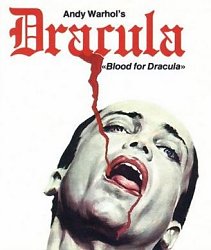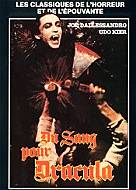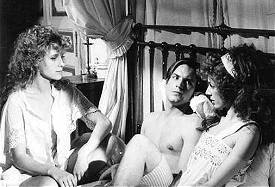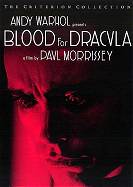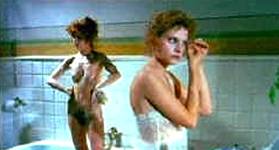 Trama e commenti: cinematografo.it - cineforum.bz.it - kataweb.it - cimenanemic.blogspot.com - unilibro.it - mymovies.it: «Dracula (Kier) arriva in Italia negli anni '30. Ha bisogno di sangue di vergini, altrimenti si ammala, ma alloggia presso una famiglia che non fa al suo caso. C'è in giro un bel maschio (Dallesandro) che salva le illibate, deflorandole. Realizzato in Italia, con le lire di Carlo Ponti e franchi francesi, dal clan di Andy Warhol (come Il mostro è in tavola... barone Frankenstein), fu un effimero film di culto per cinefili raffinati ed esaltati a causa dell'umorismo macabro e del gusto del nonsense che lo impregnano. Firmato come regista da Anthony Dawson, alias Antonio Margheriti, per ragioni burocratiche e da Tonino Guerra come sceneggiatore. Effetti speciali di Carlo Rambaldi. Circolò sul mercato anglo-americano come Andy Warhol's Dracula o Blood for Dracula. Polanski nei panni di un contadino. Ultimo film di De Sica».

Plot Summary, Synopsis, Review: IMDb - en.wikipedia.org - dvdverdict.com - horrorphile.net - horror.blogs.com - esplatter.com - entertainment.msn.com - nostalgiacentral.com - answers.com - allmovie.com: «The second of two horror films shot in a single production term and bearing the name of pop-art icon Andy Warhol (whose participation pretty much ended with the use of his name), this film is slightly superior to its higher-profile predecessor, Andy Warhol's Frankenstein. Direction is credited to Warhol factory filmmaker Paul Morrissey, though there still exists a very vocal camp who insist that the real credit should go to Italian director Antonio Margheriti. Euro-horror leading man Udo Kier assays the title role, playing the count as a pale, anemic-looking blood junkie with an overwrought accent. Finding the supply of "weer-gin" blood diminishing rapidly in Romania, Dracula is forced to seek a fix in a predominantly Catholic Italian province, where he is certain a few virgins still exist. He travels with his assistant (Arno Juerging) and his coffin-sealed sister to the decrepit, crumbling mansion of the financially-strapped Marquis DiFore (a tour-de-force performance from Bicycle Thief director Vittorio de Sica) who welcomes the affluent Count with open arms, hoping to marry off any one of his four daughters. Dracula clearly has other intentions for the girls... but his plans are rudely thwarted by beefy, socialist handyman Mario (Joe Dallesandro), who has been dutifully divesting the young maidens of their -- ahem -- virtue, thus tainting their blood and making it unsafe for vampiric consumption. Very unsafe, it turns out -- as we are treated to protracted scenes of the death-pale Count vomiting up gallons of blood. Rated "X" at the time of its release (and subsequently re-rated "R" ten years later), this outrageous catalogue of depravity features wildly campy performances, inane dialogue and an outrageous climax» (Cavett Binion).

Approfondimenti: Movie Review
Conosciuto anche con i titoli: Andy Warhol's Dracula; Andy Warhol's Young Dracula; Blood for Dracula; Du sang pour Dracula; Dracula; Dracula vuole vivere: cerca sangue di vergine!; Sangre para Drácula; Young Dracula; Sangue Virgem para Dracula.
---
---