---

LA REGINA DEI DANNATI
UN SOLO DESIDERIO, L'INFERNO SULLA TERRA
(The Queen of the Damned)
2002, regia di Michael Rymer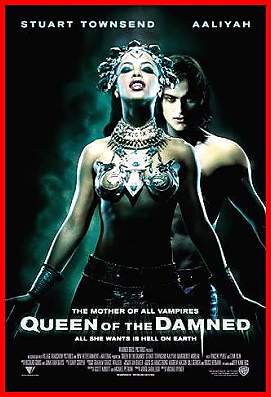 Scheda: Nazione: USA-Australia - Produzione: Material, NPV Entertainment, Village Roadshow Productions, Warner Bros. - Distribuzione: Warner Bros. - Soggetto: dal romanzo di Anne Rice Intervista col vampiro - Sceneggiatura: Scott Abbott, Michael Petroni - Fotografia: Ian Baker - Montaggio: Dany Cooper - Scenografia: Brian Dusting - Costumi: Angus Strathie - Musiche: Jonathan H. Davis, Richard Gibbs, Jay Gordon - Effetti speciali: CREO, Gray Matters FX, Manex Visual Effects, RIOT Pictures, Rising Sun Pictures - Formato: Technicolor - Durata: 100' (111').
Cast: Stuart Townsend, Aaliyah, Marguerite Moreau, Vincent Perez, Paul McGann, Lena Olin, Christian Manon, Claudia Black, Bruce Spence, Matthew Newton, Tiriel Mora, Megan Dorman, Johnathan Devoy, Robert Farnham, Conrad Standish, Richael Tanner, Christopher Kirby, Miguel Ayesa, Tayler Kane, Joe Manning, Christopher Connelly, Pip Mushin, Kat Rhodes, Renee De Bondt, Renee Quast.
---
---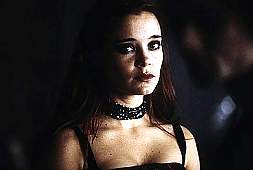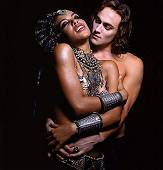 Trama e commenti: cinematografo.it - kataweb.it - mymovies.it - film.spettacolo.virgilio.it: «Dopo aver trascorso seimila anni di sonno eterno Akasha, regina dei dannati e madre di tutti i vampiri, si è risvegliata. In questo modo ha risvegliato le più tenebrose forze del male. Toccherà al non-morto Lestat, che affascina i comuni mortali sotto le spoglie di una rock star, cercare di combattere e contrastare le creature agli ordini di Akasha... L'affondo contro il look e l'insensatezza di certa musica è uno dei pregi del film in cui gli unici che se la spassano sono gli attori...».

Plot Summary, Synopsis, Review: IMDb - entertainment.msn.com - tvguide.com - rottentomatoes.com: «A deep, dark, stylistic adaptation of the book by Anne Rice from her hugely popular series of vampire novels, The Queen of the Damned is like a Nine Inch Nails rock video. Undernourished goth club kids are the focus of the film and they all look great with piercings, net t-shirts, tattoos, dyed hair, and dour facial expressions. The film follows the celebrity rock star Vampire Lestat (Stuart Townsend), who has emerged from 200 years of solitude to show his face--and his vampire powers--to the world. He has assembled a goth band, makes regular media appearances, and has enchanted the world with his otherworldly mystique. In addition, he has planned one of the most controversial publicity stunts of all eternity: he is holding a one-night rock concert in California's Death Valley, inviting all vampires young and old (along with his extensive fan-base of mortals) to join him. As a side bar to this activity, the mortal Jesse, a young woman who works for the Talamasca society studying paranormal occurrences, has found a secret portal to the vampire world: a London pub where vamps hang out. There she meets Lestat and is instantly smitten with him, insisting on travelling to Death Valley to see his concert. Also en route to the show is the sleek and sexy Egyptian mother of all vampires Queen Akasha (Aaliyah), who has recently arisen from a 2,000-year nap in order to unleash hell on earth. From a distance, a wise band of vampires watch telepathically as Akasha, Lestat, and Jesse converge in Death Valley. But what nobody knows is that the headstrong Lestat, who is the most impulsive and irresponsible of immortal beings but practically a god in the eyes of mortals, is the only one who can defeat Akasha and save the world».

Approfondimenti: Movie Review
Il sito ufficiale - Sound Clips
Conosciuto anche con i titoli: Un solo desiderio: l'Inferno sulla Terra; Anne Rice's Queen of the Damned; Königin der Verdammten; TheQueen of the Vampire; A Rainha dos Condenados; A Rainha dos Malditos; La Reina de los Condenados; La Reine des Damnés.
---
---