---

Scuola di mostri
(The Monster Squad)
1987, regia di Fred Dekker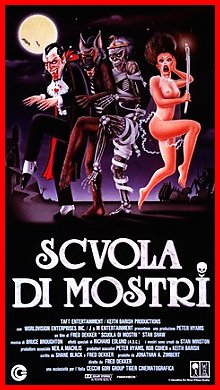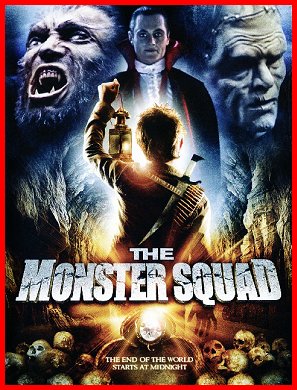 Scheda: Nazione: USA - Produzione: Home Box Office, Keith Barish Productions, TAFT Entertainment Pictures - Distribuzione: TriStar Pictures, RCA / Columbia Pictures Video, Image Entertainment, Lions Gate Films Home Entertainment, Transvideo, Vestron Video, Viacom - Soggetto: Shane Black, Fred Dekker - Sceneggiatura: Shane Black, Fred Dekker - Fotografia: Bradford May - Montaggio: James Mitchell - Art Director: David M. Haber - Scenografia: Albert Brenner - Set Decoration: Garrett Lewis - Musiche: Bruce Broughton - Effetti speciali: Stan Winston Studio, Boss Film Studios - Formato: Metrocolor - Durata: 82'.
Cast: André Gower, Robby Kiger, Brent Chalem, Ryan Lambert, Michael Faustino, Stephen Macht, Leonardo Cimino, Duncan Regehr, Tom Noonan, Ashley Bank, Lisa Fuller, Jack Gwillim, Mary Ellen Trainor, Jon Gries, Stan Shaw, Jason Hervey, Adam Carl, Carl Thibault, Tom Woodruff jr., Michael MacKay, David Proval, Daryl Anderson, Robert Lesser, Gwill Richards.
---
---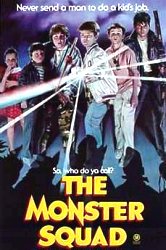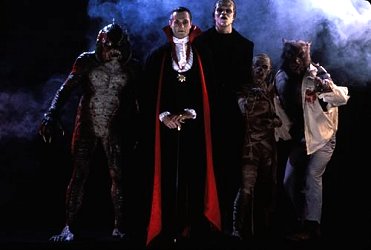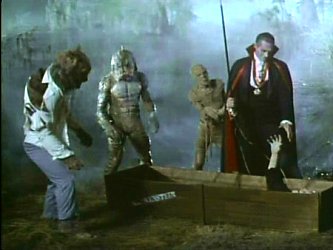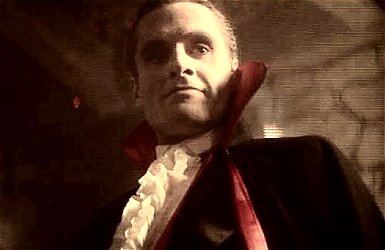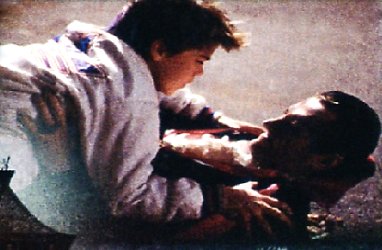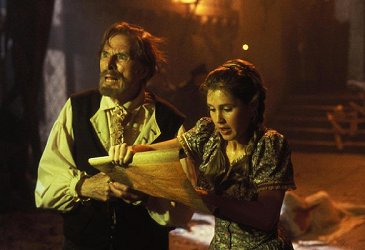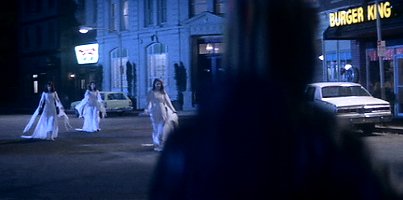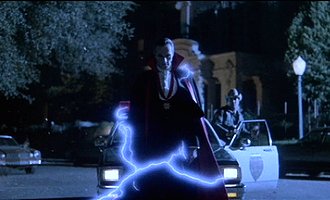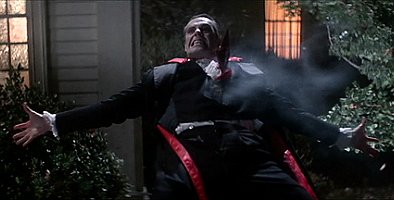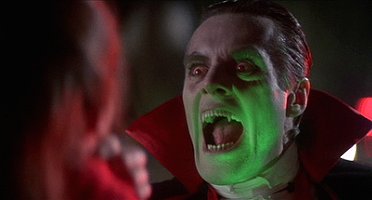 Trama e commenti: cinematografo.it - mymovies.it - film.tv.it - filmscoop.it - it.wikipedia.org: «Germania, fine del diciannovesimo secolo. Il professor Abraham Van Helsing deve impedire che Dracula (Duncan Regehr) liberi le armate del male sulla Terra, così crea un "limbo" dove rinchiudere le creature malvagie del pianeta. Il limbo si attiva con un diamante e dura per 100 anni. Per attivarlo, una vergine dovrà leggere alcune iscrizioni in tedesco. Stati Uniti, fine del ventesimo secolo. Un gruppo di ragazzi, Sean (André Gower), Patrick (Robby Kiger), Horace - scherzosamente chiamato "Rotolo" - (Brent Chalem), Rudy (Ryan Lambert) ed Eugene (Michael Faustino), appassionati di film dell'orrore, si riuniscono ogni pomeriggio in una casa sull'albero per discutere sui mostri che hanno visto nei loro film preferiti. Mentre disquisiscono su inezie, vengono raggiunti dalla sorella urlante di Sean, Mary, che si è spaventata perché ha visto il cosiddetto "Abominevole" tedesco (Leonardo Cimino), un uomo ritenuto un mostro perché non esce mai di casa. Più tardi, quella stessa sera, Sean trova in casa un diario scritto da Van Helsing in cui è riportata una formula in tedesco: il diario è stato trovato dalla madre del ragazzo ed è già stato ricercato da un misterioso dottor Alucard. Intanto, Dracula, salito a bordo di un aereo che trasporta delle casse, libera Frankenstein, facendolo cadere in mezzo ad una palude. In città, invece, un uomo alla stazione di polizia si dichiara un lupo mannaro e vuole essere rinchiuso in prigione per evitare che con il plenilunio faccia del male a qualcuno, ma viene "ucciso" da un poliziotto. ...».

Plot Summary, Synopsis, Review: IMDb - allmovie.com - taliesinttlg.blogspot.com - efilmcritic.com - dvdpanache.blogspot.com - dvdverdict.com - monstersandcritics.com - horrorreview.com - filmfreakcentral.net - en.wikipedia.org: «The Monster Squad is a society of young pre-teens who idolize classic monsters and monster movies. In addition to a clubhouse in a tree, they actually have their own business cards. Club leader Sean (Andre Gower), whose five-year-old sister Phoebe (Ashley Bank) desperately wants to join the club, is given the diary of legendary vampire hunter Abraham Van Helsing (Jack Gwillim) - but his excitement is somewhat toned down when he finds it's written in German. Sean, his best friend Patrick (Robby Kiger), and the rest of the Monster Squad get their local "Scary German Guy" (Leonardo Cimino) to translate the diary. (When he is asked how he knows so much, he tells them cryptically that he has "some experience with monsters." When the children leave his home and he closes the front door, a concentration-camp number tattoo is revealed on his forearm.) The diary describes, in great detail, an amulet that is composed of concentrated good. One day out of every century, as the forces of good and evil reach a balance, the otherwise-indestructible amulet becomes vulnerable to destruction. The next day of balance falls within a couple days, at the stroke of midnight. The kids realize they must gain possession of the amulet before the day of balance arrives; once they have the amulet, the kids can use it — with an incantation from Van Helsing's diary — to open a hole in the universe and cast the monsters into Limbo. As shown in the prelude, van Helsing had unsuccessfully attempted this one hundred years ago in order to defeat his old adversary Count Dracula; he subsequently hid the amulet in America, where it was out of Dracula's immediate reach. Dracula, meanwhile, must obtain the amulet before the Monster Squad does, so that the Count can take control of the world. To this end he assembles several monstrous allies: Frankenstein's monster, a werewolf (an unwilling participant in his human form), a mummy, and an amphibious gill-man, in addition to three young women (Mary Albee, Joan-Carrol Baron, and Julie Merrill) whom the Count transforms into his vampiric consorts. The next day, Frankenstein's monster is wandering in the forest where he encounters Phoebe. Rather than being afraid, she shows him the kindness he has also sought, and he get acquainted with and becomes a member of the Monster Squad. ...».

Approfondimenti: Movie Review
Conosciuto anche con i titoli: Una Pandilla Alucinante; Monster Busters; Záhrobní Komando.
---
---