---

Space Vampires
(Lifeforce)
1985, regia di Tobe Hooper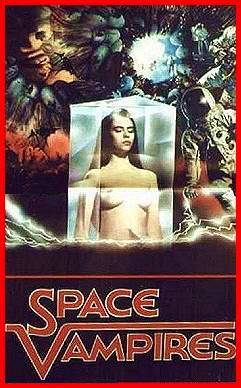 Scheda: Nazione: GB - Produzione: Cannon Group, Easedram Limited, Golan-Globus, TriStar Pictures - Distribuzione: DLF Multivision, MGM/UA Home Entertainment, Metro-Goldwyn-Mayer, Cannon Films, Image Entertainment, Live Home Video, TriStar Pictures, Vestron Video - Soggetto: dal romanzo The Space Vampires di Colin Wilson - Sceneggiatura: Dan O'Bannon, Don Jakoby - Fotografia: Alan Hume - Montaggio: John Grover - Art Direction: Robert Cartwright, Terry Knight, Tony Reading, Alan Tomkins - Scenografia: Denise Exshaw, Simon Wakefield - Costumi: Carin Hooper - Musiche: James Guthrie, Michael Kamen, Henry Mancini - Effetti speciali: Apogee Productions Inc. - Formato: Scope Color - Durata: 98' (116').
Cast: Steve Railsback, Peter Firth, Frank Finlay, Mathilda May, Patrick Stewart, Michael Gothard, Nicholas Ball, Aubrey Morris, Nancy Paul, John Hallam, John Keegan, Christopher Jagger, Bill Malin, Jerome Willis, Derek Benfield, John Woodnutt, James Forbes-Robertson, Peter Porteous, Katherine Schofield, Owen Holder, Jamie Roberts.
---
---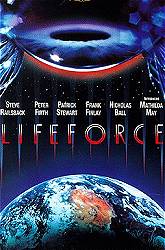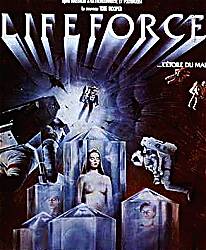 Trama e commenti: cinematografo.it - kataweb.it - film.spettacolo.virgilio.it - mymovies.it - splattercontainer.com: «L'astronave statunitense Churchill, viene mandata nello spazio assieme ad un gruppo di scienziati, con l'intento di studiare l'orbita della cometa di Halley. Giunti nella scia di quest'ultima, la spedizione fa una sensazionale scoperta: una gigantesca struttura lunga più di due miglia, fluttua misteriosamente nella sua luminosa chioma. Entrati al suo interno, gli astronauti vengono attratti da tre particolari bare di cristallo, contenenti dei corpi apparentemnte di razza umana, che trasporteranno sulla navetta con la decisione comune di analizzarli una volta rientrati sulla terra. Durante il viaggio di ritorno, l'equipaggio comincia a morire in circostanze alquanto strane, costringendo il capitano della missione ad abbandonare in anticipo con un mezzo di salvataggio la navetta spaziale. Recuperati dal relitto alla deriva nello spazio, i tre umanoidi vengono trasportati nel più grande centro di ricerche spaziale di Londra, per cercare di identificarne l'identità, ma prima che tutto ciò avvenga, i corpi apparentemente privi di vita dei tre esseri si destano dal loro lungo sonno e cominciano a mietere vittime nei laboratori della base, sfuggendo al controllo della sicurezza. Uno di loro fugge, cominciando ad assorbire l'energia vitale di chiunque gli capiti a tiro, tramutando le sue vittime in zombie assetati di sangue, diffondendo così il terribile morbo. Per Tobe Hooper, Space Vampires segna l'inizio di una rivoluzione stilistica, tra il genere horror e quello di fantascienza di stampo classico. La trama, anche se abbastanza variegata e a tratti piuttosto complessa, trascina lo spettatore in un'atmosfera cupa, ricca di una forte componente di angoscia e tensione. Durante tutta la visione del film, si respira un'aria surreale caratterizzata da situazioni alquanto bizzarre. Molto bello l'aspetto estetico della pellicola, partendo dalla bellissima Matilda May, che interpreta il ruolo di una conturbante spacegirl...».

Plot Summary, Synopsis, Review: IMDb - entertainment.msn.com - tvguide.com - vampyres-online.com: «The story concerns a joint British-American space probe of Halley's Comet. Inside the comet, the astronauts, headed by Colonel Carlsen (Steve Railsback), find a spaceship that contains the dead bodies of several aliens, along with the naked bodies of three human-like creatures in suspended animation. They bring the aliens aboard the ship for examination, but the specimens are sloppily guarded and soon the trio spread contagion among the population of the ship. Returning to Earth, the beautiful and seductive space vampire leader (Mathilda May) escapes into London and begins to drain the lifeforce of the bodies of the unwary Britons. Her victims, in turn, continue the cycle, and soon the entire planet is in mortal danger. And when Carlsen, the space mission's sole survivor, sets out to destroy her, he comes face to face with the most charming - and horrifying - being he's ever known. Will he be able to destroy the lovely vampiress... or will he become yet another victim of her fatal charm?».

Approfondimenti: Movie Review
Conosciuto anche con il titolo: Vampires from Outer Space; L'Etoile du Mal; Fuerza Siniestra; Fuerza Vital; Rymdens Vampyrer.
---
---