---

L'ULTIMO VAMPIRO
(La saga de los Drácula)
1972, regia di León Klimovsky (Henry Mankiewicz)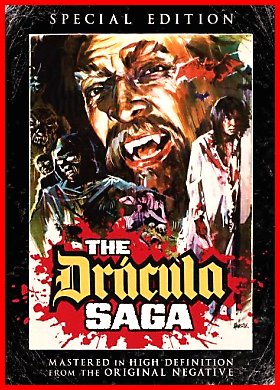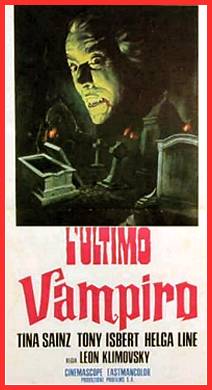 Scheda: Nazione: Spagna - Produzione: Profilmes - Distribuzione: Luxor Orange, International Amusement, Something Weird Video, Video Search of Miami - Soggetto: Lazarus Kaplan - Sceneggiatura: Lazarus Kaplan - Montaggio: Antonio Ramirez - Eirka Zsell - Fotografia: Francisco Sánchez - Musiche: A. Ramirez Angel, Daniel White - Formato: Color - Durata: 102' (91').
Cast: Narciso Ibáñez Menta, Tina Sáinz, Tony Isbert, Cristina Suriani, María Kosti, J.J. Paladino, Betsabé Ruiz, Luis Ciges, Helga Liné.
---
---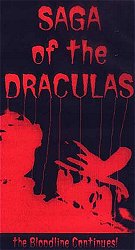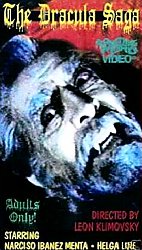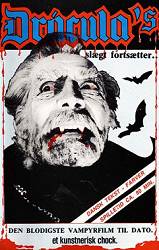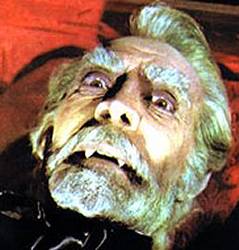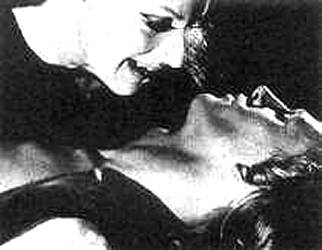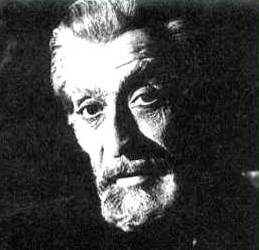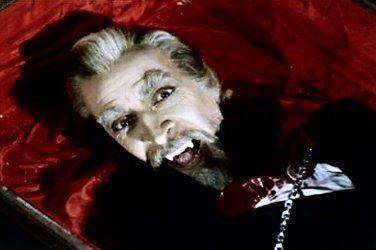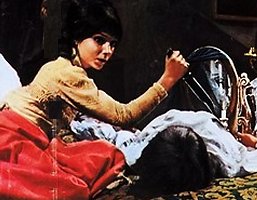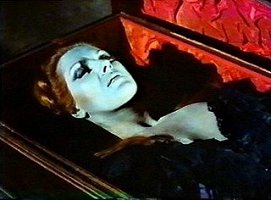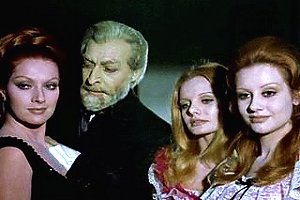 Trama e commenti: cinematografo.it - mymovies.it - francescapaolucci.blogspot.com - davinotti.com: «La nipote (incinta) del Conte succhiasangue - tale Berta (Tina Sáinz) - è ospite nel castello transilvano assieme al marito Hans. Prima di dare alla luce il piccolo discendente Berta assiste alla trasformazione, in vampiro, del marito iniziato ai piaceri del sangue dalla graziosa Munia. Eccezion fatta per i 10 minuti finali, che vedono all'opera Berta armata di falcetto mentre dei vampiri fa una montagna di "pezzi", si tratta di un noioso prodotto ispanico, frutto dell'esperto Klimovsky che qui s'avvale di una colonna sonora scritta da Daniel J. White, compositore spesso attivo per Jess Franco».

Plot Summary, Synopsis, Review: IMDb - allmovie.com - robertmonell.blogspot.com - entertainment.msn.com - vampire-world.com - terra.es/personal - vampyres-online.com: «Berta (Tina Sainz), the grand daughter of Count Dracula (Narciso Ibanez Menta), returns to the family castle after a long absence. She is accompanied by her weak husband, Hans (Tony Isbert). As soon as they reach the Valacos region, strange occurances start to weave into her mind. People covered in blood start appearing, while the atmosphere which surrounds the young couple becomes tense as superstitious and unfriendly people stare at them with respectful fear. Once in the castle, Berta's family welcomes them with all courtesy, but stranger happenings begin. The wine looks like blood, they eat almost raw meat, the graves of the family seem already occupied by those who apparently live, and along the corridors the strange, fearful moaning of a child can be heard...».

Approfondimenti: Movie Review
Conosciuto anche con i titoli: The Dracula Saga; Dracula: The Bloodline Continues; Draculas Bloedmysterie; Dracula's Slaegt Fortsaetter; Saga of Dracula; Saga of the Draculas.
---
---