---

Gli strani misteri di Archie: Archie and the Riverdale Vampires
(Archie's Weird Mysteries: Archie and the Riverdale Vampires)
2000, regia di Greg Bawron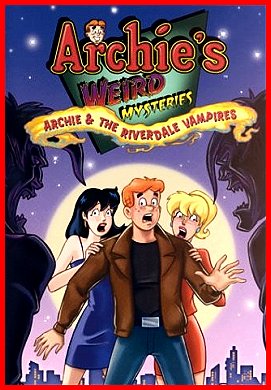 Scheda: Nazione: USA - Produzione: DiC Enterprises, Les Studios Tex - Distribuzione: Teletoon - Soggetto: dai fumetti Archie Comics, di John Goldwater e Bob Montana - Sceneggiatura: James W. Bates, Phil Harnage - Musiche: Jean-Michel Guirao, Mike Piccirillo - Effetti speciali: Les Studios de Saint Ouen - Formato: Color, animazione, film tv - Durata: 70'.
Voci: Ben Beck, John Michael Lee, Jerry Longe, Chris Lundquist, Andy Rannells, Camille Schmidt, Ryle Smith, Paul Sosso, Tony Wike, America Young.
---
---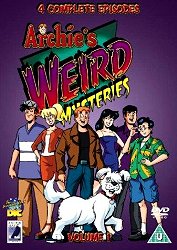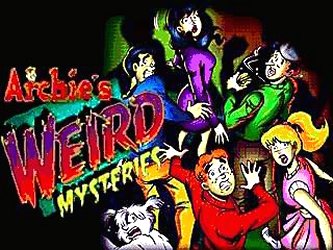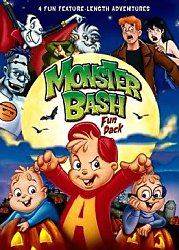 Trama e commenti: antoniogenna.net - it.wikipedia.org: «Gli strani misteri di Archie č una serie tv di disegni animati prodotta nel 1999 da DiC Entertainment. La serie č composta da un'unica stagione di 40 episodi. Questa serie si ispira alla omonima collana di fumetti di Archie Comics: Archie's Weird Mysteries: Archie partecipa al giornalino del Riverdale High School, ed inizia ad investigare sugli strani avvenimenti che accadono nei meandri della scuola. Personaggi principali: Archie Andrews: Ragazzo dai capelli rossi pieno di lentiggini, č cronista del giornale scolastico. Voce originale: Andrew Rannels, voce italiana: Simone D'Andrea. Veronica Lodge: Ragazza dai capelli bruni, fiera, benestante, caparbia e innamorata di Archie. In originale ha la voce di Camille Schmidt. Betty Cooper: Ragazza dai capelli biondi, d'animo gentile e protettivo, innamorata di Archie. In originale ha la voce di Danielle Young. Mostarda Jones (Jughead Jones): Amico d'infanzia di Archie, mangiatore insaziabile. Voce originale: Chris Lundquist, voce italiana: Gualtiero Scola. Dilton Doiley: Ragazzo geniale ma sfigato, aiuta spesso la banda di Archie a salvare la giornata. Voce originale: Ben Beck, voce italiana: Davide Garbolino. Reggie Mantle: Ragazzo egoista ed egocentrico, dai modi indisponenti; nonostante tutto č amico di Archie. Voce originale: Paul Sosso, voce italiana: Luca Bottale».

Plot Summary, Synopsis, Review: IMDb - allmovie.com - movies.nytimes.com - rottentomatoes.com - ovguide.com - flixster.com - apolloguide.com - movies.yahoo.com - locatetv.com - db.cht.gov.mb.ca - vampyres-online.com: «Meet Archie Andrews, ace reporter for the Riverdale High School student paper. Weirdness is his beat. It all starts the day the local TV station plays a twelve-hour monster movie marathon, followed by a trivia contest. Archie should have known something was wrong when Jughead actually wins! It turns out, the TV station has been invaded by a body-snatching space spud. When the bad guys are supernatural, all bets are off. Archie faces his greatest challenge yet when Riverdale is invaded by a gang of hungry vampires. Things come to a chilling climax at Veronica's Halloween party as Reggie, Betty, Jughead and Archie are turned into vampires, one by one - until only Veronica is left to save the world! But can she do it without messing up her hairdo or breaking a nail...?».
Assemblaggio di alcuni episodi della serie tv in 40 episodi Archie's Weird Mysteries, conosciuta anche con il titolo: Los misterios de Archie.
---
---