---

Let Me In - Blood Story
(Let Me In)
2010, regia di Matt Reeves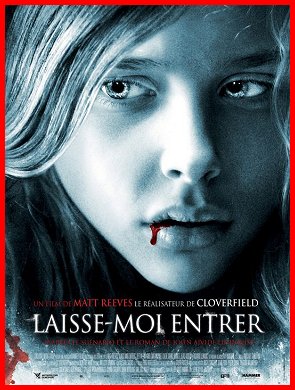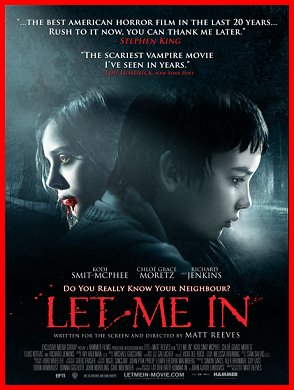 Scheda: Nazione: GB-USA - Produzione: Overture Films, Exclusive Media Group, Hammer Film Productions, EFTI - Distribuzione: Filmauro, Overture Films, Exclusive Film Distribution, Metropolitan Filmexport, Relativity Media - Soggetto: da un romanzo di John Ajvide Lindqvist - Sceneggiatura: Matt Reeves, John Ajvide Lindqvist - Fotografia: Greig Fraser - Montaggio: Stan Salfas - Art Director: Guy Barnes - Set Decoration: Wendy Barnes - Costumi: Melissa Bruning - Musiche: Michael Giacchino - Effetti speciali: Ollin Studio, Creative Character Engineering, Method Studios, DIVE, Invisible, XYZ, The Third Floor - Formato: Color - Durata: 116'.
Cast: Kodi Smit-McPhee, Chloë Grace Moretz, Richard Jenkins, Cara Buono, Elias Koteas, Sasha Barrese, Dylan Kenin, Chris Browning, Ritchie Coster, Dylan Minnette, Jimmy 'Jax' Pinchak, Nicolai Dorian, Rebekah Wiggins, Seth Adkins, Ashton Moio, Brett DelBuono.
---
---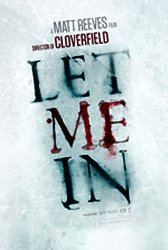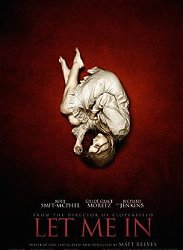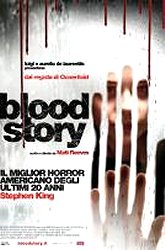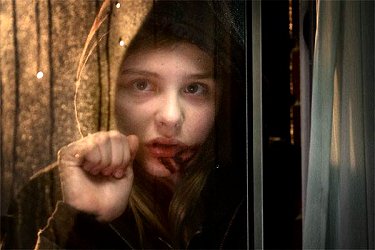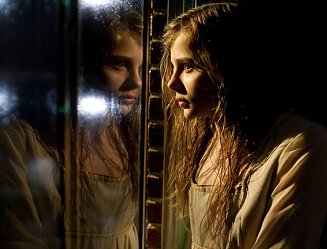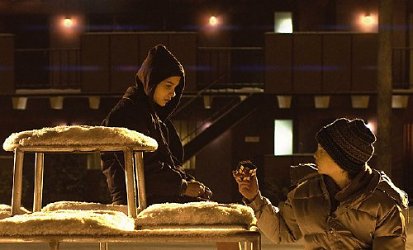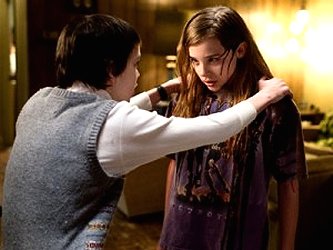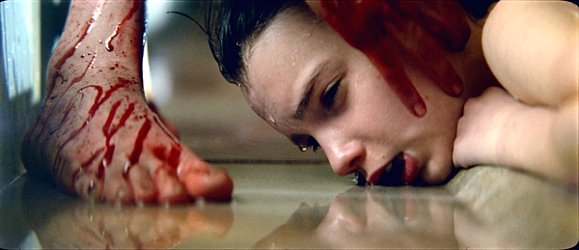 Trama e commenti: mymovies.it - it.wikipedia.org - psicheetechne.blogspot.com - spietati.it - horror.it - cinema.everyeye.it - darkgothiclolita.forumcommunity.net - cinemovie.info - filmup.leonardo.it - primissima.it - cinemahorror.it - movieplayer.it - filmfilm.it: «Stephen King osanna Matt Reeves per questo Let Me In, e fa sicuramente bene, se non fosse che il film di Reeves è la fotocopia dello svedese Lasciami Entrare, ovvero il classico remake necessario agli americani per digerire qualsiasi cosa che non sia farina del loro sacco. Stabilito questo il film è un piccolo gioiello a cui manca solo l'opportuna montatura, infatti l'unica scena mancante è quella della doccia – la fobia sessuale americana ha riscosso il suo dazio – essenziale per dare al rapporto tra Owen ed Abby la giusta prospettiva finale. Let me in è sicuramente un film horror sui generis, ma soprattutto è un film sui vampiri che ci ricorda – se mai ce ne fosse stato bisogno- che la saga di Twilight è un po' il "Vanity Fair" del genere, mentre questo è "Il Corriere della Sera", ovvero patinata bellezza contro cruda (possibile) realtà. Essere un vampiro non è bello, né figo, soprattutto se non puoi girare di giorno. Essere un vampiro presenta numerosi problemi non solo sociali, ma soprattutto pratici, ad iniziare da una buona lavanderia. Insomma qui non ci sono ammiccanti Edward ne palpitanti Bella. Ci sono due ragazzi che lentamente si avvicinano consci d vivere delle vite che non gli piacciono per un motivo o per l'atro. Due persone simili un po' fuori posto. Certo dietro traspare ben altro, forse ciò che li unisce è la voglia di non confrontarsi con il mondo dell'uno, e la necessità di avere un compagno dell'altra. Il loro rapporto è decisamente sbilanciato e lo sarà sempre di più, ma chi conosce veramente i vampiri sa che il prezzo da pagare per non essere parte della loro riserva di caccia è uno solo: essere i loro servi. Perché questo che è un bel film, prima di essere un bel film di vampiri, funzioni non era solo necessario trovare i due ragazzi perfetti per la parte, cosa riuscita appieno, ma soprattutto una location adatta. Se non fosse per la desolazione del paesaggio, per l'inverno sempre presente, per quel senso estraniante trasmesso dai luoghi, non si sarebbe ottenuto lo stesso risultato (peraltro la forza dell'originale veniva proprio da questo). Ma forse la cosa più importante di tutte, remake, sceneggiatura, recitazione, messaggi e quant'altro è una sola: la Hammer è tornata a produrre un horror dopo 30 anni!» (Valerio Salvi).

Plot Summary, Synopsis, Review: IMDb - allrovi.com - taliesinttlg.blogspot.com - hkfilmnews.blogspot.com - reelviews.net - best-horror-movies.com - urbancinefile.com.au - efilmcritic.com - dvdverdict.com - cinemaverdict.com - fangoria.com - filmcritic.com - bloodygoodhorror.com - cinephile-uk.com - cinepassion.org - bina007.blogspot.com - rottentomatoes.com: «John Ajvide Lindqvist's celebrated vampire novel makes the leap to the big screen once again with the second feature adaptation in so many years (Tomas Alfredson's critically acclaimed 2008 hit Let the Right One In, being the first). The sensitive target of vicious bullying at school, 12-year-old Owen (Kodi Smit-McPhee) is a social misfit from a broken home. By day Owen dreams about laying waste to his classroom tormentors; by night his attentions turn to his reclusive neighbors in their austere apartment complex. One evening, as Owen takes out his pent-up aggressions on a tree, his new neighbor Abby (Chloë Grace Moretz) appears over his shoulder. A young girl wise beyond her years, Abby just moved in next door to Owen with her stoic caretaker (Richard Jenkins), who seems to harbor a sinister secret. Compelled by Abby's apparent imperviousness to the harsh winter elements, her frail disposition, and the fact that she's nowhere to be found before the sun falls, Owen senses a kindred soul, and strikes up a friendship with the girl, despite her repeated attempts to maintain an emotional distance. Simultaneously, their community grows vigilant following a series of vicious murders, and Abby's caretaker vanishes without a trace. Later, as Abby begins to grow vulnerable, her bond with Owen strengthens. By the time Owen begins to suspect that his evasive new friend is something other than human, it starts to seem as if Abby could use a good friend after all. Given that his bullies are growing more emboldened by the day, so too could Owen» (Jason Buchanan).

Approfondimenti: Movie Review
Remake di Lasciami entrare (2008); conosciuto anche con i titoli: Fish Head; Morse; Laisse-moi entrer; Déjame entrar; Deixa-me Entrar.
---
---