---

The Night Flier - Il volatore notturno
(The Night Flier)
1997, regia di Mark Pavia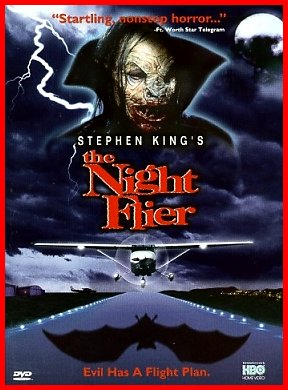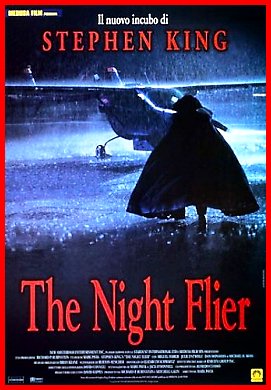 Scheda: Nazione: USA - Produzione: New Amsterdam Entertainment, Medusa Produzione, Starlight International - Distribuzione: Medusa Film, New Line Cinema, Home Box Office Home Video, Laurus Entertainment, United Paramount Network, Video Film Express - Soggetto: dal racconto breve Il volatore notturno (dall'antologia Incubi e deliri di Sthephen King) - Sceneggiatura: Jack O'Donnel, Mark Pavia - Fotografia: David Connell - Montaggio: Elizabeth Schwartz - Scenografia: Burton Rencher - Costumi: Pauline White - Musiche: Brian Keane - Effetti speciali: K.N.B. Effects Group - Formato: Color - Durata: 92' (98').
Cast: Miguel Ferrer, Julie Entwisle, Dan Monahan, Michael H. Moss, John Bennes, Beverly Skinner, Rob Wilds, Deann Korbutt, Rachel Lewis, Kristen Leigh, Simon Elsworth, Richard K. Olsen, Elizabeth McCormick, J.R. Rodriguez, Robert Leon Casey, Ashton Stewart, William Neely, Windy Wenderlich, General Fermon Judd jr.
---
---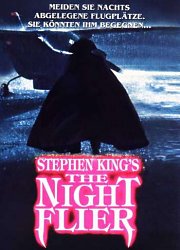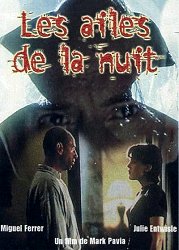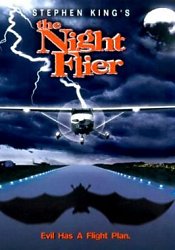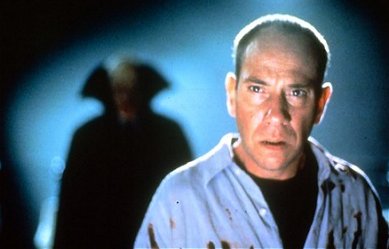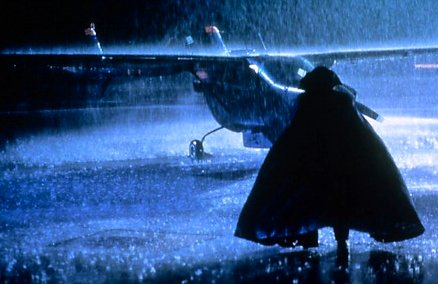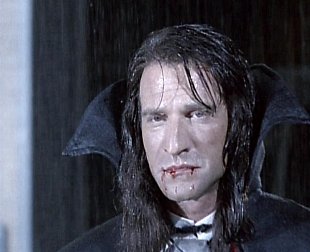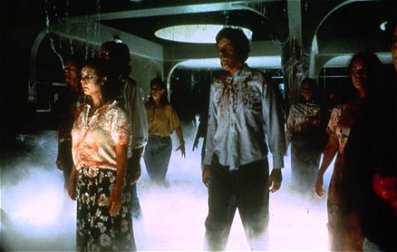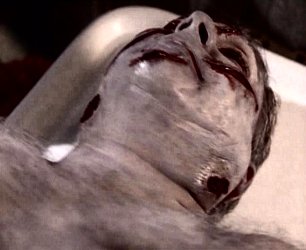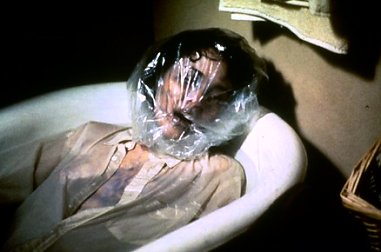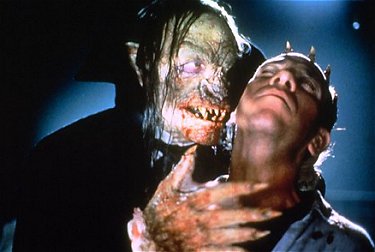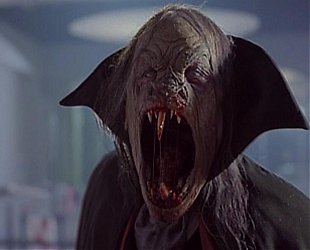 Trama e commenti: cinematografo.it - mymovies.it - davinotti.com - movieplayer.it - hyperreview.com - splattercontainer.com - film.tv.it - cinemacheblog.it - it.movies.yahoo.com - italia-film.com - cineblog01.com - tempimoderni.com: «Richard Dees (Miguel Ferrer) è il cinico cronista della rivista "Inside View", sorta di foglio scandalistico specializzato nella documentazione di fatti improbabili e morbosi, cui viene affidato l'incarico di scrivere un pezzo su un serial killer che uccide le sue vittime in modo orribile, fuggendo poi a bordo di un vecchio aereo Cesna. Il pazzo viene subito ribattezzato "the night flier" (il pilota notturno) in quanto colpisce solo di notte e, come fosse un vampiro, prosciuga completamente i corpi di ogni goccia di sangue. Dees scoprirà più di quanto stesse realmente cercando e il suo metodo rigoroso e privo di umanità verrà messo a dura prova dagli atroci avvenimenti di cui sarà testimone. Felice esordio alla regia del giovanissimo Mark Pavia, The Night Flier è adattato per lo schermo da un omonimo racconto breve di Stephen King al quale la sceneggiatura, firmata da Jack O'Donnel e dallo stesso Pavia, ha saputo infondere ritmo e grinta senza dover stravolgere completamente l'idea di provenienza (cosa che spesso accade nei film tratti dai romanzi dello scrittore del Maine). Lo stesso King, benché il suo nome non figuri (per espressa richiesta) nei credits dell'opera, ha incoraggiato l'intera operazione dichiarandosi completamente soddisfatto del risultato raggiunto. The Night Flier è un film dell'orrore rigoroso, dal quale è definitivamente bandito l'umorismo becero e superficiale che affligge il cinema fantastico dell'ultimo ventennio, in favore di un'atmosfera tesa e angosciante che riecheggia (soprattutto nel bel finale) l'opera del Maestro Lucio Fulci. Malgrado tali innegabili qualità, il film non è privo di pecche, dovute probabilmente alla scarsa esperienza del suo autore che sacrifica la tecnica in favore di un contagioso e tangibile entusiasmo per il genere. Tali sporadiche superficialità, pur non compromettendo il risultato finale, privano l'opera di alcuni interessanti livelli di lettura che potevano scaturire naturalmente dal soggetto. Succede così che il film di Pavia colpisca lo spettatore con la precisione e la violenza di un uppercut allo stomaco, lasciandolo boccheggiante di fronte all'orrore delle sue inquietanti immagini (mostrate e dosate con sadica precisione) senza donargli gli strumenti necessari per un'interpretazione adeguata. In fondo, è proprio ciò che si chiede ad un film dell'orrore» (Luigi De Angelis).

Plot Summary, Synopsis, Review: IMDb - taliesinttlg.blogspot.com - vampyres-online.com - movies.nytimes.com - en.wikipedia.org - moria.co.nz - rottentomatoes.com - thefleshfarm.com - calendarlive.com - cinemafantastique.net - flixster.com - dvdcult.com - allmovie.com: «Stephen King's short story, The Night Flier, originally appeared in Prime Evil: New Stories by the Masters of Modern Horror (1988), edited by Washington, D.C., lawyer Douglas E. Winter, and it was later collected in King's Nightmares & Dreamscapes (1993). This film adaptation aired on HBO (November 1997) and was seen in European territories prior to the American theatrical release. An unknown vampiric Cessna pilot is suspected of night murders at remote airfields. At the tabloid Inside View, longtime reporter Richard Dees (Miguel Ferrer) expresses disinterest, so eager newcomer Katherine Blair (Julie Entwisle) is instead given the story by editor Merton Morrison (Dan Monahan). Then there's another murder, prompting Dees to reverse himself. He demands the story back and takes after the killer in his one private plane, tracking witnesses, gathering grue, and staging photos when the subject looks too dull. Blair is also on the trail, and the two newshounds are soon competing. Both are out for blood -- and so is the night flier. Stephen King campaigned for director Mark Pavia and co-scripter Jack O'Donnell to steer The Night Flier after he saw their short film Drag, which King called "the best short horror film I've seen in 20 years." Locations included Wilmington, North Carolina. The character of tabloid journalist Richard Dees was first introduced in Stephen King's 1979 novel The Dead Zone» (Bob Stewart).

Approfondimenti: Movie Review
Conosciuto anche con i titoli: Il volatore notturno; Les ailes de la nuit; Stephen King's Night Flier.
---
---