---

Solo gli amanti sopravvivono
(Only Lovers Left Alive)
2013, regia di Jim Jarmusch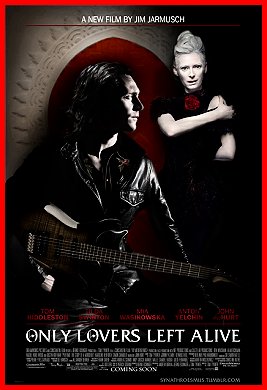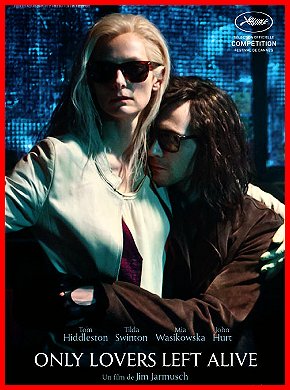 Scheda: Nazione: GB-Germania-Francia-Cipro-USA - Produzione: Recorded Picture Company, Snow Wolf Produktion, Pandora Filmproduktion - Distribuzione: Sony Pictures Classics, Wild Bunch Benelux, Soda Pictures, Pandora Film Verleih, Le Pacte - Soggetto: Jim Jarmusch - Sceneggiatura: Jim Jarmusch - Fotografia: Yorick Le Saux - Montaggio: Affonso Gonçalves - Art Director: Anja Fromm, Anu Schwartz - Scenografia: Marco Bittner Rosser - Set Decoration: Christiane Krumwiede, Selina van den Brink - Costumi: Bina Daigeler - Musiche: Jozef van Wissem - Effetti speciali: CFX Spezialeffekte, Monitoranimation, Pixomondo - Formato: Color - Durata: 123'.
Cast: Tom Hiddleston, Tilda Swinton, Mia Wasikowska, John Hurt, Anton Yelchin. Jeffrey Wright, Slimane Dazi, Carter Logan, Wayne Brinston, Ali Amine, Yasmine Hamdan, Kamal Moummad, Aurelie Thepaut Drammatico
---
---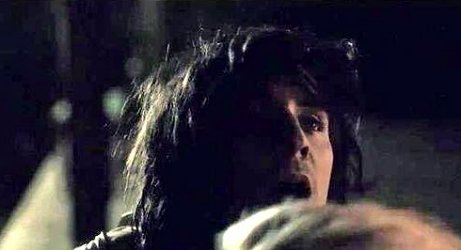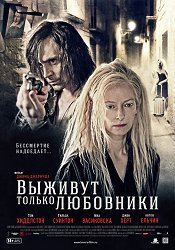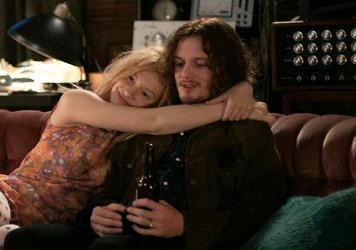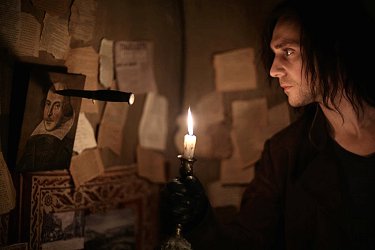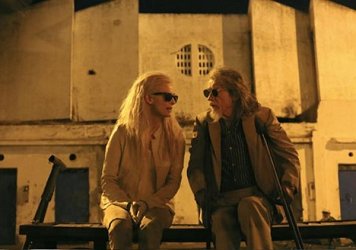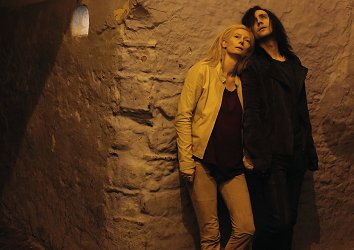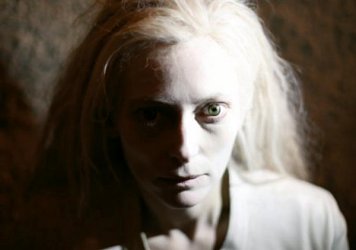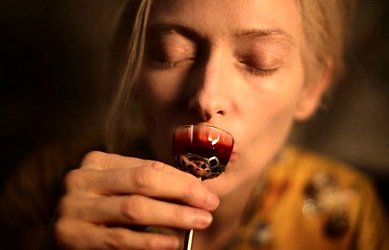 Trama e commenti: it.wikipedia.org - mymovies.it - film.it - ultimenotizieflash.com - comingsoon.it - badtaste.it: «Con il suo stile ridotto all'essenziale e il suo umorismo di nicchia Jarmusch si diverte a cavalcare la moda dei vampiri, ritratti anche in questo caso non in modo classico (la parte più d'altri tempi sono i titoli di testa) ma moderno. Vampiri che non succhiano più il sangue alla gente "Siamo nel XXI secolo!" e che sono caratterizzati dai sentimenti migliori, raffinati ma non borghesi, amanti sostanzialmente delle buone cose (buona musica, buona letteratura e buon sangue). In questo mondo gli umani sono definiti da loro "zombie", cioè i morti che camminano (mentre loro, non lo dicono, ma sarebbero i non morti) e sono ritratti nella maniera peggiore. In tutto il film i pochi personaggi umani sono abbastanza cretini, infantili e preda delle manie più superficiali. I vampiri invece sono la nicchia amante del bello, che disprezza il vivere senza vere passioni degli zombie e che si bea in maniera snob della propria appartenenza di casta. Quando arriva una giovane vampira, un po' coatta e legata a un mondo di rapido consumo e poco approfondimento, si guadagna in breve tutto il loro diprezzo (ma in realtà fa quel che fanno i vampiri da sempre, succhia sangue agli uomini), e Jarmusch non senza piacere sottolinea tale sentimento con enfasi sulla provenienza di lei: Los Angeles "la capitale degli zombie!". Snobismo sullo schermo, risate in sala. Only lovers left alive celebra la superiorità di chi approfondisce, di chi si interessa, si appassiona, non fa la guerra ma fa l'amore e cerca di vivere una vita piena, a differenza degli zombie. Con questo assunto è impossibile non concordare ma è decisamente meno coerente e fare tutto ciò accarezzando il capo del proprio pubblico (cioè il pubblico di Jim Jarmusch, una nicchia ben precisa), confermandogli che i vampiri della questione, gli unici veri amanti rimasti in vita, sono loro e non certo quelli di Los Angeles, in un film autoindulgente se non proprio autoesaltante, che in ogni momento afferma: "Nessuna paura: siamo meglio noi di loro". Autoindulgenza che tocca la vetta massima nel finale quando, dopo aver ascoltato una cantante libanese, la coppia protagonista afferma che meriterebbe il successo ma tanto non lo avrà, lasciando intendere che chi è veramente bravo non riceve il riconoscimento che gli spetterebbe» (Gabriele Niola).

Plot Summary, Synopsis, Review: IMDb - allrovi.com - eyeforfilm.co.uk - film.com - cinemaviewfinder.com - rottentomatoes.com - digitaljournal.com - filmlinc.com - facebook.com - hollywoodreporter.com: «The Thin Man with blood cocktails, an ode to hipsterism through the ages, a mainline shot of cool and a playful tribute to artistic fetishism, Jim Jarmusch's vampire romance Only Lovers Left Alive is an addictive mood and tone piece, a nocturnal reverie that incidentally celebrates a marriage that has lasted untold centuries. Almost nothing happens in this minor-key drift through a desolate, imperiled modern world, and yet it is the perennial downtown filmmaker's best work in many years, probably since 1995's Dead Man, with which it shares a sense of quiet, heady, perilous passage. A modest-sized but ardent audience will support this Sony Pictures Classics pickup in domestic release later this year. Vampire stories come in all shapes and sizes and the blessed and afflicted couple here is well-dressed, madly sophisticated, has impeccable taste in music and literature (the couple's closest friend is Christopher Marlowe) and is still in love like newlyweds. The woman's younger sister considers them condescending snobs, but perhaps that's just a negative way of acknowledging that, given hundreds of years of years of exposure to art and culture, one would be a fool not to have developed a high level of discrimination in such matters. Adam (Tom Hiddleston) has become quite the recluse. Holed up in an old house in an abandoned part of Detroit, he plays vinyl classics and collects rare vintage guitars brought to him by roadie type Ian (Anton Yelchin). In the not quite as depopulated streets of Tangier, Eve (Tilda Swinton) seeks out Marlowe (John Hurt), whose Shakespeare connection is bandied about. More to the point, however, is his value as a source of "the good stuff" -- purified blood their kind can reliably consume now that human -- aka "zombie"-- blood has become dangerously contaminated. This represents an unambiguous drug addiction reference, to be sure, but it also casts these vampires as an endangered species and, increasingly, as potential tragic figures, avatars of cultivation, sophistication and monogamous devotion that put average humans to shame but may be doomed now that their food supply has been ruined. For his part, Adam sometimes receives "good stuff" from a medical facility supplier, Dr. Watson (Jeffrey Wright). ...».

Approfondimenti: Movie Review
---
---