---

Shake, Rattle & Roll
1984, regia di Ishmael Bernal, Emmanuel H. Borlaza, Peque Gallaga
Scheda: Nazione: Filippine - Produzione: Athena Productions - Distribuzione: Athena Productions - Soggetto: Jose N. Carreon, Amado Lacuesta, Uro Q. dela Cruz - Sceneggiatura: Jose N. Carreon, Amado Lacuesta, Uro Q. dela Cruz - Fotografia: Ely R. Cruz - Montaggio: Jess Navarro - Art Director: Rommel Bernardino, Chito Clemente - Musiche: Jaime Fabregas - Effetti speciali: Cecille Baun, Danny Torrente - Formato: Color - Durata: 124'.
Cast: Charito Solis, Herbert Bautista, William Martinez, Janice de Belen, Rey 'PJ' Abellana, Joel Torre, Irma Alegre, Emily Loren, Arlene Muhlach, Mon Alvir, Peewee Quijano, Lito Gruet, Rosemarie Gil, Mary Walter, Tony Carreon, Pen Medina.
---
---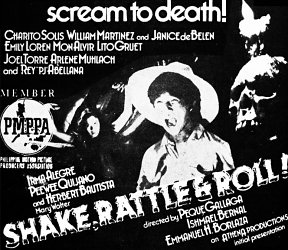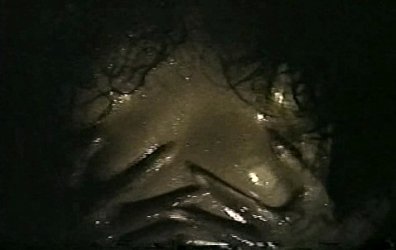 Trama e commenti: positifcinema.it: «Non so quanto possa essere vero, ma si dice che tutti, da bambini, abbiano avuto il loro incubo da cine a tormentarli, a tenerli svegli fino a notte fonda cogli occhi aperti mentre dalla porta o da sotto il letto si manifestava pian piano l'esplicitazione pura della psichedelica presenza immaginaria. L'uomo nero prende vita. Ha sempre preso vita. E spesso e volentieri è un trauma che rimane: il primo approccio cine-meta-mortale-vitale di ogni fanciullo è l'Horror. Per quanto mi riguarda, prima ancora degli incubi friedkin-argento-bava-krueger-myers-jason, venne (senza andarsene mai più) Shake, Rattle & Roll di Ishmael Bernal, un horror filippino che è poi diventato un vero cult in patria. A causa dell'irreperibilità dell'opera, non l'avrei mai più rivisto in vita mia. Eppure, a volte, di notte, ancora mi cago sotto, fleshato da quelle immagini ormai indelebili e inscatolati per sempre nella lucidità della memoria. ...» (Pierre Hombrebueno).

Plot Summary, Synopsis, Review: IMDb - vampire-movies.co.uk - fright.com - sari-saringsinengpinoy.blogspot.it - mubi.com - oggsmoggs.blogspot.it - video48.blogspot.it - en.wikipedia.org: «Shake, Rattle & Roll is a Filipino horror film series dating back to 1984. It is currently produced by Regal Films. Most of the series are official entries for the Metro Manila Film Festival with the exception of the sixth installment which premiered in January 1997. The title is solely based on the song of the same name. This horror film franchise which is currently owned by Regal Films is known to be the only film series in the Philippines with the most movie installments. The first installment was released under the defunct Athena Productions while all the succeeding series are produced by Regal Entertainment. As of 2011, there are thirteen installments of the movie series. The last installment (thirteenth) was released on Christmas Day (or December 25) 2011 at the 38th Metro Manila Film Festival as one of many official entries at the event.
"BASO"
Cast: Joel Torre, Rey PJ Abellana, Arlene Muhlach, Rosemarie Gil, Tony Carreon
Director: Emmanuel H. Borlaza
Writer: Jose N. Carreon
Three friends deiced to perform a spirit of the glass in an abandoned house. Everything was working well until the spirit escapes through the glass and brought the three characters into past. They discovered their identity from the past which leads to a horrifying revelation. Each of them plays a certain role in their previous lives which haunts the rest of them.

"PRIDYIDER"
Cast: Janice De Belen, Charito Solis, William Martinez, Lito Gruet, Emily Loren, Mon Alvir
Director: Ishmael Bernal
Writer: Amado Lacuesta Jr.
Virgie's family just moved into a new home with a mysterious refrigerator. Lorna knows that the refrigerator has a ghost on it. The victims were attractive females and Virgie has no idea that she will be the next victim. The refrigerator is luring the females that gets near to it, will Virgie manage to stop it or end up dying as well?

"MANANANGGAL"
Cast: Herbert Bautista, Irma Alegre, Mary Walter, Peewee Quijano, Pen Medina
Director: Peque Gallaga
Writer: Uro Dela Cruz
Douglas is a teenager in a faraway province. A manananggal is said to live within the vicinity and is out to eat people. He is given the task by his grandmother to kill these creatures. Having to found a way to prevent it from rejoining the other half of its body, he must now survive the night to protect his family from the creature's ferocious attacks. This story is one of the most popular and suspenseful episodes of the entire series. Herbert Bautista's role won him the Best Actor award at the 1984 Metro Manila Film Festival».
---
---