---

Livide
2011, regia di Alexandre Bustillo, Julien Maury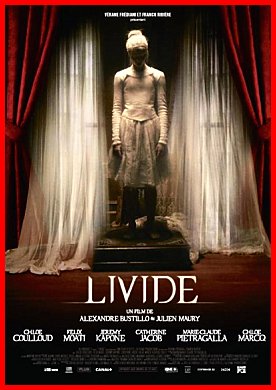 Scheda: Nazione: Francia - Produzione: La Fabrique 2, con La Ferme! Productions, SND, Plug Effects, Canal+, CinéCinéma, Coficup, Backup Films, Cofimage 22 - Distribuzione: La Fabrique 2, Dimension Films, SND Groupe M6, King Record Co., Sunfilm Entertainment, M6 Vidéo,Madman Entertainment, Night Visions Distribution, Njutafilms, StudioCanal - Soggetto: Alexandre Bustillo, Julien Maury - Sceneggiatura: Alexandre Bustillo, Julien Maury - Fotografia: Laurent Barès - Montaggio: Baxter - Scenografia: Marc Thiébault - Costumi: Martine Rapin - Musiche: Raphaël Gesqua - Effetti speciali: Plug Effects - Formato: Color - Durata: 92' (88').
Cast: Chloé Coulloud, Félix Moati, Béatrice Dalle, Jérémy Kapone, Catherine Jacob, Chloé Marcq, Marie-Claude Pietragalla, Loïc Berthezene, Joël Cudennec, Sabine Londault, Serge Cabon, Nathalie Presles, Adèle Fousse, Roxanne Fillol Gonzalez, Kallia Charon, June Ribière, Oriane Azam, Thomas Ribière, Laure Latinier.
---
---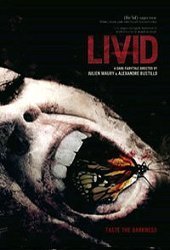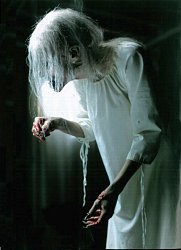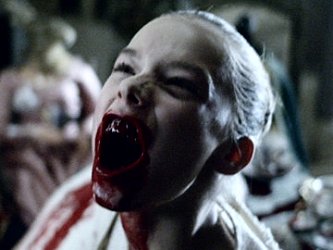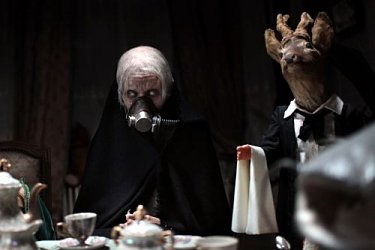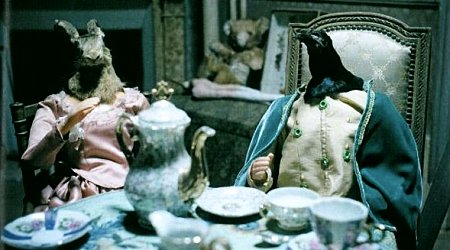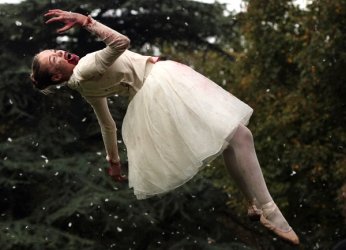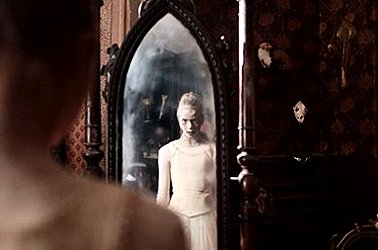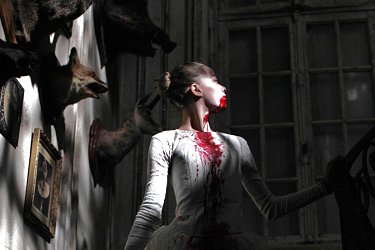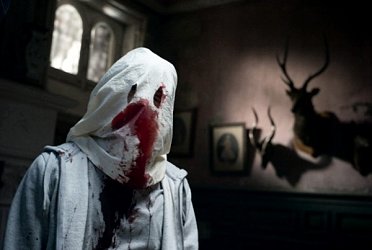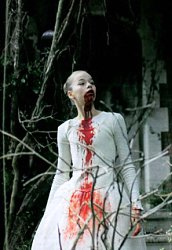 Trama e commenti: mymovies.it - horrormovie.it - latelanera.com - mistermovie.it - splattercontainer.com - filmscoop.it - filmtv.it - ondacinema.it: «Il ritorno sugli schermi di Bustillo e Maury offre un film diverso e distante dal precedente esplosivo À l'intérieur, ma già capace di certificare la cifra stilistica del duo francese, anche se la crudele violenza iper-reale - calata in un domestico contesto realista - che caratterizza il primo film è quasi assente in questo nuovo Livid, dove la dimensione surreale e favolistica prende il sopravvento. Il livore che sottende il titolo del film è tutto per il dramma della protagonista Lucie, la quale, quando è in scena - specie se da sola - è incorniciata da luci fredde e atmosfere asettiche - e anche quando è il giallo a essere colore predominante, le tonalità sono crepuscolari, rendendo comunque l'idea di una sensazione di distacco e assenza. Una sensazione di distacco e assenza che è subito evidenziata dalle cimiteriali immagini iniziali e dalla presentazione della giovane, seduta alla fermata di un bus, in attesa del suo destino, con i pannelli della pensilina tappezzati da volantini che invitano alla ricerca di ragazzi scomparsi. Lucie è inoltre l'elemento duale esplicito della vicenda. Basta guardare alla diversa colorazione dei suoi occhi. Il suo doppio è Anna e il travaso delle due personalità avviene per mezzo di una falena, simbolo per eccellenza del passaggio delle anime dei morti. Lucie e Anna sono due figlie - entrambe da considerare "diverse" e emarginate - che si ritrovano alla ricerca della propria identità in mezzo alla figura di una madre dominante, mentre in À l'intérieur sono due madri "diverse" a rivendicare la propria "specie" per un figlio che deve ancora nascere. Il doppio anche come gioco di riflessi e di maschere, un gioco che affiora quasi dal subconscio - senza particolare enfasi. La storia è ambientata durante la notte di Halloween e i tre ragazzini mascherati sono lo specchio simbolico dei tre malcapitati protagonisti: Ben è l'ideale vittima pupazzo, con la maschera halloweeniana che non voleva indossare (Jack O' Lantern); William, animato da famelica avidità, va incontro a una fine "vampiresca" (Dracula); Lucie è, invece, chiamata a confrontarsi con la morte, intesa come concetto di separazione - quella della madre, quella di Anna e, nondimeno, quella di sé stessa (la Morte). Questo gioco di riflessi precipita i personaggi nell'ignota realtà che - loro malgrado - devono affrontare. Addirittura Anna, nel finale, guardandosi allo specchio, si scopre finalmente persona, attraverso la sua nuova maschera: la ragazza, infatti, prima di tale metamorfosi, non solo è sorda ma è anche una creatura di natura altra. ...».

Plot Summary, Synopsis, Review: IMDb - en.wikipedia.org - best-horror-movies.com - hollywoodreporter.com - filmosphere.com - horror-extreme.com - facebook.com - leblogducinema.com - upcominghorrormovies.com - rottentomatoes.com - allmovie.com: «Inside co-directors Julien Maury and Alexandre Bustillo follow up their bloody and intense feature debut with this brooding, phantasmagorical horror film concerning three youths whose greed leads them into an inescapable nightmare. Young caregiver Lucie (Chloé Colloud) is still recovering from her mother's recent suicide when she joins her new boss Mrs. Wilson (Catherine Jacob) in making home visits to their elderly patients. Their last stop of the day is at a dark, labyrinthine mansion owned by Madame Jessel (Marie Claude-Pietragalla), a comatose, former ballet instructor with a stern reputation. After learning that Madame Jessel is rumored to have a priceless treasure hidden somewhere deep within the sprawling estate, Lucie is convinced by her boyfriend William (Félix Moati) and their waiter pal Ben (Jérémy Kapone) to stage a daring break-in on Halloween night, and steal the valuables under the shroud of darkness. But the deeper the trio journeys into the mansion the more they learn about Madame Jessel's malevolent past, including the bizarre death of her deaf daughter. By the time Lucy, William, and Ben have discovered Madame Jessel's darkest secret it's already too late, and they find themselves hopelessly caught in a twisted maze of unspeakable terror and supernatural torment».
thehorrorclub.blogspot.it: «...Livide is a gorgeous and very atmospheric movie, which is really quite something to behold. While not as effective as their first film, Inside (2007), Bustillo and Maury absolutely know how to craft and direct a movie that pulls you in and pushes your fear buttons. The movie felt a lot like Suspiria at times, and in fact was an homage to the Argento classic, although there were definitely differences between the two, both technically and aesthetically. Think of Livide as a new twist on the Vampire mythos, with some elements of Witchcraft and serial murder thrown in, all wrapped up in some odd sort of fantasy blanket. It's thematically complex at times, and overtly bloody and gory at others. It's definitely a mixture of a lot of elements, all of which work or fail to varying degrees. It did lack focus and felt anything but linear, which detracted a bit from the overall great quality of what we saw on screen. ...».

Approfondimenti: Movie Review
Conosciuto anche con i titoli: Livid; Livid - Das Blut der Ballerinas; Not Inside part II.
---
---