---

What We Do in the Shadows
2014, regia di Jemaine Clement, Taika Waititi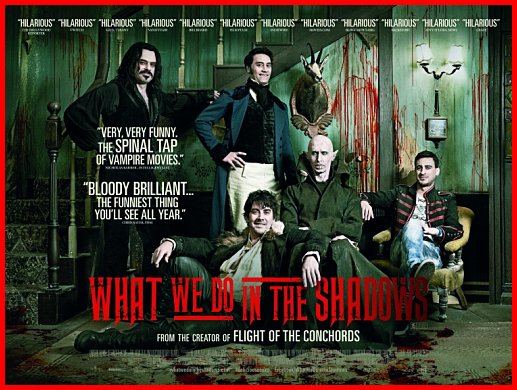 Scheda: Nazione: Nuova Zelanda - Produzione: Unison Films, Defender Films, Funny or Die, New Zealand Film Commission - Distribuzione: Unison Films, Paladin, Weltkino Filmverleih, Madman Entertainment, TheOrchard, Video Service Corporation, Filmfreak Distributie, Remain In Light, Shochiku Company - Soggetto: Jemaine Clement, Taika Waititi - Sceneggiatura: Jemaine Clement, Taika Waititi - Fotografia: Richard Bluck, D.J. Stipsen - Montaggio: Tom Eagles, Yana Gorskaya, Jonathan Woodford-Robinson - Scenografia: Ra Vincent - Musiche: Plan 9 - Effetti speciali: Stan Alley, Steven Boyle - Formato: Color, B.N. - Durata: 86'.
Cast: Jemaine Clement, Taika Waititi, Jonathan Brugh, Cori Gonzalez-Macuer, Stuart Rutherford, Ben Fransham, Jackie van Beek, Elena Stejko, Jason Hoyte, Karen O'Leary, Mike Minogue, Chelsie Preston Crayford, Ian Harcourt, Ethel Robinson, Brad Harding.
---
---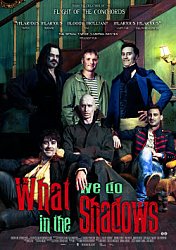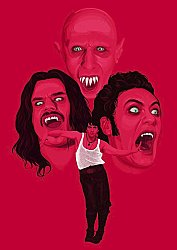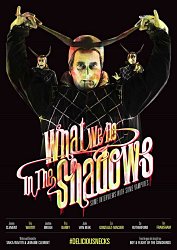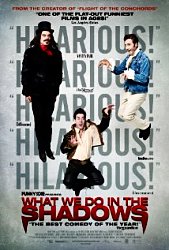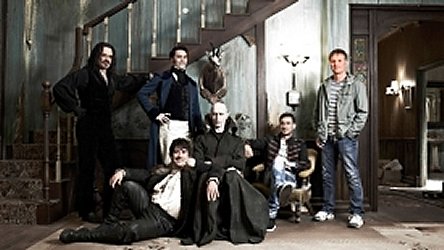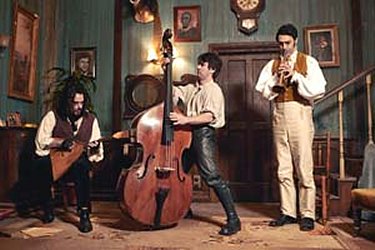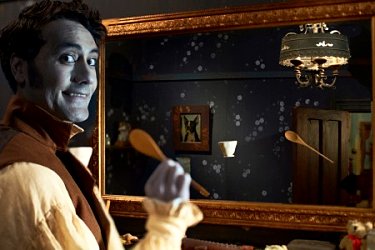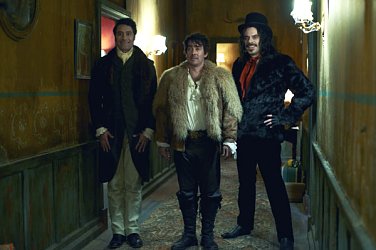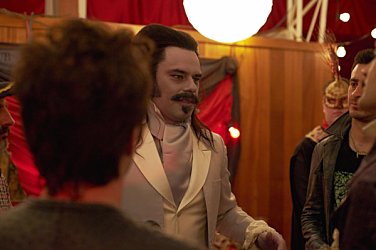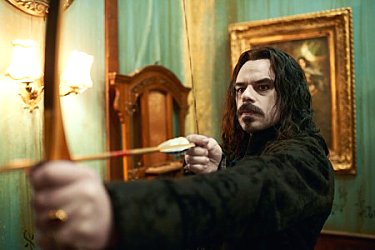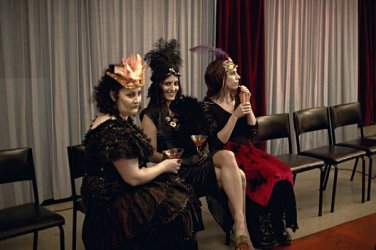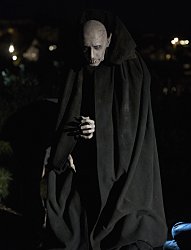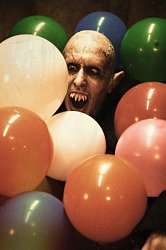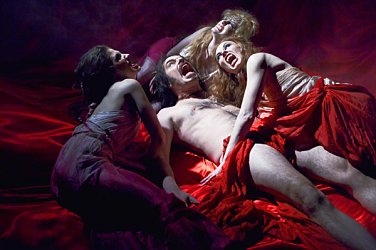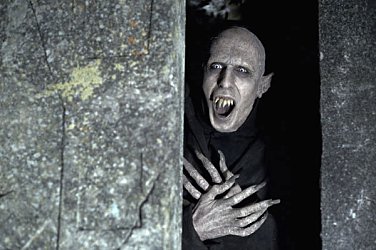 Trama e commenti: statoquotidiano.it - it.wikipedia.org - dikotomiko.wordpress.com - ilvarco.net - cineblog.it - comingsoon.it - movieplayer.it - mymovies.it: «Viago, Deacon e Vladislav condividono un appartamento nella periferia di Wellington. L'essere vampiri non impedisce loro di coabitare in sostanziale armonia, fatta eccezione per piccole rimostranze di routine (Deacon, per esempio, non lava i piatti da 5 anni e la cucina è ridotta a un disastro). Il più anziano della partita, l'ottocentuagenario Petyr, vive in cantina, protetto e rispettato. Una sera, la schiava umana di Deacon porta loro per cena Nick, uno studente universitario ritenuto sacrificabile, ma Petyr per errore lo trasforma. Con la vampirizzazione di Nick, cominciano i guai, ma anche l'ingresso del trio nel mondo delle relazioni e delle tecnologie odierne. Dimenticate i vampiri moralmente tormentati di Twilight, belli e sbarbati, dimenticate anche i loro colleghi di True Blood, il loro fascino ammaliatore e le problematiche di coesistenza con gli umani: i nuovi vampiri vengono dalla Nuova Zelanda e sono degli incorreggibili balordi. Taika Waititi, personaggio già incredibile di suo, in compagnia del sodale Jemaine Clement (lo stesso di Flight of the Conchords), è il responsabile di quest'incursione nel mondo popolatissimo dei non morti, un universo che mediaticamente scoppia di salute, nonostante l'età avanzate dei suoi abitanti e la presenza centenaria del genere stesso sulla scena cinematografica.
What we do in the shadows non solo è un'ottima commedia ma è anche film abbastanza sorprendente per l'iniezione di "vita" che porta al genere, senza inventare nulla ma lavorando sull'immagine del vampiro, immaginando le sue difficoltà nell'era di Skype e di YouTube, sconsacrando con l'ennesimo giro di vite il terreno più sconsacrato di tutti, ma anche il più duro a morire. Un pugno di costumi rubati a una festa ben riuscita, un interno da cartolina decadente e impolverata, un uso col contagocce della computer grafica e una dose da cavallo di talento comico sono sufficienti ai due per inscenare quest'esilarante mascherata, che ogni dieci minuti sembra aver esaurito gli argomenti, salvo reinventare la rotta un secondo dopo. Waititi nei panni di Viago, dandy dal sorriso fisso, appuntito e beota, e Clement in quelli Vladislav, ex terrore di tutto il creato oggi sconfitto dal potere superiore della "Bestia", offrono lo spettacolo più vivace, ma non potrebbero fare a meno delle tante spalle del film, su tutti del decrepito Petyr, coetaneo di Max Schreck, e il rubizzo Stu, col suo finale a sorpresa. Strutturato come un (falso) documentario, il film sfrutta la presenza fittizia di una troupe umana per interpellare indirettamente il pubblico ed evitare che la folle quotidianità di Viago e compagni appaia come un divertimento per pochi. Il gioco è per tutti, basta sollevare il coperchio».

Plot Summary, Synopsis, Review: IMDb - allmovie.com - taliesinttlg.blogspot.it - thehorrorclub.blogspot.it - facebook.com - thetfs.ca - movieclock.com - theguardian.com - urbancinefile.com.au - estrenosdecine.net - rottentomatoes.com - kickstarter.com - film.the-fan.net - nzvideos.org: «This is a horror comedy about four vampires who are trying to get by in modern New Zealand. They are flatmates with the usual problems of rent, housework and trying to get along. When 8000 year old 'Petyr' turns a 20-something 'Nick" into a vampire, the rest of the guys do their best to "teach him the ropes" and guide him through his now life. In turn, 'Nick' tries to teach the others about modern society fashions, technology and even the internet. When 'Nick' introduces them to his friend 'Stu', that changes the vampire's "lives" and attitudes. So when Stu's life is threatened, they all decide that maybe humans are worth fighting for. Again, subtitles would have been helpful, as some of the dialogue was difficult to understand. I ended up wishing that the producers had taken the "alternative universe" approach, such as that used with 'Perfect Creature', except to make it comedic».

Approfondimenti: Movie Review
Conosciuto anche con i titoli: 5 Zimmer Küche Sarg; This is Jugular Tap.
---
---