---
---
---
The Life of Henry the Fift
1979, regia di David Giles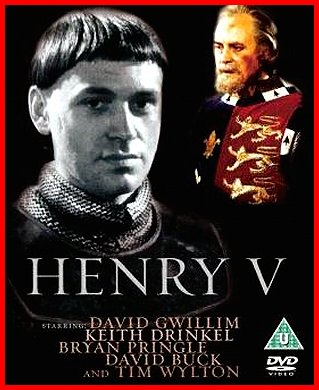 Scheda: Nazione: GB-USA - Produzione: BBC (British Broadcasting Corporation), Time-Life Television Productions - Distribuzione: BBC Television - Soggetto: dall'Enrico V di William Shakespeare - Sceneggiatura: Alan Shallcross - Montaggio: Neil Pittaway - Costumi: Odette Barrow - Musiche: David Lloyd-Jones, William Walton - Formato: Color, film tv - Durata: 166'.
Cast: David Gwillim, Alec McCowen, Jocelyne Boisseau, Thorley Walters, Julian Glover, John Abineri, Robert Ashby, Trevor Baxter, Rob Beacham, Simon Broad, Alan Brown, Brenda Bruce, John Bryans, David Buck, Ronald Chenery, Roger Davenport, Keith Drinkel, Rob Edwards, Ronald Forfar, Carl Forgione, John Fowler, Gordon Gostelow, Garrick Hagon, Robert Harris, Jeffrey Holland, Derek Hollis, George Howe, Michael McKevitt, Clifford Parrish, David Pinner, Graham Pountney, Brian Poyser, Ian Price, Bryan Pringle, Anna Quayle, Joe Ritchie, David Rowlands, Pamela Ruddock, John Saunders, Martin Smith, Paddy Ward, William Whymper, Tim Wylton.
---
---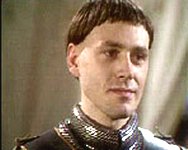 Plot Summary, Synopsis, Review: IMDb - allmovie.com - leninimports.com - moviemail-online.co.uk - thefilter.com - screenonline.org.uk: «The triumphant reign of King Henry V, uniter of his kingdom and conqueror of the French at Agincourt. The BBC Television Shakespeare's Henry V was broadcast on 23 December 1979, at the end of a four-week series covering the whole of Shakespeare's second history cycle. All four plays were directed by David Giles and given a traditional staging in the studio, though the battle scenes suffered from production values better suited to the more intimate Richard II and Henry IV Part II. The chronological sequence gave television audiences the first chance to see a single actor shift from Prince Hal into King Henry since Robert Hardy in An Age of Kings (BBC, 1960). But while Hardy's bluff and hearty rendition was arguably more convincing as decisive monarch than callow youth, David Gwillim's Henry is a clear development from his younger self. At the end of Henry IV Part II Hal suggested an abrupt change of demeanour to something more regal, but in the early scenes of Henry V his inexperience is clear, as is his eagerness to seek advice from all quarters before reaching a firm decision on the question of France. He plays the warrior-king, but we know it's essentially a performance - even the scar on his cheek acts as a permanent aide-mémoire of a wound suffered at the end of Henry IV Part I. While it is easy to accept a one-off production such as Laurence Olivier's film (1944) as presenting an image of unvarnished heroism, David Giles pointed out that: "he was only playing Henry V, he wasn't playing Hal as well. If you've played Hal the boy, you can't quite do that" - and he restores material that Olivier tellingly omitted, notably the scene where Henry orders the killing of French prisoners of war. However, Gwillim delivers this almost as a throwaway line, as though he's ashamed of himself for saying it - and one of the few major cuts to the text occurs in his speech to the citizens of Harfleur, where 27 lines of threatening invective in which he denies responsibility for his soldiers' actions have been discreetly removed. In general, though, significantly more of Shakespeare's original play is included than was the case with Olivier, An Age of Kings or the later Kenneth Branagh film (1989), making this Henry V a valuable record, for all its limitations as spectacle. Gwillim is very much the star, but Alec McCowen makes a rousing Chorus, and newcomer Jocelyne Boisseau delivers a touching (and authentically French) Katherine» (Michael Brooke).
Conosciuto anche con i titoli: The BBC Shakespeare: The Life of Henry the Fifth; The Complete Dramatic Works of William Shakespeare: Henry V.
---
---