---
---
---
LA FORTEZZA NASCOSTA
(Kakushi toride no san akunin)
1958, regia di Akira Kurosawa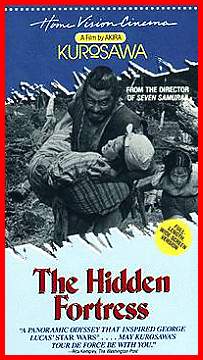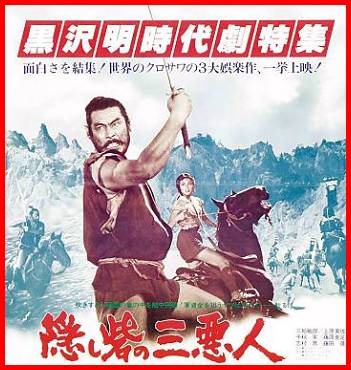 Scheda: Nazione: Giappone - Produzione: Toho - Distribuzione: Indief-Toho, Albex, Criterion Collection - Soggetto: Shinobu Hashimoto, Ryuzo Kikushima, Akira Kurosawa, Hideo Oguni - Sceneggiatura: Shinobu Hashimoto, Ryuzo Kikushima, Akira Kurosawa, Hideo Oguni - Fotografia: Kazuo Yamasaki - Montaggio: Akira Kurosawa - Scenografia: Kôhei Ezaki, Yoshiro Muraki - Musiche: Masaru Satô - Formato: Cinemascope, B.N. - Durata: 139'.
Cast: Minoru Chiaki, Susumu Fujita, Kamatari Fujiwara, Toshiko Higuchi, Toshirô Mifune, Eiko Miyoshi, Takashi Shimura, Kichijiro Ueda, Misa Uehara, Koji Mitsui, Tadao Nakamaru, Rinsaku Ogata, Shiten Ohashi, Ikio Sawamura.
---
---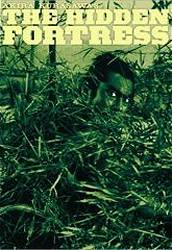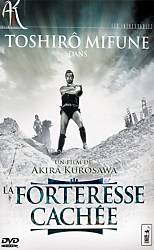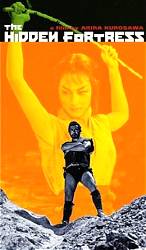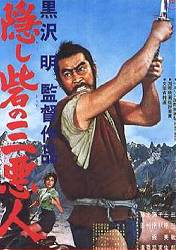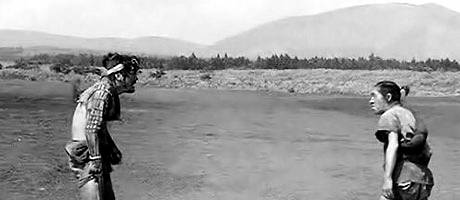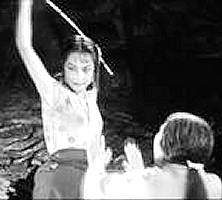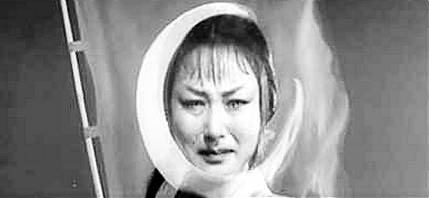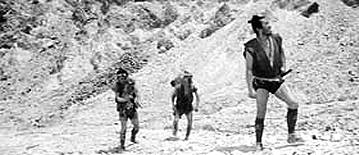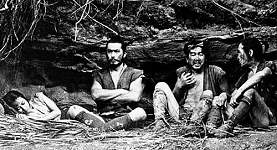 Trama e commenti: cinematografo.it - mymovies.it - kataweb.it - claudiocolombo.net - magrathea.it: «Guerre Stellari viene da qui. Questo film è in bianco e nero, ma più magico di un movie in 3D con effetto surround e FX digitali. È un piccolo gioiello giapponese, che reca la firma del 'gigante' Akira Kuraswa. Per i critici è il suo film più libero, disimpegnato, brillante e divertente. Si diverte Kurosawa a sbizzarrirsi con le possibilità offerte dal cinemascope, si diverte a raccontare una storia a briglia sciolta. La trama in breve, è questa: due astuti contadini sono assunti da un generale che vuole far passare una principessa e un carico d'oro...».

Plot Summary, Synopsis, Review: Dal sito IMDb - encyclopedia.thefreedictionary.com - tvguide.com - entertainment.msn.com - dvdtoile.com - mathieu.perrin.free.fr - cineasie.com - beyondhollywood.com: «Akira Kurosawa's The Hidden Fortress' full name is actually The 3 Villains of the Hidden Fortress, and in interviews of the past, George Lucas of Star Wars fame has admitted that there were elements of his space opus that were based on this Kurosawa film. Fortress once again teams Kurosawa with his favorite actor, Toshiro Mifune. The two had previously worked together on numerous films, including Seven Samurai, Yojimbo, and Yojimbo's sequel, Sanjuro. ... The engines of Fortress' story are two down-on-their-luck mercenaries. Or more accurately, would-be-mercenaries who not only joined a war between 3 rival clans too late but joined the wrong side. When the movie opens, the two bumbling mercenaries have just escaped from life as prisoners forced to dig graves for the dead. The two are constantly at each other's throats but deep inside they're very good friends who enjoys the bickering and each other's company. The two men are obviously the inspirations for Lucas' R2D2 and C3P0. Lucas slapped chrome metal on Kurosawa's characters, gave them groovy initials, and tossed them into outer space».

Approfondimenti: Movie Review
Conosciuto anche con i titoli: Tre mascalzoni in una fortezza nascosta; The Hidden Fortress; Three Bad Men in a Hidden Fortress; Three Rascals in the Hidden Fortress.
---
---