---
---
---
Ritorno a Gor
(Outlaw of Gor)
1989, regia di John 'Bud' Cardos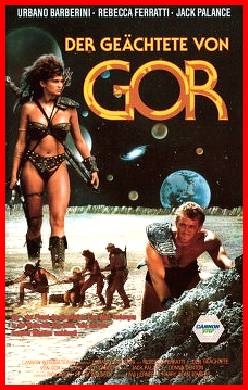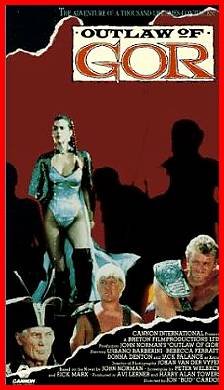 Scheda: Nazione: USA - Produzione: Breton Film Productions, Cannon International - Distribuzione: Cannon International, Warner Home Video, Viva Films - Soggetto: dal romanzo di John Norman - Sceneggiatura: Peter Welbeck, Rick Marx - Fotografia: Johan van de Vyfer - Montaggio: Mac Errington - Art Direction: Geoffrey Hill - Musiche: Pino Donaggio - Effetti speciali: Noel Henry, Cavin Wilson, Rick Kerrigan - Formato: Color - Durata: 89'.
Cast: Urbano Barberini, Rebecca Ferratti, Jack Palance, Donna Denton, Russel Savadier, Nigel Chipps, Alex Heyns, Tullio Moneta, Larry Taylor, Michael Brunner, Michelle Clarke, Christobel d'Ortez, Natasha Piotrowski, Nicole De Gruchy, Martina Brockschmidt, Bibi Brockschmidt, Neville Alpass, Philip Van der Byl, Zinta Kohle, Andrew Donald.
---
---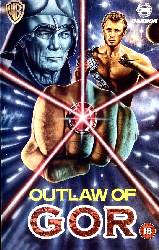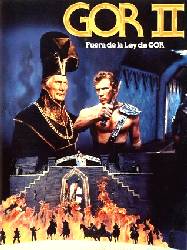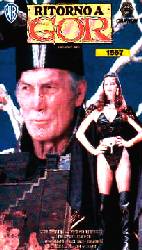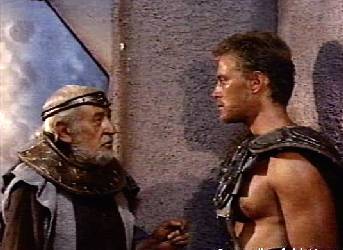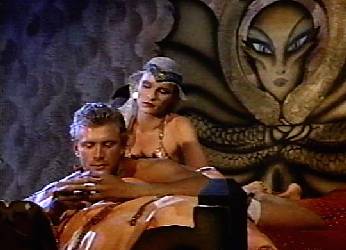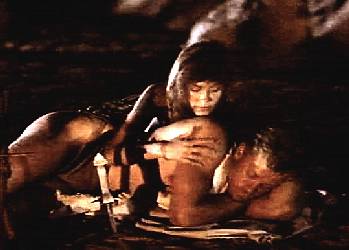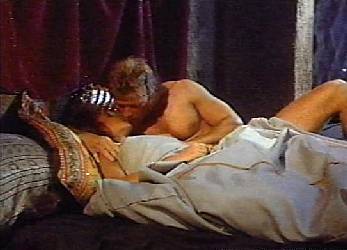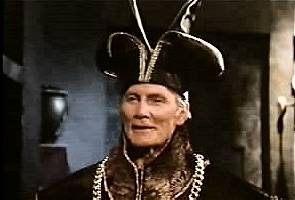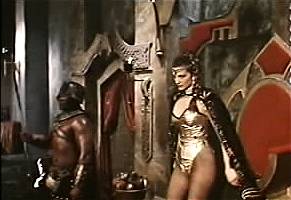 Trama e commenti: cinematografo.it - delcinema.it - cinema.ilsole24ore.com - videoflash.it - fantascienza.net: «Gor (1988, di Fritz Kiersch) e il suo seguito Ritorno a Gor (1989, di John Cardos) sono la trasposizione sul grande schermo della famigerata saga di "Gor", un pianeta posto sul lato nascosto del Sole, dove il terrestre John Cabot diventa un possente guerriero e vive numerose avventure. Se la saga letteraria scritta da John Norman – e giunta ben oltre il ventesimo episodio – ha dato adito a ferocissime polemiche e critiche per i suoi contenuti sessisti e sadomasochisti, i due film non meritano neppure questa querelle, data la pochezza assoluta di trama e contenuti, tardo esempio del fantasy post Conan, che qui cercava una rivalutazione dal sostrato letterario utilizzato come base (di per sé del tutto dimenticabile)».

Plot Summary, Synopsis, Review: IMDb - allmovie.com - nytimes.com - rottentomatoes.com - avclub.com - hollywood.com/movie - abandomoviez.net - movies.yahoo.com - film.com - answers.com - missedmovies.com - cinema.theiapolis.com - rinkworks.com: «Outlaw of Gor, filmed at the same time as its predecessor, Gor, is just as bad and suffers from the typical fantasy movie idiocy that plagues so many. For example, why are all the villains not only demonstratively evil but stupid, as well? There's a scene in Outlaw of Gor where the villainess oversees a slave mining operation. She insures that the slaves are being worked all day long without rests. Slavery is wrong -- we all know that -- but why do so many movies equate evil with stupid? You get more work out of slaves by giving them time to rest and recuperate their strength. A realistic slave lord character would treat the slaves like subhuman objects but would at least know how to manage them efficiently. The villainess in this movie has no such consideration, and it gets worse: when a cave-in begins and the slaves try to run for cover, she orders that they be forced to stay, because, she says, the work must not stop. What work!? The slaves can't do any work while the ceiling is collapsing in on them! All they can do is die! And they do. And she orders a new batch of slaves to haul the dead away and then says something to her advisor to make sure he approved of her "obviously" correct actions. Bright girl. Instead of live slaves, she's got dead ones. With a nemesis this witless, there's no suspense whatsoever about whether the goodguy will triumph».

Approfondimenti: Movie Review
Conosciuto anche con i titoli: Gor II; Der Geächtete von Gor.
---
---