---
---
---
Il Signore degli Anelli: Le Due Torri
(The Lord of the Rings: The Two Towers)
2002, regia di Peter Jackson
pag. 1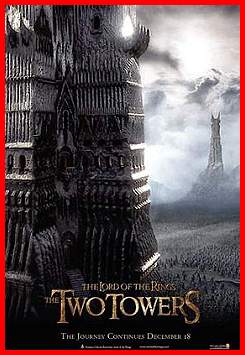 Scheda: Nazione: Nuova Zelanda-Usa - Produzione: New Line Cinema, The Saul Zaentz Company, WingNut Films - Distribuzione: A-Film Distribution, New Line Cinema, Svensk Filmindustri, Warner Bros. - Sceneggiatura (dall'omonimo romanzo di J.R.R. Tolkien): Peter Jackson, Philippa Boyens, Stephen Sinclair, Frances Walsh - Fotografia: Andrew Lesnie - Scenografia: Alan Lee - Montaggio: Jamie Selkirk - Costumi: Ngila Dickson - Musiche originali: Howard Shore, Elizabeth Fraser - Effetti speciali: Eyetech Optics, Weta Digital - Formato: Color - Durata: 179' (223').
Cast: Elijah Wood, Ian McKellen, Viggo Mortensen, Sean Astin, Billy Boyd, Dominic Monaghan, Orlando Bloom, Liv Tyler, Cate Blanchett, Christopher Lee, Bernard Hill, Brad Dourif, Miranda Otto, Karl Urban, David Wenham, Sean Bean, Jay Laga'aia (voci: John Rhys-Davies, Andy Serkis).
---
---

clicca sulle immagini in basso per ingrandirle
Altre immagini


Trama e commenti: cinematografo.it - kataweb.it - mymovies.it - film.spettacolo.virgilio.it - cinema.castlerock.it - centraldocinema.it - fantasymagazine.it - cinefile.biz: «... Grandioso seguito de La Compagnia dell'Anello, diretto da un Peter Jackson scatenato, che non perde tempo in inutili preamboli (basta l'incubo iniziale di Frodo a tappare la bocca a tutti quelli che volevano un prologo), e che ci catapulta direttamente al centro dell'azione, durante il combattimento tra Gandalf e il Balrog nel cuore della Montagna. Tre ore filate che bastano appena al regista per definire una storia vastissima, carica di avvenimenti e di personaggi che approfondiscono la loro personalità, come Aragorn e Frodo, e di nuovi protagonisti come la creatura Gollum. La storia si complica e di conseguenza anche la sceneggiatura, il rischio maggiore, data la notevole quantità di personaggi impegnati in ambiti diversi, era quello di non riuscire a creare una omogeneità nella trama, cioè che il passaggio da una storia all'altra risultasse troppo forzato. Se questo per certi aspetti è vero, lo si nota maggiormente nella parte in cui gli Hobbit Marry e Pipino parlano con Barbalbero, e in alcuni dialoghi che, seppur riusciti, smorzano il dramma o risultano non esattamente appropriati. Un esempio lampante sono le battutine di Gimli che qui sembra essere diventato una sorta di cabarettista. Per il resto tutta la vicenda è permeata da una continua atmosfera cupa e apocalittica, piena di città in rovina, dove Frodo inizia a soccombere al volere dell'Anello, Saruman getta morte ovunque posi il suo sguardo e l'inevitabile battaglia finale sembra sempre di più la fine di tutto. ... La regia rispetto al primo episodio migliora, divenendo più matura e robusta, anche se Jackson non si lascia certo scappare l'opportunità di giocare con la macchina da presa come solo lui sa fare. Le scene migliori sono sicuramente quelle in cui Gollum è protagonista e quelle dello scontro finale, dove la macchina da presa vola letteralmente sopra le mura del Fosso di Helm mostrandoci l'immensa battaglia che richiama alla memoria quella di Braveheart e di Giovanna d'Arco. ...».

Plot Summary, Synopsis, Review: IMDb - entertainment.msn.com - tvguide.com - moviemistakes.com - rottentomatoes.com: «Picking up where the first film left off, Peter Jackson's The Two Towers throws the remaining members of the Fellowship into the scattered chaos of Middle-earth, now fully under siege by the forces of Sauron. While Frodo (Elijah Wood) and Sam (Sean Astin) journey to the dreaded Mordor, Merry (Dominic Monaghan) and Pippin (Billy Boyd) are held captive by orcs, and Aragorn (Viggo Mortensen), Legolas (Orlando Bloom), and Gimli (John Rhys-Davies) search for their abducted companions. Soon Frodo and Sam are joined by the sulking and duplicitous Gollum (portrayed by the voice and motion-captured acting of Andy Serkis), who becomes their guide through the barren lands leading to Mount Doom. Meanwhile Merry and Pippin encounter the looming Treebeard (voiced by Rhys-Davies) and Aragorn, Legolas, and Gimli find themselves in the land of Rohan, accompanied by an old friend. As the tale continues, each scenario becomes more perilous, and fierce battles erupt at both Isengard, home of the treacherous Saruman (Christopher Lee), and the massive Helm's Deep. After masterfully setting up the world created by J.R.R. Tolkien in The Fellowship of the Ring, Jackson continues the trilogy with the increasingly dark and battle-filled Two Towers without skipping a beat. Although the director takes a few more liberties in adapting the second installment, he skillfully cuts from one scenario to the next, creating a tightly woven tapestry with the various storylines. ...».

Approfondimenti: Movie Review
Il sito ufficiale: in inglese - Il sito ufficiale: in italiano
Conosciuto anche con i titoli: The Two Towers; Le Seigneur des Anneaux: Les deux tours; Der Herr der Ringe: Die zwei Türme.


Scheda filmica di Francesco Mastromatteo nel volume virtuale Immagini del Medioevo nel cinema - I classici

IL CASTELLO DELLE OMBRE: Franco CARDINI, Fedele al testo il Signore degli anelli al cinema

SECONDA VISIONE, di Gaetano Pellecchia

La recensione di Angelo Basta in "Le altre recensioni"
---
---